Food talk
Nirale noodle
With a little imagination, noodles can be customised to individual needs, says Pushpesh Pant

NO Chinese meal is complete, or so it is believed, without noodles. Hakka vegetarian or Singapore pan fried non-vegetarian, crisp or soft, with or without seafood, dry or in soup one noodle dish is ordered routinely. Those who want to show off their chopstick skills find it easier to handle the stuff — the strands may dangle precariously as these are transported from bowl to the mouth but seldom drop down.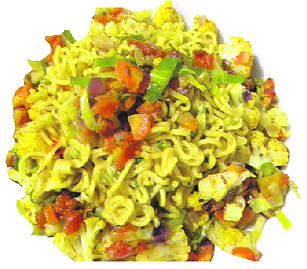 Interestingly there are few in our beloved country that enjoy noodles as noodles, these are a substitute for or accompaniment with rice and are gulped down drenched in a gravy — reminiscent of familiar daal, tari or shorba — sweet and sour or black bean based and oyster sauce-laced. There are fewer still who feel adventurous enough to order glass or other variety. Noodles like pasta comes in many avatars and may be served either as a meal by itself or play a supporting role.
We feel great disservice has been done to the noble oriental staple by restaurant recipes like the American chop sue or humble but filling chow mein rustled up by countless roadside chefs who have impacted our palates so powerfully that we judge the original according to the standard set by the imitator. The situation is complicated further by ready in a jiffy, boil why toil variety pre-packaged with its addictive tastemaker sachets. Maggi started the mania that soon had other fast and convenience food manufacturers following in its wake.
Now, it is a regular item in college canteens or small dhabhas in various tourist stations. There was a time when mothers frowned upon the stuff as junk food but with whole meal atta-based strings with the no artificial colours added assurance, the resistance is crumbling.
We feel with a little imagination, noodles can be customised to individual needs. Don't say no to the child who refuses to eat anything else and stop drooling over the steaming plateful as your dieters resolves melts away leaving a residue of guilty conscience just take care that you supplement the tastemaker sachet with nutritious toppings and additional natural flavouring. Smaller portions of the noodles and more vegetables — boiled, steam or lightly stir-fried. Just take care not to redress the imbalance suddenly.
Nirale noodle
Ingredients
Whole wheat noodles 2-3 packets
Carrots 200 gm
Cauliflower 200 gm
Shelled peas 100 gm
Button mushrooms 50 gm
Beans 100 gm
Cabbage 100 gm
Tomato ketchup 1 tbsp
Green chilli sauce (optional) ½ tsp tsp
Butter 1 tbsp
A large capsicum
A large tomato
A large pinch of mixed herbs of choice
Method
Scrape and cut the carrots in discs. Break the cauliflower into small florets. String the beans and cut. Wash and chop mushrooms. Shred the cabbage. Quarter and cut in small pieces tomatoes and capsicum. Boil the carrots and beans in salted water for about four minutes than add peas and cauliflower and mushrooms and continue boiling for three more minutes. Drain and keep aside. Prepare the noodles as per instruction on the packet. Heat the butter in a frying pan and put in the cabbage, capsicum and tomatoes, along with mixed herbs. Stir-fry for a minute and add other boiled vegetables. Pour tomato ketchup and blend well with the noodles. Serve hot.