Hollywood hues
Light romp into the women's world
Weaving together a plethora of issues with panache, Caramel comes across
as a delightful entertainer, says Ervell E. Menezes

SO here's another women's film like Sex in the City and a host of others in which a beauty salon is the hub of regulars who exchange notes, share problems and are truly at home with each other. It is owned by stunning stylist Layale (Nadine Labaki), who is also the Lebanese director of the film.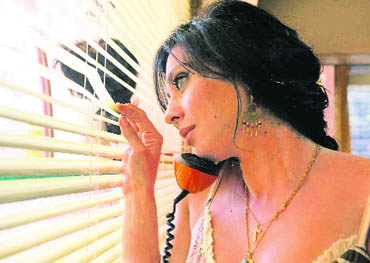 One can feel a woman's touch for detail as well as the verbosity in the film

Actually, the true subject of Caramel is the city of Beirut but the tittle-tattle and escapades of these women form the meat of this delightful entertainer taking its title from that brown substance (sugar when heated turns brown) that gives the film its distinctive flavour.
Caramel is peopled by a bevy of beauties whose intelligence matches their looks. There's a Muslim bride-to-be Nasrine (Yasmine Almasri), an age-obsessed actress Jamale (Giselle Aouard), Layale's ambiguous assistant Rima (Joanna Moukarzel) and lonely seamstress Rose (Siame Haddard), who lives with her constantly nagging, eccentric sister Lili. Layale is in love with a family man but is bugged by his attachment to his wife. Then there's beat cop Yousef (Adel Karim), who is regularly issuing her traffic citations because he's a secret admirer and wants to reveal his intentions.
It is a motely group of varied interests bound by a common bond of mutual love and well-being. Rose and Lili provide dramatic relief with their idiosyncrasies and policemen Yousef is on the periphery keeping an eye on the salon and waiting to pop the question. The pitter-patter inside the salon is centred on their confidences — virginity, cheating on spouses and living with lies. They seem to indulge in group therapy and some of the anecdotes are truly cute. There's Rose and Lili reciting their night prayers and a Church procession that has the gall to pass through the salon. Female camaraderie comes across loud and clear but there is also a tinge of pathos as it touches on loneliness.
One can feel the women's touch for detail as well as the verbosity and though Labaki does an excellent job, she tends to fall prey to the Mel Gibson's penchant for close-ups of himself. But her fondness for her companions is always palpable and is narrated against the backdrop of once the fun capital of Europe. There's a hint of Rima's lesbian tendencies but it is more like a red herring and she comes across as most vibrant. Jamale is forever trying to look young but Nasrine is easily the happiest of the lot with the handsome Yousef waiting in the wings.
It's a souffl`E9-light romp into the women's world, an essay that weaves around a plethora of issues with panache. A delightful entertainer which grows on you with time. An ideal dessert to be savoured by both genders.