India time at Saatchi
Indian art goes places with an exhibition at the famous gallery in London, writes Nonika Singh
HERE is a tumble of discarded chairs mocking at Indian democracy. A monumental bucket is spilling over with several smaller utensils in a work titled Spill. A camel is tucked inside a trunk. UFO 2007 is made up of several smaller brass utensils. A dilapidated Xerox machine is turned into an art object. Bone-shaped alphabets recreate Gandhi's historic speech before his famous Dandi march.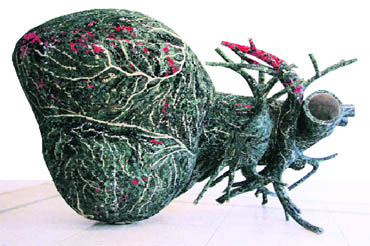 A work by Bharti Kher

So what is all this artistic hullabaloo about? Well, The Empire is striking back, rather has already struck, at the famous Saatchi Gallery in London, where Charles Saatchi is displaying his collection of works, primarily by Indian artists, a few Pakistani artists, besides the diaspora. So, on exhibit are works by 26 artists that are avant-garde for sure, using exciting mediums and a dynamic visual vocabulary that stands apart as much in choice of mediums as ideas. Rebecca Wilson, associate director, Saatchi Gallery, says, "Charles, who has an eye for the bold and unusual got interested in contemporary Indian art about two years ago and has been collecting it since". While the exhibition showcases a staggering variety, ranging from photographs to installations to sculptural assemblages to paintings, originality, insists Rebecca, is the underlying thread. And the gallery that has been redefining tastes in the West has no hidden agenda. There is no political design behind bringing Indian and Pakistani artists together either.
And it is sheer coincidence that Mumbai-based Reena Saini Kallat's works do refer to the subcontinent. Her work, Penumbra Passage (Canine Cases), consists of a series of portraits of ordinary civilians from both India and Pakistan. The blemish on their faces represents the disputed territory, the bone of contention between the two. However, Reena wouldn't like her works to be narrowed down to a sheer India-Pakistan divide, the two nations beleaguered by the legacy of Partition, but otherwise enjoined by a collective consciousness. She would rather address the issue of conflict as her small sculptures of bonded marble (in the shape of weapons) recreating a denture lookalike symbolise.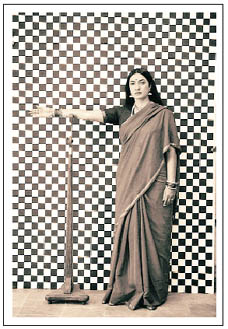 An image from Pushpamala N. and Clar Arni's The Ethnographic Series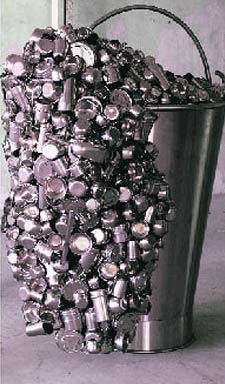 Subodh Gupta's Spill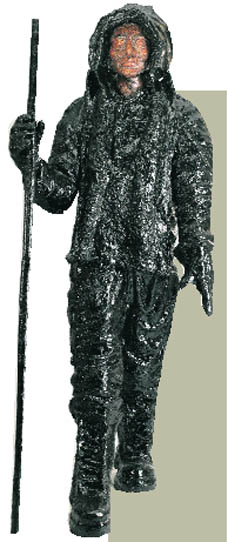 Kriti Arora's Tar Man

Interestingly, violence is a theme that many artists touch upon. Be it Jaishri Abichandani, the India-born, New York-based artist whose work alludes to the US invasion of Iraq. Or Jitesh Kallat, who uses Gandhi's speech as a referral point in a massive installation, Public Notice 2, to remind viewers of the provocative times we live in. Atul Dodiya's Women in Kabul is a reminder of the plight of people in Afghanistan, a nation ravaged by war.
In fact, it is these shared concerns about migration, poverty, the rich-poor divide and cultural issues that Rebecca finds intriguing and fascinating. So, you have Rashid Rana from Lahore critiquing culturally constructed, negative stereotypes of women. Then, Pushpamala N., a photo and video performance artist, in her works from The Ethnographic series. Native Women of South India: Manners and Customs enacts and transforms stereotypes of women. Says she, "How we look at ourselves is still defined by the way the British saw us." Of course, in the exhibition there is no implicit or explicit pandering to western tastes. Rather, as Rebecca puts it, "It is representative of Indian contemporary art".
Adds Atul Dodyia, easily one of the most celebrated artists in the show, "Ultimately, only that art which is strongly rooted will have universal appeal". In fact, he calls his work hybrid since it has references of the western artists he admires. He has been influenced by Robert Rauschenberg, Jasper Johns, and also touched by Picasso and Matisse. So, while his mother can easily relate to Raja Ravi Varma's oleograph in his iconic painting, Gangavataran: After Raja Ravi Varma (not part of the show), westerners are taken aback by his knowledge of western art and artists.
He admits that Indian contemporary art has emerged out of western influence, thanks to art schools, and sees no reason to be apologetic about it. He reasons, "While the history of Indian contemporary art is more recent, western modern art has a longer and richer history". But he who has been painting Gandhi and even did a series on Sabri, the character in Ramayana, qualifies, "I live in Mumbai and it is from this perspective that I create. Ultimately, all art is culture-specific yet has many cross-cultural references". Any wonder established artist Subodh Gupta uses techniques of French conceptualist Marcel Duchamp yet chooses objects like tiffin tins that are typically Indian. Amidst cultural crossroads stands London-based Shezad Dawood, whose work delves into the question of identity that reveals his British and Pakistani roots. Using a rather unconventional medium of neon entangled in tumbleweed, his series epitomises how artists remain connected to their roots and how tradition resurfaces in the modern idiom. Incredibly experimental are the works of Tushar Joag, who employs steel figures animated by electric bulbs to make his point. Are these artists defying conventional barriers of what comprises art and in particular addressing the western viewer, who understands art better?
While many of these artists are exhibiting abroad extensively and are happy with the response overseas, where the art scene is more throbbing and the eye more trained, they insist that they are essentially creating for the Indian viewers. While Atul avers that it his duty to educate Indian viewers, Jitesh, too, is more concerned with when Indian contemporary art will arrive on the "broad Indian psyche." Put in other words, it means when will his neighbour be interested in what is contemporary art. Atul isn't too happy with its representation in public museums. However, while a majority of Indians may take a while to become visually literate, Indian contemporary art is certainly coming of age. Reena finds a cutting age in the works of many an Indian artist and is positive that the tribe of artists with a risk-taking appetite is expanding for sure. Atul senses the same hunger in neighbour Pakistan's younger artists, who are not only working in new mediums but also in many interesting ways. Take Huma Mulji's unusual works. Pregnant with humour referring to the displacement and relocation of cultures, she tries to stuff a camel in a suitcase.
Is interesting another byword for shocking, being different for the sake of creating a buzz, rather than something deeper and profound? Atul says, "Even if some of the contemporary art gives a jolt, the idea is to communicate". Indeed, much of modern art is breaking new ground and using hitherto unexplored mediums like video camera. Pushpamala, who has used camera as an ethnographic tool in her series on display at the Saatchi gallery, says, "An artist works with the technology available to him or her. With video cameras becoming cheaper it has become the medium of today". Besides, she adds, today it is possible for an artist to be sitting in a small place yet creating art that will be on a par with global standards.
Seriously, has Indian contemporary art found its niche globally? Is the exhibition an affirmation of it making inroads into the global market? Rebecca says, "There is an interest and Indian art has really begun to be part of the international scene". Atul seconds that and feels that Indian art is growing, a reason why international art houses like Sotheby have a presence in India, and is certainly moving beyond the NRIs, who were seen as the only collectors of Indian art till recently.
Pushpamala, though not comfortable with the word global, "as if it has reached every nook and corner", feels that it is not a new phenomenon. She adds, "It is only post-liberalisation that a lot of attention has been diverted to it. It seems very big today for the art market has grown". Reena asserts the ground has been built and soon you will see the emergence of Indian artists as individuals, not under the blanket umbrella of Indian art. Jitesh can foresee winds of change within India, too, as he remarks, "In the near future, we will see many galleries and collectors who have been gathering modern art since the past few years, ready to share their collection with the Indian public." So, whether India will have its own Charles Saatchi or not, all bodes well for contemporary our art and artists.
According to Art Tactic, a company that tracks the progress of emerging markets, even though the average prices for Indian contemporary art, that rose by 140 per cent between March and September, 2008, dropped by 75 per cent between September 2008 and 2009, the confidence indicator for modern and contemporary Indian art has shown a rise of 49 points since May-2009. Whether The Empire Strikes Back—Indian Art Today, at Saatchi Gallery will keep the confidence going or not, the question is already being debated. Interestingly, the works that are not for sale shall engage viewers for over three months. The harmony of different notes underlines that Indian art sure is at an exciting stage and this exhibition is a tangible reminder of how Indian artists are crossing new frontiers, chasing new dreams and creating anew and afresh in a vocabulary that is very much their own. The dialogue that 67 works strike among themselves as well with art lovers will certainly give a lift to Indian art.