ĎI am an idiotí
After the success of 3 Idiots, Vidhu Vinod Chopra is all set to begin his next project
Broken Horses. The filmmaker in conversation with Sreya Basu
FROM Sazaa-e-Maut to 3 Idiots, Vidhu Vinod Chopra has always been associated with Ďgoodí cinema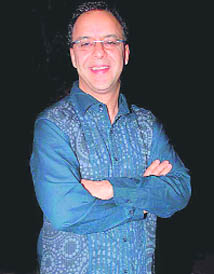 Thatís because I am an ĎIdiotí. I follow my heart and make films that I want to make. I am not concerned about what others are doing. I make films that I like and believe that people will like.
According to you, how do Ďgoodí films happen?
Good films donít happen. You have to make them. You have to dedicate two-three years on the script`85then, the pre-production, shooting, post-production hazards`85it requires lots of hard work and dedication.
But then, the efforts do get heavily paid off at the box office and award ceremonies
True. But I sincerely believe that itís the duty of filmmakers to make good films. If people are spending money to watch a film on Friday, it has to be a good one. This is the one thought that always plays on my mind when I work on a film`85be it Munnabhai MBBS or Lage Raho Munnabhai or 3 Idiots, or Parineeta or Ekalavya. If the film is bakwaas, then even if Aamir Khan tours round the world to promote it, no one will be able to save it.
Having said that, tell us honestly, donít you get panic attacks before the release of your films?
Rajkumar Hirani and I, in fact, everyone who works with our production house (Vinod Chopra Films) are trained in making films within budget. We make good films because we make films within our budget. So we donít get panicked thinking about the fate of the films. By Godís grace most of our films do really well. Now 3 Idiots has rewritten box office history of Hindi films. But even if the film wonít have worked, there was no reason for us to get heart attacks.
What are your forthcoming projects?
Thereís Broken Horses, Munna Bhai Chale Amrika, Pachaasvi Saalgirah, Ferrari Ki Sawaari and Taalismaan. Generally at Vinod Chopra films, we plan for the next three to four years and then work accordingly.
Earlier, you said you want to raise funds for National Innovation Foundation through 3 Idiots. What is the current status of the project?
See, I donít want to confuse the marketing of the film with this. I donít want people to think that we want to start this foundation to promote our film. Having said that, now that the film has run its course, we are very serious about it and hopefully we will have a foundation. But I donít want to confuse what I want to do for the country, for the people, with the marketing of my film. At this moment, there are people who are working on the modality on how this foundation will work, and once we have it we will call it the ĎIdiot Foundationí. This foundation will try and help idiots of the world, particularly our country. It will take them to where they deserve to go. But I will speak more on this once the foundation is formed.
What will you tell Chetan Bhagat if the two of you come face-to-face somewhere?
For rest of my life, I donít want to meet Chetan Bhagat. ó TWF