An art form in danger
The government must give subsidies on the raw material used for badge making by craftsmen of Malerkotla. Only then will this art form survive the test of time, reports Shariq Majeed

Ralph Lauren, Gucci, D&G and Ramsey London. What do these well-known brands have in common with India? The answer is that all have one thing which is universal. They may be world class foreign garments brands, but they also depend on Indian hands to convey a basic identity to their clothes. Craftsman of Malerkotla make badges for these renowned garment companies. This gives them individual uniqueness.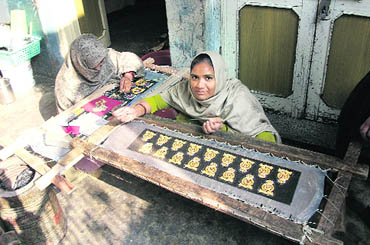 Badge makers of Malerkotla have earned global recognition for their products

Tahir Rana, who runs Rana Crafts in the township, which commenced operations in 1955, is among the approximately 150 craftsmen who run their badge-making enterprises. Tahir belongs to a family of craftsmen which has learnt the art from earlier generations. Tahir learnt the art from his father Muhammad Shafiq Rana (55) who, in turn, learnt the knack of making badges from his father Muhammad Sadeeq. That makes it three generations in one business.
"We make badges for international garment companies like D&G, Gucci, Ralph Lauren and Ramsey London. It feels really good that it is we who actually give an identity to the clothes of these companies as people recognise the brand by its badge", says Tahir, who started sending badges abroad and whose other family members are into the same business. "Besides making badges of these companies, we are presently making badges for the National Guard of Kuwait, Trinidad and Tobago, besides the Kenya police. A few years ago we also used to make badges to be used by the British police," adds Tahir.
"We make badges with a knitting needle and use bullion`A0thread, blazer and velvet cloth. There are around 500 to 700 workers, mostly local people, who make these badges. A sizeable number of`A0women workers also make badges of foreign brands at home. There are 50 to 60 families in Malerkotla which are engaged in this trade. Of the workers doing this work, 60 per cent are male and the rest are female," says Tahir.
Several young girls, too, are employed in the trade of making badges for foreign brands as also for the companies for which the entrepreneurs get orders from abroad. These girls ó who mostly makes badges at home because of their conservative families ó are not only supporting their families but also earning money to be used for their marriage.
"I learnt this fine art from my family members. I feel immense satisfaction that besides helping my family, I am also making money which will be used for my marriage later on", says 25-year-old Saira, who is planning to marry soon. "I am happy that by earning money out of this enterprise I am conveying a very important message that unlike the old school of thought where girls are considered a burden on their parents, we can support our families," adds Saira.
Asked how they get the orders of the badges to be made, Tahirís brother Mumtaz Rana says: "We normally get designs and other details of badges to be made through e-mail from a company in`A0Hong Kong. When the consignment is ready, we send these badges to the particular company through cargo service. We receive the payment for the work done by us through money transfer from foreign banks."
The badge bubble may soon, however, burst. Says a worker: "This art is dying a slow death as fresh labour is not coming because of eyesight-related problems. The advent of computer-operated machines is also threatening the art form."
A worker, who is among the youngest in the trade, preferring anonymity since labour laws prohibit him from working in any enterprise, reveals: "We make five to seven badges a day and earn Rs 150 to Rs 200 on a daily basis from the craft. It takes us one hour, or at the maximum two hours, to make a badge (depending on the design). Normally a badge is made by one worker at a time."
However, the picture is not as bright as it seems in the case of Rana Crafts. Most of the badge makers come from poor backgrounds. They are exploited by middlemen, who make massive profits out of the badges made by these craftsmen. The badge makers ó being illiterate ó donít know much about the market for their badges overseas and, hence, supply these to export houses in`A0Meerut`A0and`A0Delhi, which make maximum profits.
"A badge made by me fetches me around Rs 20 to Rs 25, but the export houses in Meerut and Delhi will sell the same for Rs 100. So even as I make the badges, I donít get much in return. It is middlemen who are making maximum profits, leaving us in the lurch", says a badge maker asking not to be identified.
Even as some of the craftsmen are making good profits and others are not, all of them are unanimous that the government should promote the art form by giving subsidies on the raw material like other units of the handicraft industry. "It is important that the government takes steps like giving subsidies on the raw material used by us. Only then will this art form survive the test of time, and people involved in it will stick to the craft. If the government fails to promote this industry in an appropriate way, days are not far when this art form will die due to dearth of craftsmen", says Tahir Rana.
Local MLA Razia Sultana, commenting on the badge making industry in Malerkotla, says that the local craftsmen have made people of the town proud with their art form and have earned global recognition for the badges made by them. She adds that the government should take all steps to promote this craft.