Wear earrings, look cool
Earrings on a man can be looked at as an extension of his personality. He can even put on custom-made studs to make a fashion statement, says Harihara Menon

LONG ago I had seen my grandfather with diamond earrings, and he did look classic, as he presided over family functions. Now I see my grandson sporting baubles in both his ears, and he is equally at ease. Just to tease him, I asked as to what was the rule regarding wearing earrings by men. "Well, left is right and right is wrong," he answered nonchalantly, meaning that straight men pierce their left ears, and wearing earrings in right ears is said to be a symbol of gay orientation, and added impishly: "If you wear in both the ears, you are bisexual."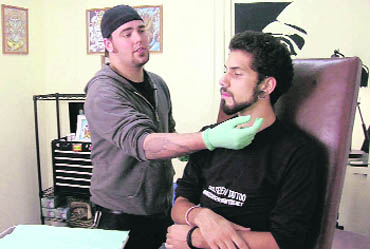 Studs worn by men look spectacular

Men were always wearing earrings if they happened to be pirates, as they could better display their bounteous booty. Earrings in India have long been associated with the Rajput clan and royalty in general. If you happen to go to any one of the parties in Jaipur, you will see many Rajput men wearing a bandhgala with big earrings. Since Rajputs have been warriors, earrings make them look all the more macho and handsome. So it depends how well you are able to carry it off. Recent studies have identified the ear as a microcosm of the entire body. Some even say the point of vision in acupuncture is situated in the centre of the lobe. Hence the practice of wearing earrings is thought to have some therapeutic value. Besides, in certain places, ear piercing was believed to be good for the eyes. It is also said to sharpen the mind and keep evil away.
Initially, men were hesitant to pierce their ears. But then came film stars, countless rappers and sports stars, who started this fashion. Of course, how can we miss the name of Salman Khan, the India Bollywood superstar, who always flaunts his stylish funky earrings?  Earrings on a man can be looked at as an extension of his personality, style or willingness to make a statement. As earrings have lost their false distinctions, the sight of a man with an earring has also lost a lot of its shock value. In fact, men's earrings are considered quite sexy by a lot of women. According to stylist Vasudev Adajania, earrings on men can make a strong style statement. They (earrings) are almost like a tattoo, and if you wear them, then you are making some sort of a declaration about your personality.  It can be that you want others to perceive you as a cool person, or as somebody who is confident to live life on his own terms.
Contrary to popular belief, there exists a wide range of earrings for men. They can choose from an assortment of studs or hoops and can even have their own custom-made earrings to make a fashion statement. Simple diamond studs look spectacular, whether worn in a single ear or both ears. Choosing from the most common types of stud earrings is highly dependent on one's preference. If you are thinking of buying one for yourself, then keep in mind the occasion where you will be sporting the earring. You have to be able to tell if that particular earring will match what you are going to wear. It is also very important to be honest with yourself as to deciding if you will look hot or silly with that particular earring.
Significantly, you must choose an earring that you really like and must be ready wear. Gold hoops of varying sizes can also be worn for that unique look. If diamonds and gold are beyond your reach, go for alternative costume jewellery. Such earrings are extremely popular, especially with the teenage generation. An exquisite variety of precious and semi-precious gemstones is ruling the jewellery segment. Other materials that are also in fashion are gold, silver, platinum and titanium. Imitation earrings are in demand among teenagers. The latest fashion style among youth is of wearing ball earrings in one ear. These balis — when attired with a pair of cool jeans and funky polo T-shirt — look simply urbane.
An office code, however, should be kept in mind while selecting earrings. While earrings for men have become more widespread, accepted and fashionable, some stuffy workplaces may still frown upon them. Any place that would scowl at a bright tie or tattoo is most likely going to scowl at a man with an earring. If you choose to wear funky hep earrings at a board meeting, it is bound to be looked down upon. Be very selective in your earrings as it is an extension of you; it says a lot about your personality.
If you are a little confused about getting your ear pierced — about how it will suit you — you can test the waters by wearing some of the magnetic or clip-on earrings available in the market. Magnetic studs are the rage, as you need not have your ear pierced to look hep. Spring hoops as well as clip-on earrings are also interesting options that you can look into. — MF