Tranquil Palampur
The hill town, famous for its Kangra valley tea, is a perfect retreat for nature lovers and art enthusiasts that has not yet been commercialised by tourism, writes Sudha Mahalingam

Mcleodganj is a 90-minute drive from Palampur. The town is overflowing with Tibetans and resonates with soothing Buddhist chants

Palampur, mercifully, gets only passing attention from tourists
and seems like a haven of peace and tranquillity

THE Kangra valley toy train is waiting for us at the Pathankot railway station. Like all hill trains, this one is a narrow gauge tin box with big windows and a noisy engine. There is only one class of travel – janta – and we board the bogie right next to the engine, the only one with cushioned seats. It is happy coincidence that there are absolutely no tourists on the train. All passengers are locals going about their everyday business. The train chugs out of the station and soon we are being treated to the lovely views of lush Kangra valley with its waterlogged rice paddies, arranged on terraces. A distant mountain range and expansive meadows form an alluring backdrop. There are hardly any villages between stations and nature seems to be at her unruly extravagant best, crowding out everything with her foliage.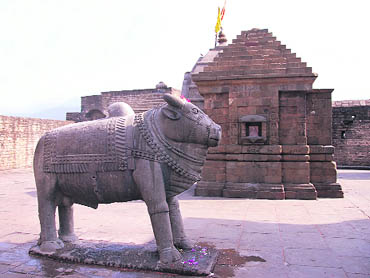 Stark and simple, the ancient Shiva temple of Baijnath, near Palampur, was built in the 13th century Photo by the writer

The train stops at numerous stations along the way and the coach soon fills up. We're looking for breakfast, anything to silence our rumbling stomachs, but nothing in sight anywhere, not a tea-stall nor a bunk store stocking biscuits.
The picturesque Kangra valley fleets past, unnoticed, unappreciated and unphotographed. Passengers exchange gossip or snooze. After Chamunda Devi station, the incline gets steeper, the pines taller and the foliage denser. Soon we're deep into the jungle and the train wraps itself around hills to take us higher and higher until we reach Palampur station, better known as Marinda to locals.
Palampur, mercifully, gets only passing attention from tourists, who throng neighbouring Dharamsala or Kulu. At 1,200 metres, it is dwarfed by other hill stations.
Palampur is a sleepy town that seems like a haven of peace and tranquillity. It is also striking for its cleanliness. There are no plastic bags festooning the electric wires and poles, nor crushed tetrapaks on sidewalks, or used plastic water bottles heaped in dustbins. The town has a just-swept look. Fluorescent magenta bougainvilleas hug the compound walls and stately pines tower over rooftops. Colonial style bungalows stare contemptuously at an odd glass and chrome concrete monster that doubles up as a hotel. We make our way to Neugal Caf`E9, highly recommended by our driver as a local scenic spot only to find a tame canal where the town turns up in the evening to drench its collective feet. The setting is framed by misty mountains and a dried up riverbed, clothed in pebbles.
Of course, people go to Palampur only en route to Baijnath, the gorgeous ancient Shiva temple that stands out, stark and compelling in its simplicity. Built in the 13th century, Baijnath seems to have survived the ravages of time quite well. The deity, a Shivling is bathed by a dhara from an overhanging pot. The nagara-style gopuram and walls are studded with exquisite sculptures and there is quiet majesty about the setting. Pilgrims fill up water from a tap attached to a tank to bathe the deity and gain God's goodwill.
From Baijnath you can go further to Billing where you can jump off a cliff – of course, with a hang-glider attached, and soar like a bird. But we give it a miss and turn back.
The next day we make our way to McLeodganj, a 90-minute drive from Palampur. The transformation is remarkable. You drive through dense pine forests and negotiate heavy traffic on narrow roads. The town is overflowing with Tibetans — red-robed monks, students, pilgrims and shopkeepers. Shops stocking fake Tibetan stuff — probably out of the Tibetan row in Janpath in Delhi — jostle for space, alongside fashionable eateries offering aromatic German bakes and authentic momos and thukpas. Nirvana quotient seems high in this hill town, considering the number of dazed young Europeans, who seem to be everywhere.
The monastery, where Dalai Lama has made his home for the past 50 years, is a non-descript multi-storied concrete monster, with a half-hearted attempt to paint its windows with Buddhist designs. It pains one to see that the very aesthetic Tibetans, who built such jewels like the Potala Palace and Hemis Gompa in Ladakh, should settle for a non-descript gompa like this. As we enter, we notice that prayers are in progress and the place resonates with soothing Buddhist chants. The halls teem with hundreds of red-robed monks seated neatly in rows. Dalai Lama, though, is not in residence today. A museum that showcases heart-rending account of the Tibetan struggle to save their unique culture has just opened at the site.
Our final destination in Palampur is Andretta, a village about an hour's drive from Palampur town. It is here that famous painter Sobha Singh settled down to portray on canvas, the struggle of the Sikhs against the Mughal rulers. The Sobha Singh Museum in the village has portraits of Gandhi, Nehru and Lal Bahadur Shastri. A statue of Sobha Singh there startles you by its life-like quality.
Mansimran 'Mini' Singh, son of late Gurcharan Singh, one of India's finest studio potters, runs a pottery studio that fires some aesthetic stuff. Mini and his wife Mary even run a course for aspiring potters, willing to spend a few months in this charming village.
On our way back to Pathankot, we take the road to check out if macadam can match the romance of the rail track. We're not disappointed. It turns out to be a gorgeous drive against the backdrop of a blazing sunset and lovely memories.