Sensible sharing
Anuj Kacker demystifies Cloud computing — the latest IT buzzword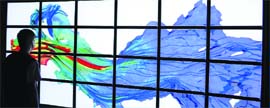 If someone were to ask "what is the perpetual problem faced by IT?", more often than not, the answer would be — "how to increase computing capacity without investing in new infrastructure, licensing new software or training new personnel".



Careercature
Sandeep Joshi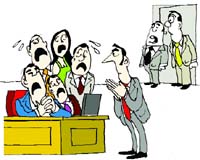 Keeping in mind, the number of personal problems, we'll have to hire more in-house counsellors to boost morale and improve productivity.

Career Hotline


Spa specialist

Institutes in metros have an edge

Age no bar

Education research programmes
Back on track
The recent economic downturn hit the IT sector the hardest, raising doubts in the minds of those desirous of pursuing careers in the IT sector. Ravi Pokharna, Director of PT Education, New Delhi, feels those nurturing dreams of a bright career in the sector should not lose hope as things are going to look up soon. Excerpts from an interview:
Call of Computers
Computers present a range of career opportunities for those with the right qualifications. Virtually any job today requires some computer handling skills.


Computer Institutes
New Horizons
Pursuit of perfection
Though plastic surgery has been practiced in India since long, cosmetic surgery has gained considerable importance in the past five to six years only.