The big boss!
Vindu Dara Singh is as candid as it can get. Jasmine Singh chats up…
Chance happenings. These are far too many in one life span. For some, these are a regular affair, while others wait for a 'chance' to strike at the right time. Our man today, can be conveniently placed in the first category of 'many fruitful chance happenings'.
— Photos: Vicky Gharu

Looking for the perfect miss
Who says a nine to five job isn't hectic? Eight hours of work with a just half-an-hour of break in between. It's worse in case of the corporate sector. And it's worst in case of Sushmita Sen! A production house, films, 'I Am She' (organising brand of the Miss India Universe contest) and her five-month old baby girl, Alisah: "I hardly get to sleep and when I am blessed, it's never more than five hours," quips Sushmita Sen.



In festive mode
Student fests are a big affair and so are the preparations, thoughts as well as the efforts that go into making them a success
Anything to be liked and anything to be unlike! Anything to stand out, stand apart, stand afar; with students the only common factor is Joneses syndrome! Spell student fests and it's a permutation, combination of organisation, events, sponsors, publicity, posters...it's an attempt to outdo each other.



A band performs during a recent rock show


Well thought out!
It's an international students' academic event and what do you think? Of course, there's the inaugural session, panel discussion, case study, paper presentation…but that's for those who are interested! Wade your way through the mob of shoulders and there's a lot more than organised chaos. Wade your way through the mob of shoulders and there's a lot more than organised chaos.

Team Vimarsh — Photo: Vinay Malik


Big catch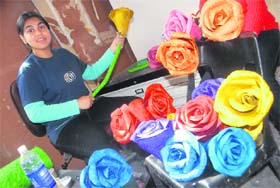 A student from the Government College of Art prepares for the Rose Festival. Lifestyle photo: Vinay Malik
Music therapy
Music lessons improve children's ability to learn languages by increasing their brain's sensitivity to sounds, including speech, a new study has claimed. Tests by researchers at Northwestern University, Chicago, found that exposure to music could be beneficial to the brain in its developmental stages and it has advantages for all children, including those who are dyslexic and autistic.
Not enough for employment
Youth from several Indian states are "not educated enough for employment" as per the market demand, a study released, said. The findings also indicated "most youth were neither adequately educated nor equipped with vocational skills".


Melody meets modesty
Bollywood singer Javed Ali's take on singers and the industry in general
Even though a fat share of the success of any movie depends on its music, when someone at Chandikrit mentioned about the live performance of a renowned Bollywood singer Javed Ali, it didn't create uproar. Sad? We wonder even after the over-fill of umpteen number of music-based reality shows, why audiences cannot put a face to the voice? Singer Javed Ali likes to answer this with all modesty.


— Photo: Vinay Malik


For men only
Godrej Expert Hair Colour launched Burgundy Blast- a trendy new look for men that can be flaunted without splurging at expensive salons. The contemporary look lends an international feel ideally suited to modern Indian man. Godrej Expert Hair Colour extends an arm towards the consumers to devise trends and consumer insights.


Sometimes, it takes just one reality show to bring out a hurricane change in life. Pooja Tandon, one of the contestants of Lux Perfect Bride, all set for her debut in Guddu Dhanoa's movie The Lion of Punjab, agrees to it, albeit partially. "I wouldn't deny that a reality show gets you recognition and visibility.
— Photo: Vicky Gharu



Spirit of colour
Taking inspiration from Rabindranath Tagore's verse "When the heart is hard and parched up, come upon me with a shower of mercy. When grace is lost from life, come with a burst of song," from Gitanjali, Anjan Coomar captures the expression of life on canvas, which are currently on display at Art Folio-9. All in all 13 frames, largely acrylic on canvas, present 'life current' through symbols such as lotus, boat, river, fish and flying piece of cloth. Figurative paintings done in vibrant colours juxtapose contemporary themes with spirituality. As a boat, tree or river becomes the background, human faces and forms intertwine to present daily life vis-ŕ-vis search for spirituality. — Photo: Vinay Malik