Trends
UN says emissions vows not enough
NUSA DUA, Indonesia: Emission cuts pledges made by 60 countries will not be enough to keep the average global temperature rise at 2 degrees Celsius or less, modeling released on Tuesday by the United Nations says. Scientists say temperatures should be limited to a rise of no more than 2 degrees Celsius (3.6 F) above pre-industrial times if devastating climate change is to be avoided.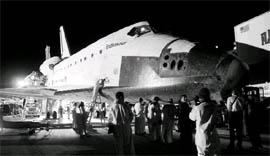 The space shuttle Endeavour is shown on the runway after it returned to the Kennedy Space Center in Cape Canaveral, Florida, February 21, 2010. Endeavour's landing completed a 14-day mission to the International Space Station. — Reuters photograph
Space shuttle fleet's 130th mission
CAPE CANAVERAL, Florida: Space shuttle Endeavour and its six crew members wrapped up a 14-day construction mission to the International Space Station on Sunday with a precision touchdown in Florida. After 217 orbits around Earth and 5.7 million miles (9.17 million km), commander George Zamka circled Endeavour high over the Kennedy Space Center to burn off speed, then nosed the 100-ton ship onto a canal-lined runway at 10:20 p.m. EST.
Flightless mosquitoes may curb dengue
WASHINGTON: Genetically altered mosquitoes that cannot fly may help slow the spread of dengue fever and could be a harmless alternative to chemical insecticides, U.S. and British scientists said on Monday. They genetically altered mosquitoes to produce flightless females, and said spreading these defective mosquitoes could suppress native, disease-spreading mosquitoes within six to nine months.
Indian Ocean clues to predicting El Nino
HONG KONG: Tracking Indian Ocean climate patterns could improve early-warning systems for the El Nino phenomenon, helping save lives and billions of dollars lost each year to the severe weather it causes. In a paper published in Nature Geoscience, researchers in Japan and France said their new forecast model could predict an El Nino 14 months ahead of time, several months earlier than with current methods.
Egypt to get back coffin smuggled in 1884
CAIRO: A 3,000-year-old painted coffin smuggled out of Egypt more than a century ago will be returned after U.S. customs inspectors intercepted it in transit, Egypt's culture ministry said on Monday. The coffin, described as one of the "most beautiful plastered and painted" pieces found in Egypt, was seized by customs officials upon its arrival at a Florida airport in October 2008, the ministry said in a statement.
Losing Google would hit Chinese science
LONDON: More than three-quarters of scientists in China use the search engine Google as a primary research tool and say their work would be significantly hampered if they were to lose it, a survey showed on Wednesday. Google's future in the country is uncertain following a row with Beijing, but Chinese scientists asked by the Nature journal how much they rely on Google said it was vital for finding academic papers, information about discoveries or other research programs and finding scholarly literature. — Reuters