Slow & steady
Yami Gautam shares screen space with Sudanshu Pandey in the movie Ek Noor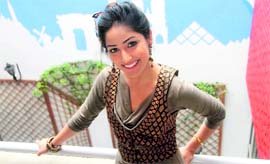 Albeit the world under limelight looks enticing, there is always more to what meets the eye. Stylish clothing line, 'exotic' make-up kits, fancy hair-dos, chunky and seemingly expensive jewellery, a visible screen space, interview line ups… are just one side of the glossy picture. The other side conjures up an image of hardcore competition, compromises, choices, and long, enervating working hours.
Belief defines the man
In the city for a shoot, actor-cum-singer Sudhanshu Pandey talks of the intuitions that shaped the course of his career
Soak up some words of wisdom — if you have a strong foundation, you needn't bother about the calamities. Absolutely. Sudhanshu Pandey, the actor-cum-singer, born in Uttar Pradesh, has seen himself fighting with calamities, but never did the foundation of his belief and trust in the goodness of life quiver!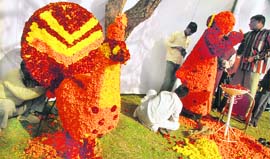 Rosy times ahead!
Tradition is back and with it is the modern muse of entertainment. The Rose Festival — the annual ritual of welcoming spring, the fun rides, crowning of the 'rose prince' and 'princess' and jazzed up evenings with celebrity performances — begins today. For three days now, Rose Garden would be the most happening place in Chandigarh!
Cuisine with a difference
Rajdhani chain of vegetarian thali restaurant is here to serve food that delights the palate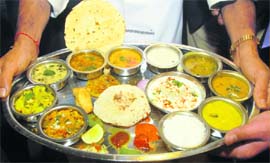 Don't we Punjabis love our butter chickens, mutton rahras and keema kalegi kebabs? In a region where vegetables have still not found their due space in the kitchen, what happens to a strictly vegetarian, authentic Gujarati and Rajasthani cuisine restaurant? On a regular day, it is supposed to fade away after the initial curiosity. But when it's Rajdhani, India's premier vegetarian thali restaurant that opened at the DT mall, IT Park, on Thursday, all things veggie take the lead!
Through the lens
Bausch & Lomb, India's leading contact lens brand, announced a tie-up with Karthik Calling Karthik, the eagerly awaited movie of 2010. The company has launched Experience the change promotion, inviting all spectacle wearers to SMS 'LENS' to 56161, and avail free contact lenses to transform their looks.
Koffee break
Safe bet
Teen Patti director Leena Yadav is pinning her hopes on Amitabh Bachchan and Sir Ben Kingsley
Shabd fame editor-turned-director Leena Yadav's second film Teen Patti is an emotionally riveting and razor-sharp edge-of-your-seat thriller about greed, deception and giants feats of imagination.
Side Lanes
When spice messes with the masala
Reaching Delhi to catch an early evening flight is always a piece of cake. Take the early morning Shatabdi from Chandigarh , eat lunch at Nirulas at Connaught Place, hop into a Radio Cab for the airport and arrive your destination for dinner. Spicejet, the recent star in the Indian firmament, offers economical fares, food for cash and pleasant on board staff.
art-i-fact
Music all the way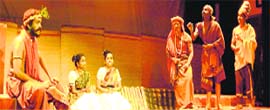 We must sing as we are speaking and we must speak as we are singing"… so proclaimed noted theatre actor and music director, the late BV Karanth, which emphasises the role of music in theatre and underscores the fact that the two are inextricably linked.
Teen Patti
Directed by: Leena Yadav
Starring: Amitabh Bachchan, Sir Ben Kingsley, R. Madhavan, Shradha Kapoor, Raima Sen, Dhruv Ganesh, Siddharth Kher, Vaibhav Talwar, Saira Mohan