COLUMNS

THIS ABOVE ALL
TELEPROMPT
GOOD MOTORING
LIFE'S LESSONS

FOR CHILDREN

CROSSWORD
ROOTS
RHYME TIME

Earlier Feature
TELEVISTA

AUDIO SCAN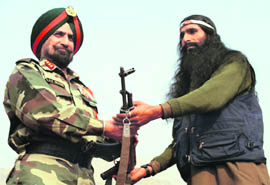 Many Kashmiri militants, who have eschewed the path of violence and surrendered in the hope of living a normal life, are a disillusioned lot as the incentives of the government's rehabilitation policy have not reached most of them, reports Ashutosh Sharma from Jammu
A recent announcement by the Centre to grant amnesty to "misguided Kashmiri youth" undergoing arms training in terror camps in Pakistan occupied Kashmir (PoK), who want to surrender and return home, has brought cheer to hundreds of families in the troubled state. These youths had left for PoK many years ago for arms training and are keen to return.
Wah Ustad!
Amar Chandel chats up Pakistani singer Shafqat Amanat Ali Khan, whose song "Tere naina" is creating ripples
If only all politicians could be somehow banished to another planet, all problems between India and Pakistan can be instantly solved, thinks noted Pakistani singer Shafqat Amanat Ali Khan, whose "Tere naina" song from the film My Name is Khan is creating quite a ripple.