Surrendered hopes
Many Kashmiri militants, who have eschewed the path of violence and surrendered in the hope of living a normal life, are a disillusioned lot as the incentives of the government's rehabilitation policy have not reached most of them, reports Ashutosh Sharma from Jammu

A recent announcement by the Centre to grant amnesty to "misguided Kashmiri youth" undergoing arms training in terror camps in Pakistan occupied Kashmir (PoK), who want to surrender and return home, has brought cheer to hundreds of families in the troubled state. These youths had left for PoK many years ago for arms training and are keen to return.
While the state government has framed new guidelines for the rehabilitation of militants who are willing to surrender, those who did so under an earlier policy, framed in 2004, in the hope of living a normal life are a disillusioned lot. The incentives of the rehabilitation policy never reached most of these surrendered militants. This has brought disillusionment, fear and penury to them, and in certain cases, even compelled them to reclaim militancy.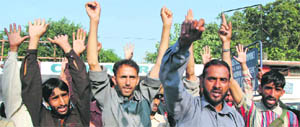 In October last year, surrendered militants staged a demonstration in Jammu, protesting against rejection in the recruitment drive by the security forces and several unfulfilled promises by the state government. Photos by Amin War and Inderjeet Singh
Though the recent decision has renewed hope, but in the absence of proper rehabilitation many former militants, who continue to be labelled as "infidels", feel "cheated". Earlier they were considered outlaws but after surrendering they continue to be discriminated against as they have not got the desired acceptability. Over the years, many of them have been killed, while others were driven out of their native places by militant outfits.
In October last year, the surrendered militants staged a protest in Jammu against rejection in the recruitment drive by the security forces and several unfulfilled promises by the state government. According to them, their credentials continue to remain dubious if they want to get a passport or job in the government or private sector.
One such 'disenchanted' former militant, Abdul Quyoom, originally from Bhata Bhagwaha in Doda district, fled from his village due to a threat to his life. Quyoom, who has studied till Class VI, now works in Jammu as a night watchman, earning Rs 3,000 per month. Father of two daughters, he cannot send them to school due to financial difficulties.
"I was abducted by militants at gunpoint when I was 14. I was given arms training and spent three years with a group of Hizbul Mujahideen (HM). During my association with the militants, I did not kill anybody and even the police is aware of this," he stated.
"At the time of surrender, I received Rs 5,000 from the police. Later, I started working with the Army as a special police officer (SPO) and was entitled to Rs 1,500 per month," he says and adds, "During that period, I motivated several youths to surrender and join the mainstream. On my information, the Army gunned down several mercenaries and busted many hideouts, besides recovering caches of arms and ammunition from militancy-infested areas."
After the surrender, however, his life became more miserable. "Militants brutally roughed up my old and ailing father. I was treated like an outcast by the villagers. No one gave me any work. I set up a small grocery shop but no one would purchase goods from me," he rues. "There was the two- pronged fear of death at the hands of militants and starvation in the absence of work. It was then that I decided to leave my village and shifted to Jammu, along with my family," he adds.
Quyoom is a broken man now. "We were used and then thrown away, only to be killed by the militants. At least, four surrendered militants, whom I have known, have been gunned down by the militants. This is all we got for laying down arms," he says sadly.
According to Quyoom, another militant, Bitta, who belonged to the same area of Doda, surrendered to the security forces after being motivated by his wife and Quyoom.
"He, too, started working with the security forces, helping in counter-insurgency operations. But in 2003, on the day of Id, militants barged into our home, spraying bullets. He was shot dead in front of his child and wife," he recalls. This ghastly incident triggered panic migrations.
According to Quyoom, Bitta's father got Rs 1 lakh as compensation from the state government whereas his wife did not get anything. Now, she (Bitta's wife) is married to Quyoom's brother and lives in Doda. "Bitta used to help the Army in operations against the militants after surrendering as he was working as an SPO. Despite this, his wife did not get any relief," claims Quyoom.
Mohammad Rafiq, son of Nizam Din of Doda district, was once a dreaded militant of the area. A tehsil commander of HM, his posters covered the walls of many government offices, offering a cash award of Rs 1 lakh for a clue regarding his whereabouts in 1999-2000.
On being persuaded by Quyoom, Rafiq also agreed to surrender in 2000. However, after the surrender, he merely got Rs 5,000 from the police. "At the village, no one was willing to give him work due to the fear of militants. So, he is doing menial jobs to earn money for his children and wife at Doda," Quyoom says and adds, "After Rafiq did not get anything following his surrender, his relations with me have become strained. He keeps on blaming me for his consequent miseries."
Khalid, alias Junaid of Kothian in Pouni tehsil of Reasi district, who refused to be photographed, claims, "We have been shuttling from pillar to post but no one is listening to us, be it the civil administration, the CID or the security forces. I have not got the fixed deposit amount or any other incentive against the weapons I surrendered." He had shunned the path of violence after the then Chief Minister, Mufti Mohammed Sayeed, announced the rehabilitation policy in 2004.
Another former militant, on condition of anonymity, claims that there are elements in the administration who do not want the militancy to end. Supporting his claim he says, "The Army put in a word for me, requesting the district administration to give me the job of a peon. To my utter shock, I found out that the recommendation letter by the Army had reached the militants, who wrote a threat letter to me warning that since I was joining hands with the enemy I would be killed." He further claims that the militancy is benefiting some people in the government.
Talking about his surrender, he says, "There were some police officials who expressed surprise when I laid down arms. I was quite shocked when some of them suggested that I should rejoin my militant outfit again and surrender later. This may sound confusing but this translates into higher ranks, decoration and monetary benefits for them."
A former DGP and defence analyst, M. M. Khajuria, says, "The establishment has, so far, followed the policy of using and discarding the surrendered militants. This time if it again repeats the same policy, it would send a wrong message to the militants, who wish to rejoin the mainstream. The government must understand that dealing with these people requires certain commitment on its part. The psychology of Kashmiris is ready for the change. Any mistake on part of the government can be a serious blow to the return of normalcy in the state.
"If a person becomes a militant by chance and thereupon repents it, he must get an opportunity to surrender. It was done in Nagaland and Mizoram. However, promises are not written on the stamp paper which is why they don't get translated into reality," says N. K. Tripathi, Special DG, CRPF.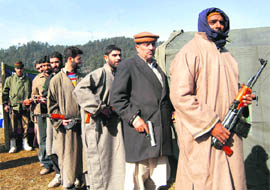 The rehabilitation policy gives facilities to local terrorists, who have undergone a change of heart and want to eschew the path of violence by accepting integrity of the Indian Constitution. It also aims at encouraging them to join the mainstream for contributing to the "prosperity" and "progress" of the state as well as the nation.
It further states that the surrendering person, involved in heinous crimes like murder, rape, abduction etc, would be entitled to benefits promised by the government only when legal action against him would be completed and the person pronounced innocent.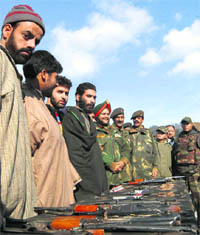 The surrendered militants say their credentials continue to remain dubious if they want to get a passport or a job in the government or private sector
The policy also provides for the consideration of surrender without incentives in case of those who went across for training and wanted to return to the mainstream and had no heinous offence, in consultation with the Ministry of Home Affairs.
The rehabilitation package will be released after clearance by the Additional DGP (CID) assigned to keep record of all cases.
The final decision in the event of disputed case is to be made by the apex body comprising the Financial Commissioner (home), Additional DGP (CID), representatives of intelligence bureaus and headquarter corps.
The surrendered militants are also entitled to get incentives for weapons they surrender. For an AK rifle, the incentive is Rs 15,000 and for the UMG, GPMG, Pika, RPG and Sniper rifle, the incentive amount is 25,000. For a revolver and pistol, the incentive is Rs 3,000 and for grenades it is Rs 500 per piece.
Under the rehabilitation provisions, the surrendered militant is eligible for an immediate grant of Rs 1.5 lakh to be kept in a fixed deposit in a bank for three years. He can draw the money only after the completion of three years, subject to good behaviour.
Besides this, he is also entitled to Rs 2,000 as monthly stipend for three years after the surrender.
Under the policy, the government is also supposed to give vocational training to the surrendered militants. Also, the surrendered militants can join jobs in any government sector, the Army and the cooperatives.
— AS