Wah Ustad!
Amar Chandel chats up Pakistani singer Shafqat Amanat Ali Khan, whose song "Tere naina" is creating ripples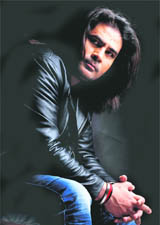 If only all politicians could be somehow banished to another planet, all problems between India and Pakistan can be instantly solved, thinks noted Pakistani singer Shafqat Amanat Ali Khan, whose "Tere naina" song from the film My Name is Khan is creating quite a ripple.
As far as artistes and common people are concerned, they can live quite amicably, without any rancour, he feels. It is ironical that his next album to be released here by Music Today is named Kyun Dooriyan, although that has nothing to do with the differences between the two countries. But when it comes to the difficulties that Indian artistes face in visiting Pakistan, he blames it all on the unfavourable security situation there.
This will be the second solo album of the classical singer-turned-rock star in India, following his Tabeer, last year, which was a huge hit. But it is his film songs like "Mitwa" (from Karan Joharís Kabhi Alvida Na Kehna), "Ye Hausla" (from Nagesh Kukunoorís Dor) and the title song from Mukesh Bhattís Tum Mile, which have made him a household name. Strangely, he doesnít do much of playback singing back home because most of the producers are loathe to hiring big-ticket artistes.
He is the son of legendary Pakistani singer Ustad Amanat Ali Khan, making him a part of the nine-generation-old Patiala Gharana. This gharana has produced some of the finest music exponents of our times, including Ustad Amanat Ali Khan, Ustad Fateh Ali Khan, Ustad Hamid Ali Khan, Asad Amanat Ali and also Shafqat Amanat Ali. But classical gayaki works with the modern audiences only when it is complemented with contemporary panache, he said during a freewheeling telephone interview from Lahore.
The current trend of giving a chance to classical singers in India has done a lot for singers like him, Raahat Fateh Ali Khan and Ustad Sultan Khan. Shafqat is not too sure how long the wave will last but feels that well-trained singers can add value to film music. He himself has been a student of classical music tradition of India and Pakistan since the age of four and has been inspired by his father, uncle Ustad Fateh Ali Khan as well as Roshanara Begum.
Shafqat was the lead vocalist of the popular Pakistani band Fuzon. Their first album Saagar was a big hit. Last year, he came up with his debut solo album, Tabeer, which catapulted him into the front rank in India as well as Pakistan.
Tabeer blended classical and folk vocals with rock melodies. In Kyun Dooriyan, he has gone more upbeat. Some of these compositions were made many years ago when he was part of Fuzon, but he has moulded them to fit into the current contours. Many of the 10 tracks have a strong classical base, but there is also a rock feel. The lyrics are in Hindi and Punjabi.
Sufi undertones are unmistakable in his creations. He thinks that as long as the soul of the music is intact, there is no dilution involved. "The ravayat must not be distorted," he insists.
He is a vocalist, composer and songwriter, all rolled into one. Does not wearing so many hats dilute the quality of his creations? On the contrary, he thinks he can give off his best only this way. You know your own plus and minus points and sing accordingly. Singing othersí songs poses greater challenge.
He recalls that once he assigned someone to write the lyrics for one of his compositions but the result was not to his satisfaction. That is why he pens most of the lyrics of his songs himself.
Shafqat was honoured with the Presidentís Pride of Performance in Pakistan on August 14, 2007, making him the sixth in line from his family to receive this honour.
Among the present Indian playback singers, Shafqat ranks Shankar Mahadevan highly, because he feels Shankarís songs are a blend of classical and contemporary. Among the old stalwarts, there are, of course, Lata Mangeshkar, Asha Bhosle, Mohd Rafi, Kishore Kumar and Manna Dey.
Entry of masters like Amir Ali Khan, Hariprasad Chaurasia and Shiv Kumar Sharma has done a lot of good to film music in India, he says.
Doesnít he have to make too many compromises while singing for films? He does not think so, saying that so far he has been able to choose songs on his own terms.
To his mind, the entire controversy whether a song becomes popular because of the star on whom it is picturised or because of the lyricist and the composer is meaningless. Everyone has his own contribution to make and should share the credit, he strongly feels.
As far as the actors go, his favourites are Aamir Khan and Amitabh Bachchan, although for the sake of being politically correct perhaps, he says his list is long. And among the heroines, he finds Kareena Kapoor the most improved. On the alleged copying of Pakistani tunes by some Indian composers, he says there is nothing wrong in being inspired by folk or traditional compositions but bodily lifting them is unacceptable. Fortunately, most of the established composers donít do this.
Asked whether he gets to see Indian films, he says these are the only ones that he sees, and is simply floored by My Name is Khan. If only its message of amity could spread.