Put to Test
Abhijit Chatterjee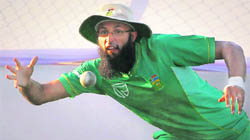 India might have beaten South Africa in a nail-biting match at the Eden Gardens to square the two-Test series and retain their top place in the ICC rankings, but the performance of the Indians, though praiseworthy, leaves a lot of long-term questions which the national selectors and the powers that run cricket in the country will have to address sooner than later.
South Africa's Hashim Amla was left stranded after Harbhajan Singh wrapped up the wicket of Morkel at Eden Gardens Photo: PTI

Green gulaal
Go organic for a skin-safe Holi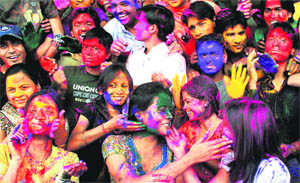 To safegaurd your health, use organic and eco-friendly colours instead of synthetic colours this Holi," states Dr Vikas Bhutani, consultant, Internal Medicine, Fortis Hospital, Mohali. "The synthetic colours available in the market, including dry colours, water colours and pastes, can be hazardous to health. The hazard increases if they are used after mixing with oil, as then they easily sneak into the body systems through the skin," he adds.
Healthy Holi
Veena Agarwal

Holi reminds us of pakoras, kachoris, samosas and bhajis, not to forget the sweets and drinks. The thandai slowly gives you a mild high. The sweet snack gujjia is quite popular and the other Holi favourites are aloo chat, dahi bhalla, papri, jaljeera, kanji vade, kesar chawal, and vegetable pakoras. When one traces the history, the reasons for the popularity of these snacks are their high satiety value, non-perishable nature, the colour they add to Holi and the welcome they offer to the spring season. Not only that, as Holi is celebrated from the beginning of the day till the fading of afternoon, it becomes essential to pre-cook these snacks and make do for the breakfast, lunch and evening tea, all clubbed into one.
Fit Zone
Head strong


Bharat Thakur
The moment we have a headache, the most common thing to do is to pop a pill to relieve it. While medicines provide good relief from pain, few people realise how they add chemicals to our body that interfere with natural health. A pain reliever can only stop the symptoms, but yoga can completely free you from headaches.