M A I N N E W S
Shimla Scare

Wild cats on the loose again
Pratibha Chauhan
Tribune News Service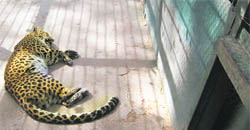 BACK IN THE CAGE: One of the leopards after it was caught and tranquilised.
Shimla, February 27
Had it not been for the risk taken by a veterinary doctor and staff of the Rescue and Rehabilitation Centre here in capturing the two leopards --- who ventured out of their cage which had strangely been left open --- lives of inmates of the adjoining orphanage and Tootokandi residents could have been in a grave danger.
The high action drama, which could have cost vet Dr Sandeep Ratan and other staff of the Rescue and Rehabilitation Centre their lives, has brought to the focus the callousness exhibited by those responsible for checking cages' locks.
The incident virtually created a big cat scare as it was only two days back that a cub had been caught from the heart of the town.
It was at about 5.30 am today that chowkidar Tara Chand found that the mother and daughter duo --- Ritu (6) and Malti (3) — were missing from a cage located right below the Bal Ashram. He raised an alarm and called forest guard Dina Nath, who alerted the staff.
"It was while we were trying to tranquilise Ritu that her daughter Malti attacked the guard and later pounced on me, injuring four of us," said Dr Ratan, who sustained injuries on the arm but was able to overpower Malti. Pharmacist Jagat Singh, guard Jiya Lal and cleaner Babu Ram were also injured by the animal.
Since the animal attendant, who fed the animals at about 3 pm yesterday, and the chowkidar maintained that they had put the lock and later checked it, a foul play is being suspected. "The keys of the cage were found at their usual place but the has a sliding door," said the staff.
However, officials said it could be possible that the lock was never put by the staff, who were now trying to save their skin.
The Forest Department has ordered a probe. "The conservator (wildlife) and DFO (zoo and rescue centre) will conduct an inquiry and submit the report with a day or two," said Vinay Tandon, principal chief forest conservator. He said cages would now be fitted with automatic locks. The police has registered a complaint.