Can't get enough!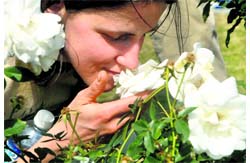 The penultimate day of the Chandigarh Rose Festival saw a host of activities that drew huge crowds
What a weekend it has been! Two days of Chandigarh Rose Festival gone, one left and the craving for more entertainment is still the same. You just can't get enough, even if a dozen cultural programmes have already been held.
Enjoying the fragrance. Photo: Vinay Malik
Piecing it together
Crime fiction writer Mark Billingham was in the city for a talk on "The Detective and the Criminal Mind" at the British Library—9
Crime fiction is like putting a jigsaw puzzle together, getting a rubik cube in place, connecting all the right dots, dealing with the criminal psyche, hooking broken links, predicting twisted mindsets, weaving a meticulous plot against a gripping backdrop…goes without saying, coming out with a book each year isn't easy!
Unusual combinations!


Two films hit the marquee this week and both had quite a bit of money riding on them. Karthik Calling Karthik has Farhan Akhtar and Deepika in the lead roles, debutant Vijay Lalwani as director and Ritesh Sidhwani as producer, while Teen Patti has the never-seen-before combination of Amitabh Bachchan and Ben Kingsley. The movie has been directed by Leena Yadav (Shabd) and produced by the Hindujas. Expectations were high all around!

Bollywood actor Shahid Kapoor spent his 29th birthday with his family
Contrary to reports, Bollywood actor Shahid Kapoor spent his 29th birthday with his family. He was especially delighted with the presence of his mother with whom he has "a great emotional connect".

Join the game
ActorShilpa Shetty is the latest celebrity to join the micro-bloggin website twitter, which is fast becoming a favourting haunt for for Bollywood stars like Shah Rukh Khan and Hrithik Roshan. The 34-year-old, who has her own blog, joined the networking site yesterday. Shetty, who is also the co-owner of IPL team Rajasthan Royals, used the opportunity to promote her team.

Tarot TALK


ARIES: The Knight of Wands reveals this is a week that would herald change and newness into your life. Property deal gets concluded. Domestic issues come up for urgent consideration. Have no worries your work is well under control. Youngsters may have differences with their parents. TIP OF THE WEEK: Be positive; you can make things happen out of the most unlikely circumstances. Lucky Color: saffron.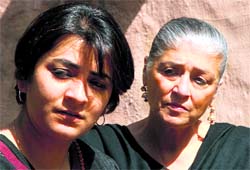 Neelam Man Singh Chowdhry all set to stage Ibsen's Little Eyolf in the city
The Company, Neelam Man Singh Chowdhry's troupe, is in its own city to stage their latest production — Little Eyolf/Little Abaan. "This is my first commissioned project in my own space, with my own actors, which makes it very special," says the renowned theatre personality. Little Eyolf by master playwright Henrik Johan Ibsen is a story of a lost child steeped in ambiguity and mystery.
Payal Sodhi and Neelam Man Singh (R)

Matka chowk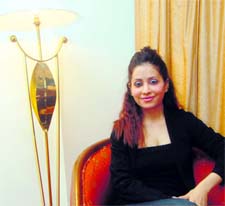 At home in the city
My next candidate in the 'Faces of Chandigarh' series is comparatively new to Chandigarh. But he has very definite views about the city. His workplace is a busy and popular market in sector 19. Rabindra Nath Majhi, 51, who moved to Chandigarh one year ago from Midnapore, West Bengal, helps run a flower stall in the sector 19 market. Already, he is at home in his new city. My interview follows:
Why did you move to Chandigarh?
To help my son-in-law run the flower stall. The situation in Midnapore is not that good.
Mreenal Deshpande. Photo: Vinay Malik
Straight talk
In India, theatre artistes don't get treated like gods, while abroad people go crazy for you. You stay in seven-star hotels, drive the best of cars and enjoy an exalted status." The statement may not be an eye-opener, but in the city to walk for designer Riyaaz and Reshma's Libaas along with Shawar Ali, at the Rose Festival, Mreenal Deshpande flaunts a perfect attitude.

Nature framed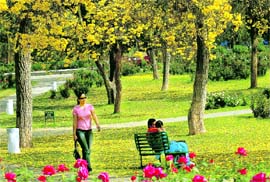 The 1st prize winning entry at the Rose Festival Photography Competition (professional category) clicked by The Tribune lensman Vicky Gharu. The 3rd prize was won by The Tribune photographer Vinay Malik.
Water warriors
Imagine spraying water on your friends from a distance of staggering 40 Feet! This Holi, Zapak gives you an opportunity to do so. Zapak Games, the licensing and merchandising arm of Zapak Digital Entertainment Ltd., has announced the introduction of BuzzBee - Water Warriors, international water guns. Water Warriors is available in several variations - Shark, Steady Stream, Sting Ray, Barracuda, Renegade, Pulse Striker, Pulse Blaster, Equalizer and Expedition. These will now be available across all leading toy stores and large format stores in the country. In Chandigarh these products are available in: Rama stores, Chopra Bros.
Spin that jazz!
All set to rock the floor with the jig bang. Everything in place, the lights, ambience, deejay, music…but, hey, not just any regular commercial number! If you want to set the flavour of the party, then scratch up, remix some new and young Bollywood numbers, and see the crowd go crazy.