Solitaire presence
Mahima Choudhary is in the city to open a diamond showroom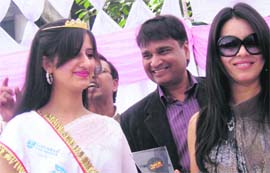 On screen, she is almost a blink and miss personality. Off screen, the radar sparkles with chuckles of her daughter. Nevertheless, twice a year, August 15 and January 26, she comes running through the golden fields, fluttering her dupatta, flashing that innocent smile. Ganga of Pardes resurfaces as a beautiful reminder, and so does Mahima Choudhary. But, this time she comes before the 'dates'. We catch up with her at the opening of Zaira Diamond showroom in Sector17 on Sunday.
Preity cool!
Priety Zinta is gearing up for the action-packed IPL matches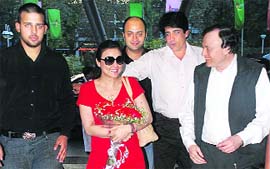 IPL comes back to India. A reason to rejoice of course! So, now we get to see 'entertaining cricket', and of course, melodrama, juicy updates on Twitter, glimpses of Bollywood stars and divas cheering on the terrace, bouncers, Yorkers, sixers, howzzat - cricket can be so much fun. What say! And what has the dimpled beauty, Priety Zinta, hooked to every ball and run has to say about the action-packed days ahead.
Of Holi fever and fervour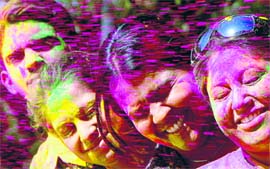 Aaj Biraj mein Holi re rasiya!
I love the lilting folksy notes and simplicity of this rural song. Having danced to it at school functions makes it even more unforgettable. But the most popular Holi song to date remains Rangg barsey......., immortalised by Amitabh. It has gained "anthem-stature"! It reigns supreme, being a perfect blend, evocative, teasing and amorous, even rendered so aptly in bhang-soaked stupor by the Big B himself! Holi is here once again, and so is the Holi fever and Holi fervour!
Holi colours, unholy mess
How far is too far when it comes to indulge in colourful flirtations?

Herein lies the ultimate license of liberty, 'don't mind, holi hai.' Oops…Little flirting, bit of frolicking, some teasing, slight squeezing… you get the picture. The festival is just an excuse, acting fresh seems to be the intention. So what if a string of equally colourful asterix abuses follow from the fairer gender! Err…'Cherry cheeks, rosy lips, crimson chin, eyes are blue, amidst myriad hues, it's holi hai and I love you'! If the Valentine is all red, pink, crimson, the Indian version packs in red, green, blue, yellow, even scarlet, indigo, emerald…Soak in the colours, the spring, the spirit. Who needs sun, sand and sea?
Fresh & fizzy
Beam Global Spirits and Wine, is yet again poised to surprise the Sauza Tequila lovers with a completely fresh and unexpected Holi gear. Sauza Tequila has introduced limited edition of specially designed Sauza Flip Flops for Holi. Sauza lovers can now add a little more colour and panache to the festival in Style!
A rosy ending
The concluding day of the Rose Festival saw a huge crowd and a host of activities
Rose Fest - day three. Enter. The last day packed in quite a horde. Sunday was the saving grace and it was every inch a carnival should be, colorful and crowded. Place where hoi polloi meets hoity toity and happily so.
| | |
| --- | --- |
| Haryanvi artistes enthrall the audience | Sikh boys in their traditional gear pose for the camera. |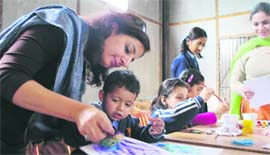 Holi on canvas
A riot of colours, imagination and creativity unleashed… Celebrating Holi is a more than just celebrating a festival, it's about having fun with colours any which way you want. So, a group of prominent artists from the city got together on Saturday afternoon to play holi on canvas and were joined by the students of Dikshant Global School-12, Panchkula.
Weight for a while
A month after giving birth to two kids and Angelina Jolie was back in shape. Not an inch more at the waist, not a kilo extra in the body weight, Jolie was quite an inspiration to all mothers. But was it too soon to lose weight after baby? Doctors also claim, "it is either of the extremes, women take to rigourous exercises post delivery or become complacent, both having untoward repercussions." It gets worse in case of working women, who are figure conscious and want to lose all the extra pounds at the soonest possible.
Play safe
Holi, the festival of colours, is here once again and the city is gearing up to paint itself into all the diverse shades of the rainbow in its merrymaking. Dr SPS Grewal, CEO, GEI, region's leading eye care chain, has advised the public to be mindful of their eyes, while enjoying the festivities this Holi.


Car & couture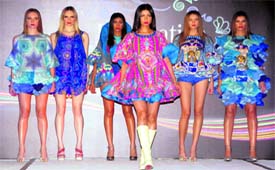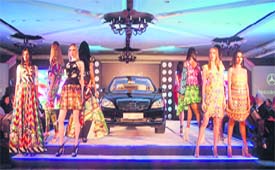 Models display Manish Arora's Fascination Collection during the award ceremony of 10th Edition Mercedes Trophy Golf Tournament at Taj Hotel on Saturday evening. Photos: Vinay Malik
More the merrier
Ever wondered why munching one cookie is not enough to satisfy your taste buds? Well, researchers have found the answer for you: the culprit is glucose-fructose syrup. The Daily Mail reports, research shows processed snack foods often contain glucose-fructose syrup, an ingredient that makes your brain think you need to eat more.
Rest assured
People who complain they have no time to exercise may soon need another excuse. Some experts say intense exercise sessions could help people squeeze an entire week's workout into less than an hour. Those regimens - also called interval training - were originally developed for Olympic athletes and thought to be too strenuous for normal people.
Spice up
Take care
Holi is celebrated at a time when nature renews and refreshes herself. With a little care, we can do the same and also sustain our youth and beauty.
Body wise
Myth no more
Although some old fitness myths, such as 'no pain, no gain' and 'spot reducing' are fading fast, plenty of popular exercise misconceptions still exist. Here are some of the common myths as well as the not-so-common facts based on current exercise research.