Women with the will to win
It is said that behind every successful man there is a woman. So can success be far behind when a woman starts an enterprise? With International Women's Day round the corner, J&C salutes the spirit of career women as Charandeep Singh chats up with some successful women from the region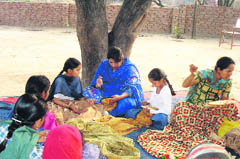 You can rule the world with 'one bright idea'. However, there are some bright women, who have had conviction in their ideas, which have taken them to the pinnacle of their careers. It wouldn't be wrong to say that they have the world at their feet. These are truly the women of substance and spunk, but more than this it is the courage of conviction that has made theirs a success story.

Careercature
Sandeep Joshi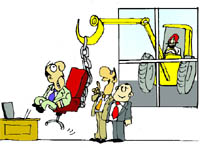 This is our company's policy. We give 10 per cent raise to every employee after one year.

Career Hotline


Pervin Malhotra
Call centre skills

Field of good prospect

Glider pilot's course
Course watch
Info storage & management
Information growth and management have been one of the fastest growing and evolving sectors within the IT industry in recent years. Organisations across industry sectors like IT/ITES in India are amongst early adopters of information infrastructure solutions. This has resulted in a significant growth in demand for information management professionals.
Make the most of retail


Organised Retail Industry has become a major contributor and driving force in the Indian economy now. With global companies and brands foraying into India, the organised retail sector in India is projected to be a Rs 24,000 crore Industry by 2011 and is likely to create over a lakh management level jobs (Source TKW). The demand for trained, competent professionals in retail has increased manifold and this field is throwing up many new career opportunities for youngsters. The Post Graduate Diploma Programme in Retail Management looks at bridging the existing gap and churn out skilled professionals for the sector. Pranav Roach, President, Hughes Communications, gives information about the course:
On my Own
Crafting success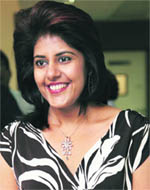 Monisha Gupta, an MBA from University of Missouri, Columbia, USA and a marketing expert on fashion jewelry and gemstones, is another successful entrepreneur who has carved a niche for herself in the competitive business world. She started her own venture The Craft House — an exclusive store of exotic and aesthetic crafted products and jewelry in 2000 at The Metropolitan Hotel, New Delhi. Craft House portrays several facets of exotic India. Quality products and innovative styles have helped Craft House develop a niche in the market and what started with a small boutique in 2000 grew to a 3,000 sq feet store by 2003. For Monisha, learning is a continuous process and first hand interaction with customers from around the globe has been an excellent experience for her.

Happiness @ work
Gems of ancient wisdom
Go the full distance
Once you have thought out the transition plan, go the full distance. Parvati fell in love with Shiva. Despite the fact that he was in deep meditation, she continued to take care of his needs. Then, Kama, the god of love, came to Kailash, disturbed Shiva's meditation with his arrows of love and was reduced to ashes by Shiva's third eye. In anger, Shiva left his mountain abode.