Fashion, her way
In the city, former VJ, singer and actor Sophie reveals her belief in creating trends rather than following them
| | | | |
| --- | --- | --- | --- |
| | For style, she admires beauties like Sophia Loren, Beyonce, Penelope Cruz, Sarah Jessica Parker and Zeenat Amaan. But when it comes to 'personal' style statement, former VJ, singer and actor Sophie Chodhury likes to flaunt and carry it in her own way, | | |
although she tags her mother as 'the' stylish woman who made heads turn!
— Photos: Pardeep Tewari
Author, columnist, artist, supercop… Rajbir Deswal talks of his latest venture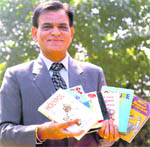 A prolific author, columnist, artist, administrator, supercop…Rajbir Deswal has many facets to his personality. Having written as many as six books on diverse themes and over 500 articles in top national dailies, this IPS officer is best known in literary circles for his inimitable writing style. Endowed with unique imaginative intensity and majestic sweep of thought, Rajbir, who has a firm grasp over in English as well as Haryanvi dialect, in 1991, wrote the book "it and Humour of Haryana", which sold as many as 15,000 copies on the first day itself.

Dance like an Egyptian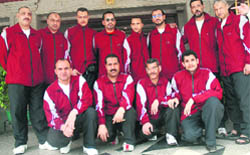 Indian and Egyptian civilization share many bonds and folk musical tradition is one of them," opines Mahmood Eissa Ahmed Ali, leader of the Tannoura Dance Group from Egypt, in the city for a musical and dance performance at Tagore Theatre. The event, organised by the Indian Council of Cultural Relations (ICCR) in collaboration with the Department of Cultural Affairs, Chandigarh, is part of a cultural exchange programme, disclosed Gyan Chand, regional manger, Chandigarh chapter the ICCR. — Photo: Pardeep Tewari
Koffee break
No guest appearance this!
Konkana Sen Sharma, known as a serious actor after her critically acclaimed films Luck By Chance and Wake Up Sid, is all set to be seen in Warner Bros Pictures and Wide Frame Films total comedy Athithi Tum Kab Jaoge, which stars Ajay Devgn and Paresh Rawal in the lead. The movie is directed by Ashwni Dhir. Konkana plays Munmum. She talks to Lifestyle about her film which releases on Friday.
New REleases
Lots in store
Side Lanes
Two Latas


An Indian woman is the nurturer in The Great Creator's agenda. He fashioned her from one of Adam's ribs and she has not only constantly tickled that portion of his anatomy, but also gone beyond the call of duty to nurse the floating bone and to extend her caring to the household gods, the kitchen, the in-laws, her children, her friends and stray cows outside the gate — all in that order.
Objet D' ART
Melody on canvas


Painter Hardev Singh has beautifully captured on canvas 31 paintings on as many ragas
For somebody tone-deaf like me, ragas meant nothing but a complex maze of sound waves until I met Hardev Singh, an artist who has beautifully captured the raga on canvas. Now that's the language of melody I can relate to. Thirty-one paintings on 31 ragas — Raga Maru in lovely blue, Raga Bhagyashwari in white, Raga Suhi in yellow and white and so on. Each frame is visually appealing and imparts the same sense of nirvana the ragas are supposed to give a listener. Hardev Singh is not an unfamiliar name in the city's art circle. — Photo: Parvesh Chauhan
Philosophical touch
Here on an initiative of the Chandigarh Lalit Kala Akademi, French artist Giai-Miniet speaks of his background, works and the exhibition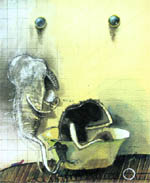 Giving colours and canvas to dimensions of philosophy isn't easy. Why we are here? Do we have any mission? Is the goal of life happiness? Why is there so much of animality in humans? Precisely what French Artist Giai-Miniet has been questioning in his works. Here on an initiative of the Chandigarh Lalit Kala Akademi, the artist speaks of his background, works and the exhibition. The French to English interpreter notwithstanding, with art, nothing's anyways lost in translation. — Photo: Pardeep Tewari
Masterpiece for grabs
A major work by French artist Yves Klein, made using naked female models coated in his signature blue paint, will be offered for sale at Christie's in New York in May, the auctioneer said on Thursday.
Rosy days are here again
¹
¹
¹

Panjab University gears up to have its own Rose Festival.
Lifestyle photo: Pradeep Tewari