This Above all
Efficient, friendly, popular
Khushwant Singh

MANOHAR Singh Gill, born in 1936, is one of the rare individuals who manages to do well in anything he undertakes. His career is ample evidence of his manifold achievements. He made it to the Indian Administrative Service, and served in his home state of Punjab. He got on well with politicians of different parties because he has a persuasive tongue. He had the Akalis sponsor the name of his father, and had him appointed Lieutenant-Governor of Goa under the Atal Bihari Vajpayee Government.
In 1962 he was appointed Deputy Commissioner of Lahaul and Spiti. He trekked extensively into the remote regions of the Himalayas, interacted with peasants and Buddhist monks, took photographs of monasteries, snow-covered mountains, peaks, lakes and rivers. He also made notes of the flora and fauna of the region. Mountains remain his abiding passion. For the last six years of his 40-year career as a civil servant, he was Chief Election Commissioner. Unlike his predecessor TN Seshan, who looked down upon everyone and described his colleagues as jokers, Gill had a good equation with everyone.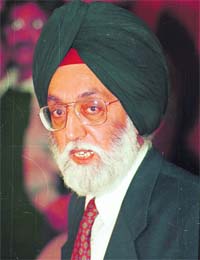 Once he asked me: "Ask your friend Seshan why he never laughs." I put the question to Seshan. He growled: "What is there to laugh about?" Having no enemies and a lot of friends, Gill managed to win his election to the Rajya Sabha. Now he is Minister of Youth Affairs and Sports in Manmohan Singh's Cabinet. He is chiefly responsible for the smooth running of the Commonwealth Games. He has to ensure that the Delhi Government completes its undertakings in time, and to see that building contractors do not use substandard materials. Let Kalmadi take all the kudos and publicity, and cope with the vanity of sportspersons who think that India's reputation as a sporting nation is in their hands.
With all that on his shoulders, Gill finds time to write books. Himalayan Wonderland: Travels in Lahaul and Spiti (Penguin-Viking) was evidently penned soon after 1962, as it has a short introduction by Indira Gandhi. It was given final shape last year as it has second introduction by Sonia Gandhi. Gill's articles appeared in Indian journals. He is easy to read and informative.
Qutab Minar
The Qutab Minar must count among the most sketched, painted and photographed monuments of the world. What Eiffel Tower is for Parisians, Big Ben for Londoners, Brandenburg Gate for Berliners and Statue of Liberty for New Yorkers, Qutab Minar is for Dilliwalas. It is older and more spectacular than all the other monuments. I have seen hundreds of photographs of Qutab Minar but none to match the cover of Forgotten Dilli, Portrait of an immortal City (Nischaum) by Sasmita S Akhtar and Shamim Akhtar.
Shamim is a Bihari Muslim, now in the IAS, and posted in Delhi. Sasmita is an Oriya Brahmin, sociologist product of J N University. Between them they produced a pictorial album on the Lakshadweep, and now one on the old monuments of Delhi.
Sasmita has written the text. Shamim has taken the photographs. They have limited their work to the end of the Mughal dynasty in 1857. They have pictures of baolis(step wells), dargahs (Sufi shrines), forts, mosques and mausoleums.
What arrests the readers' attention is the interplay of light and shade on trees and clouds to highlight every monument. It is sheer joy to turn over the pages of the book again and again. It reminded me of an old film song`85 Geet gaaya pathron nay.
Wife searching
Santa was about to retire from government service. He planned to avail his last leave travel concession (LTC) and take his wife to Goa. Swamy, a newly married government servant, planned to avail his first LTC. He also took his young wife to Goa on honeymoon. The wives of both Santa and Swamy get lost in the crowd at a Goa beach.
Santa and Swamy, looking for their wives, bump into each other. Swamy says to Santa: "Sir, my wife is missing. Have you seen her?" "My wife is also missing. What does your wife look like?" Santa asks Swamy. Swamy replies: "Well, she is a dusky beauty, 25 years, 5ft 9 inches, 36-24-26, large eyes, long black hair. And how does your wife look?" Says Santa: "Forget about my wife. Let's search for yours."
(Contributed by CK Rawat, New Delhi)