Fair face of success
Their devotion to the purpose of their lives has helped them achieve the highest goals. Vimla Patil profiles the women, whose success stories are an example to every woman, on the occasion of International Women's Day (March 8)
Hillary Clinton,
Secretary of State, USA
Michelle Bachelet, President, Chile
Chanda Kochhar, Chief Executive, ICICI Bank
Queen Rania of Jordan
Cristina Fernandez, President, Argentina
Kiran Mazumdar Shaw, Chairperson, Biocon
Angela Merkel,
Chancellor of Germany
Michelle Obama, First Lady of the USA
Sri Indrawati, Minister for Economy and Finance, Indonesia
THE world is changing! And the speed with which it is turning upside down is reflected clearly in the number of Asian and non-American or European women, who have won the place of pride in the World's Most Powerful Women List, compiled for 2009 by Forbes. The top hundred are a balanced mix of royalty, politicians, finance experts, business leaders and, most important, epoch-making leaders of their countries.
To name just a few: Cristina Fernandez, President, Argentina; Michelle Bachelet, President, Chile; Sonia Gandhi, President, Indian National Congress and chief of the ruling UPA; Indra Nooyi, Chief Executive, Pepsico; Chanda Kochhar, Chief Executive, ICICI Bank, Kiran Mazumdar Shaw, Chairperson, Biocon; Sri Indrawati, Minister for Economy and Finance, Indonesia and Queen Rania of Jordan.
Add to this the names of already well-recognised hi-powered western leaders like Hillary Clinton, Secretary of State, USA; Michelle Obama, First Lady of the USA; Angela Merkel, Chancellor of Germany, (the most powerful woman in the world); Navanetham Pillai, High Commissioner for Human Rights, United Nations, and many others who head huge business houses and important government departments in their respective countries.
What these outstanding women have proved is that success, perseverance, intelligence, compassion and leadership, dedication and patience have no gender bias. All these women, whose success stories are an example to every woman, have immense strength, combined with a will power that cannot even be fathomed. Their total devotion to the purpose of their lives has helped them achieve the highest goals.
Sonia Gandhi, for instance, is a woman, who has built a future of hope on the foundation of her courage and became the undisputed leader of a billion people. Angela Merkel is a shrewd politician who has led Germany to be the second largest economy of the world. Hillary Clinton's life was mired in scandals, but by leaving the past behind and working for a new future, she became a winner. Michelle Obama, wife of the first African-origin American to be elected the President of the USA, is the smiling face of the American Presidency.
In India, Chanda Kochhar of the ICICI is at the top because of her total dedication and expertise in banking. Indra Nooyi's ever-new concepts and ideas for expansion and brand launches for Pepsico, were the magical key for building it into a huge company. Like them, intelligent women everywhere have worked hard and mastered skills to finally belong to the list of most successful and powerful women of the world.
There are other interesting profiles of success. Perween Warsi is the 29th richest Asian in the UK and owns a multi-million pound food empire. Perween saw the opportunity to sell high-quality samosas from a garage and soon became UK's 'samosa queen' through her enterprise.
Though all Indian women are aware of the success achieved by these icons, they still look around to discover the key to success. What did these inspiring women do to reach their destinations? Here is a list of qualities, which these women have spelt out in many of their interviews. These are for all to share and internalise as and when possible through the journey of life. Not all may be possible. But even the practice of a few of these concepts and acceptance of the values they generate is sure to enable women to fly their flags of success high in the air.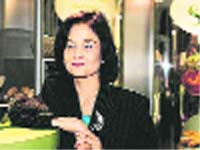 Perween Warsi, UK's 'samosa queen', is the 29th richest Asian in the UK
Discover the life you want to live. Enjoy whatever you do. Write a list of all your dreams. Tick each as you achieve it for more confidence.
Be a seeker. Listen carefully to everything around you. There is wisdom in nature, human life and all its circumstances. Unless you seek, knowledge will not come to you.
Let go of your past mistakes; they are hurdles in your path to success.
Visualise an idea in its totality and listen to the views of all concerned with its development. Look at challenges as opportunities to reach higher goals. But also know when to give up. Don't allow fear of change to rule your life.Optimism helps to make your success path interesting. Look around and there is light when you have a positive vision of the world. It helps you to believe in your goals and work hard for them. Break the proverbial glass ceiling. Take calculated risks at least sometimes in your life. Have the courage to believe that you can. Don't allow negatives like jealousy, hatred and ill-will to vitiate your path to success. The world is big enough to accommodate all successful people. Success without happiness is like fake money. It cannot have true value. — VP