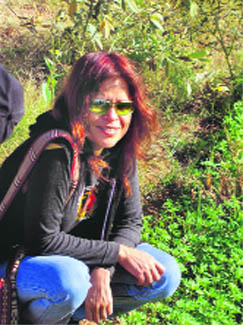 SMOKE & THE CITY: Media professional Charu Soni gave up a regular job in a metropolis to lead a more environment-friendly life in the hills, away from dust and pollution


On the eve of International Women's Day, meet
some women whose second innings has them
going high on creativity, a concern or a
cause, writes Chetna Keer Banerjee



HEAR I AM: Former TV newscaster
Rini Simon Khanna, who did a long stint with Delhi Doordarshan, is going strong
as a voiceover professional and anchorperson for various events



CLASS APART: The NGO, Sachikar Social Service Society, was the result of former FTP director Seema Arora's switch from the classroom to a cause


"BE the change you want ..." is a catchphrase that has come to embody collective churnings and sweeping shifts. But very often it's the imperceptible individual imprints or singular stirrings that form the bedrock of a transition for the better or for betterment.
On the eve of this Women's Day, here's raising a toast to some ladies who in their ordinary, everyday lives have responded to the call of conscience, a cause or creativity to journey beyond the beaten path or have cast their footprints on the road they continue to tread on. Theirs is not the way of clarion calls for change but of making personal choices to chart out their course and pace.
One instance where the "Be the change..." credo certainly finds a resonance is that of Charu Soni, a media professional for the past nearly 20 years, who has given up a regular job to make a gradual shift from the synthetic existence in the fast lane into the bylanes of Mother Nature.
Says she, "Sometime back, while doing a story about the pollution and concretisation of the Yamuna river that flows through Delhi, I realised how I, too, was responsible for her near-demise. And the only thing that made sense to me was the need to start living a more environment-friendly life. But the irony is that one cannot be eco-friendly if you stick to the city. The sheer infrastructure of the city and the lifestyle it imposes denies us that right. There is nothing environment friendly about gifting plants or maintaining an aquarium on Facebook or using the Metro. So, I decided to shift to a village, and chose Himachal Pradesh because it's my home state".
So, how does she envision life far from the madding crowd, away from the jungle of concrete in the lap
of lushness?
"I am planning to build a mud house in Bir, Himachal, with locally available materials. This shift, for me, is more about a lifestyle change. It's about getting up close and personal with the management of micro-environmental features in a rural setting. I will, of course, continue travelling and freelancing, but now it will be from a village, not a crowded and polluted city".
For some it's about shifting place, for some it's about changing gear. Former newscaster with Doordarshan, Rini Simon Khanna, has been there, done that. Having been a household name and face, thanks to the eyeballs that DD news used to grab at a time when the rash of news channels had not broken out on the air waves, Rini works at her own pace now, away from the crazy deadlines and manic schedules of those DD days.
Of course, she still savours the sweet success of that stint, but doesn't crave for it. In her forties now, the freelance anchor and voiceover professional, who was honoured by the International Congress of Women in 2009, remembers, "The days spent working with DD are special since they brought me instant recognition and gave me unimaginable success and fame. I am warmly received in any part of the country I travel to and people still remember my good work. The effects are simply staggering. Even after so many years of not having been on television, I am amazed at the recall value people have".
What of the action, the arc-lights, the adrenalin rush, is it not something that one misses in the second innings?
"No. Neither do I miss not being a household face anymore nor the frenzy or chaos of working shifts and balancing schedules. I do much the same old things, albeit at a less frenetic pace now".
The post-DD innings has seen Rini compering and anchoring for conferences, symposia and cultural shows as also lending her voice to films, radio and television advertisements, corporate films, documentaries and newsreels. Hers is the voice for the Airtel nationwide, Delhi Metro, Air India et al campaigns.
Sometimes, it is a cause that drives a transition of track. Fortytwo-year-old Seema Arora rose beyond the call of the classroom to respond to the call of her conscience to set up an NGO for social betterment. Thus was born her Sachikar Social Service Society in 2006, an NGO with a five-pronged agenda that includes promoting women's empowerment, environmental concerns, rural health and education.
What in her case was the turning point?
Says this former director of the Fashion Technology Park-Mohali (FTP) and a teacher at Punjab Agricultural University-Ludhiana's Kaoni centre, "My regular job was not providing me with a deeper satisfaction. There was no appreciation of any extra efforts one made, hence a feeling of non-productivity." This prompted her to apply for self-employment leave to be able to devote herself to setting up some productive venture. Now, her Sachikar society spreads awareness among women and rural folks in the surrounding areas of SAS Nagar, Fatehgarh Sahib, Dera Bassi, etc.
In addition, she runs a Centre of Advanced Neuro-therapy at Ivy Hospital that provides natural healing to patients suffering from various ailments, from a simple fever to cancer.
For marketing professional-turned-entrepreneur Raehat Mundy, the change has been about choosing the stability of life in slow gear over the breakneck speed of a high-flying corporate job. Having had an innings in the corporate corridors — with names like Air Sahara and travel outfit TUI India on her CV— she switched from the fast lane on the call of creativity.
"I wanted to move back home to a simpler life, away from the hustle bustle of a teeming metropolis like Delhi and lead a quality life.
"Corporate jobs per se are mentally exhausting, and since women have to juggle a variety of roles, that of a homemaker, mother, wife, daughter, employee or employer, it's the role conflict that causes burnout many times," says this corporatista-turned-confectioner, who moved base to Chandigarh sometime back to set up her own bakery.
But it's no cakewalk, to give up the trappings of a fixed pay packet.
Says the 20-something Raehat, "I felt I needed to act before I settled in my corporate career and found it difficult to move from a lucrative job. It was a difficult decision, a risky one, but worth it at the end of the day".
Echoes Charu, "Initially, I was fearful, worrying about how I would make ends meet. To work on your own is to take the super highway and it can be daunting. You don't have the infrastructure that an organisation provides. No support system.
"But so strong was the urge to shift from the daily job so as to get away from the 'entertainment' which the media dishes out in the name of 'news' that I had to hit the dirt track...So, it's not so much about shifting gears as about opening the mind more and risking more...And slowly, as work poured in, my fear, too, went away".
Adds Raehat, "Life is now full of risks, where each day brings a new situation to be controlled, or a hurdle to be crossed, ranging from employee absenteeism to sourcing ingredients that aren't easily available. And juggling all areas of a business indeed is a great challenge in itself, to keep the machinery well lubricated and functioning smoothly. Being a small start-up means we do everything ourselves and from scratch, which, at times, can be taxing, but it's definitely not impossible".
Says Seema of her nascent NGO, "Finding funds is a challenge, but I manage by borrowing from here and there. Sometimes, we get grants from the Social Welfare Department and other sources".
Well, there may be a cost, both literal and figurative, that such decisions entail, but what of the rewards? Are they sweet enough?
For Raehat, literally so. "Having made my passion for baking my work, waking up each morning is not a task, but something that I look forward to. Being your own master is definitely the most fulfilling and enriching experience. One feels the rewards when a customer appreciates a new item on our menu...I cannot recount an instance or even a moment when I have regretted my decision or longed for the security of a pay cheque on the first of every month. Yes, the going is tough, but it really does not matter when you live out your dreams," says the new kid on the choc bloc, who has interned with Crowne Plaza-New Delhi's bakery and confectionery section, and had hands-on training in every aspect of running a business with a high-end patisserie and chocolaterie based in Noida.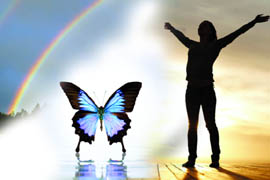 What are the gains from the earlier life that have enriched the subsequent innings?
Says Rini, "My early lessons to be systematic and disciplined and also to prioritise, to do one's homework on time or in advance and never to procrastinate helped me manage my present work space as a freelancer. The perfectionist in me makes my task even more difficult as I strive to achieve near-perfection in all I do...but the show must go on!"
Adds Raehat, "Yes, in fact, my stint in the corporate sector has really helped me as an entrepreneur, and I do owe most of it to some great senior colleagues, who through their professionalism and organisational skills have taught me a lot of management lessons. Simple things that go a long way — like planning out the day on paper, working as a team with seniors and subordinates both, time management, inventory control, business communication and so on".
So, whatever the track or the gear in which women choose to journey, the idea is to be able to reach the chosen destination, be it the road less travelled or the trodden path.


NO CAKEWALK: For Raehat Mundy, giving up a corporate job to make the hobby of baking her work involved several risks

What are the strengths of the Gen Y women that give them an edge over the previous generations?
Says Rini: "This generation is blessed with strength in numbers, today more women can stand up together, stand against atrocities and stand united for development.
"They possess a boldness of attitude, an ability to take risks that gives them a headstart".
Feels Raehat, "The younger generation has immense exposure to the media, as a result of which we are very sure and very confident of ourselves. The media also plays a huge role in providing support to women, especially those who have suffered injustices. Besides, today's women enjoy more financial stability".
Chips in Charu: "I genuinely think that if our mothers' generation hadn't had the guts to take the first step, we would not be where we are. So, all credit to them!"
The biggest blocks or disavantages that today's women face?
Rini feels, "The freedoms we enjoy often work against us. We are constantly playing many roles and the more the freedom we enjoy, the higher the bar of achievements rises. Also, being bold can be a disdvantage for the GenY women".
Adds Charu: "I think one major handicap women face to this day in India, is patriarchy, which expects them to be tied to the hearth like cows".
Seema adds, "The kind of time that the previous generation of mothers devoted, is something our time-short generation lacks. Plus, the attention span of the previous generation of mothers is missing in the present age. The former were full-time moms, not multiple-role playing superwomen".