Travel to a bright future
Sanjeev Guleria on opportunities in the travel and tourism sector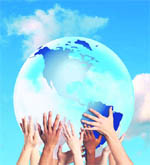 Tourism, the word that implies leisure, relaxation and pleasure for holiday seekers, also stands for one of the major economy boosters for developed as well as developing nations. Travel and tourism is one of the world's largest industries, employing approximately 220 million people and generating over 9.4 per cent of world GDP.

There has been an up-market trend in tourism over the past few decades, especially in Europe, where international travel for short breaks is common. Tourists have higher levels of disposable income and greater leisure time, and they are also better educated and have more sophisticated tastes. There is now a demand for better quality products, which has resulted in fragmenting of the mass market for beach vacations. People want more specialised versions, quieter resorts, family-oriented holidays or niche market-targeted destination hotels.

So, working in the Travel and tourism industry is "all about making travelling an enriching and enjoyable experience for every individual by providing quality services", says Executive Director of ITFT College Gulshan Sharma. According to him, the basic traits required to excel in this field are a pleasant personality, excellent language and communication skills, and knowledge about different travel destinations.

With the emergence of advanced technologies, traveling — domestic as well as international — has become easier. Whether it is a business trip, adventure trip, religious tour or any kind of travel-based activity, professionals from this industry are available to make one's travel hassle free.

When we talk about tourism as an industry, it is the largest foreign exchange earner, and it provides employment to millions of people. Hence, it is one of the industries with bright career options available within. In this industry the employment opportunities are available in the public as well as private sector.

In the public sector, Directorates and Departments of Tourism of Centre and state governments are included, whereas, jobs in travel agencies, hotels, airlines, transport agencies or cargo companies are part of the private sector.

Career options

Travel agencies: These facilitate travel and other services for everyone. Providing information about a particular destination, hotel ratings, the cheapest and the fastest mode of transport, visas, foreign exchange etc can be taken care of by travel agencies. Accounts, tours, travel and cargo are the four main departments of a travel agency.

Tour operators: These individuals organise tours and manage travel and stay of their clients. They conduct tours to known tourist attractions and some of them help the tourists indulge in adventure sports like river rafting and rock climbing etc. To take up this job, one must have a pleasant personality, and detailed knowledge concerning travel and language skills.

Hotels: These provide travellers with food and accommodation services. Jobs related to front office, operations, housekeeping, food and beverages, accounting,

management and public relations are available in this segment of this sector.

Airlines: Air, railways, road and sea are the basic categories that transport is divided into. The airline sector of the travel and tourism industry is in great demand. The ground staff and the airlines need smart and presentable professionals with a degree in hotel management or travel and tourism.

Cruise liners: Cruise ships are basically the big floating five-star hotels, which have thousands of people employed in it. In most of the cruise ships the job offer is given from four weeks to six months, which is renewable. Irrespective of the educational background and job experience, one will find that there are great employment opportunities to work on board a cruise ship. It is the largest growing leisure/travel job industry in the world, and there is always need for new cruise staff experienced in working in areas such as hotel, casino, beauty therapy, photography, security, retail, food and beverage, administration, entertainers, IT, lecturers, security personnel etc. They also employ unskilled workers at entry level for certain jobs. Most of the larger cruise companies have a cadet-training scheme on board the ships.

Adventure: For all those who enjoy leisure laced with the thrill of doing something reckless, a career in adventure sports is just the thing for them.

The nature of the work here is a bit different from the other 9 to 5 jobs. Basically, this is the right field for those who superimpose their passion with career.

Mountaineering is the most popular of adventure sports, and a number of youngsters are leaving their jobs to make a career in mountaineering or trekking in snowy peaks in the Himalayas. For this purpose, the candidate should be between the ages of 16-40 years, and for advanced courses the candidate should have completed the basic course with 'A' grade. To get some more exposure one can opt for advance adventure sports like skiing, white-water rafting, bungee jumping, kayaking and more.

Tourism Department: This department consists of reservation and counter staff, sales and marketing staff, tour planners, tour guides, information assistants and officers in the Directorate and Department of tourism. These officers for the Directorate and Department of tourism are chosen from the civil services and their job is to promote and plan tourism related activities.

Pay packet

Rumenaration in this industry varies with the brand name and the city in which a company exists. A pay counter clerk can make anything between Rs 10,000 to Rs 12,000; an Assistant between Rs 12,000 to Rs 15,000; junior executive Rs 18,000 to Rs 25,000; Regional Manager Rs 30,000 to Rs 50,000; General Manager Rs 60,000 to Rs 1,00,000.

Eligibility

It is relatively easy to enter courses designed for travel and tourism. The main areas such as travel agencies, transport, jobs at hotels, airline work, all have good institutions that give training for about minimum of one to two years with an adequate amount of practical training. The institutions follow the guidelines provided by the Indian Institute of Travel and Tourism Management, and accurate information can be obtained by contacting the institutions directly.

Students can enter undergraduate courses with a Higher Secondary Certificate, while postgraduate courses require graduation in any field.

(The writer is a Professor at

ITFT College, Chandigarh)




Institute Watch

IATA/UFTAA 4-level career development programme: For details and list of training centres, refer to the website: www.iata.org/atdi/travel_tourism

Bachelor's and Master's degree courses:

University of Delhi, New Delhi.

Kurukshetra University ,Haryana.

Agra University - Agra.

Benaras Hindu University , Varanasi.

Bangalore University, Bangalore.

University of Madras, Chennai.

University of Calcutta, West Bengal.Goa University, Goa.

University of Mumbai.

University of Poona, Nasik.

IITTM, New Delhi 110 021.

Himachal University, Shimla 171005. Skyline Business School, Laxman Public School Campus, Hauz Khas, New Delhi 110016.

Institute of Technology and Future Management Trends (ITFT), Chandigarh.