Beat the stress
Sportspersons know what stress is all about. So, how do they cope? Read on…
A somersault of jumpy nerves before the exam, butterflies in the stomach before the final competition, goose bumps before stepping onto the stage, a mortal fear before marriage (not debateable)…stress coupled with moderate amount of uncertainty and fear are the but obvious visitors before any big event.

Cricketers do a Bhangra number with actor Kiron Kher at PCA Photo: Vickey Gharu

Cool customer
In the city for IPL season 3, Sreesanth talks of cricket, dance and much more…
There is definitely more to this bindaas yet focused guy. Lavish bouts of emotions (courtesy season 1 of IPL, where we saw him sobbing endlessly), were just a one-time incident, but life is a right mix of family and cricket for Sreesanth, who is part of Kings XI Punjab team.


The final stroke
M F Husain's decision to renounce his Indian passport evokes a mixed response in the city art circle
Sad, shamed and hurt is how people in art circles define their feelings, even as legendary artist MF Husain surrendered his Indian passport in Doha on Monday.

Jhankaar 2010
It's chaotic, but fun
Day 2 of Jhankaar saw folk and classical dance performances
It's still on…Jhankaar that is. Day two and here's continuing with all the chaos, the confusion, the crowds, the cheers… Bringing you second day, all the shows. Never mind, the eleventh hour change of English Auditorium events being shifted to Evening studies Auditorium, it's a carnival of performances one after the other. — Photo: S. Chandan


Caught in the web
With more and more people taking to the Internet to find partners, the question that arises is whether we can trust the information that people provide about themselves via online dating services. Jeffrey Hall of the University of Kansas is lead author of the paper on Internet dating, which shows that people looking for romance online actually behave very much as they do in face to face dating and relationships.
Of dresses & brands
And the award for 'best dressed' goes to…
SANDRA BULLOCK: Obviously, Sandra Bullock thoroughly deserved the best actress award for dying her hair blonde, but someone should have told the restored brunette that it's a good idea to look in the mirror before deciding on your red carpet dress.
Sarah Jessica Parker
Photo: Reuters
Sandra Bullock with her husband Jesse James
Charlize Theron in dusty lilac dress designed by John Galliano

Fun, frolic and fashion
Fun and frolic ruled the day four of the ongoing Lakme India Fashion Week (LIFW) in Mumbai. Gorgeous and lively models showcased the collection by designers like Purvi Doshi, Shashikant Naidu and debutant Masaba.

Fashion designer Masaba walks with models during her show at the Lakme Fashion Week 2010 in Mumbai. Photo: PTI



Preity woman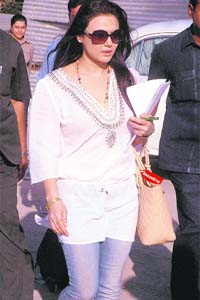 Preity Zinta, co owner Kings XI Punjab, makes a guest appearance in the city. Tribune lensman Parvesh Chauhan catches her at Chandigarh Airport.
Filmy issue
Hindi film actor Ashutosh Rana has said that movies made in the country's southern states were based on local issues while Bollywood films seemed to touch international matters.
COPing up
Aarya Babbar moves from playing convict to cop
After playing a convict in Madhur Bhandarkar's Jail, Bollywood actor Aarya Babbar is now excited about being a cop in Farah Khan's light-hearted film Tees Maar Khan. The 28-year-old son of veteran actor and politician Raj Babbar will play a village inspector in the movie.
Bigg league
Model-turned-actor Zulfi Syed is in the city to judge a show at the Panjab University
For a male model, there are two confirmations on popularity: zealous females, jealous males! And boy, does model-turned-actor Zulfi Syed fulfil both? In city, at Piccadilly Hotel-22, here's a quick one-to-one with him and taking note of his monosyllabic answers.


A rocking experience
It was rocking. But it rocked only the ones interested in rock. Bet, half the crowd confused the genre for wrestler Rock! Anyways never mind, move on, oops… rock on. The crowd was good, turnout could've been a little better. But isn't it, that the head banging activity called rock has always invited a niche audience? — Photo: S Chandan

Art triangle
Two months ago, when Anju Paliwal, Vanshika Sharma and Mallika Chabba began making artworks for their first exhibition, they knew what would they call it, "Ethereal, a divine experience. And it was a dream come true when they got the booking for the exhibition hall at the Government Museum and Art Gallery. To realise the dream, three of them made over 10 works in just two months time. — Photo: S Chandan



Jewel in the crown
The Kundan Mela at Tanishq, India's most innovative jewellery brand, turned out to be a big hit today on its first day. The mela slated till March 20 at the Tanishq outlets in Sector 17, Chandigarh, Manimajra and Mohali, are showcasing a wide range of designs from the latest Kundan collection from Tanishq.