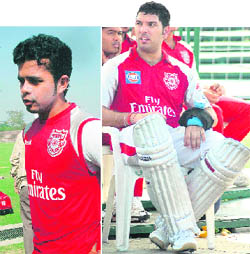 Hook, line & sinker
Irfan Pathan, Sreesanth and Yuvraj Singh share some lighter moments…
If you thought being a celebrity (be it sportsman, actor, fashion designer, supermodel or politician) was all about razzmatazz — trendy outfits, walking with an entourage of bouncers, signing autographs, smiling and waving at 'pretty fans'; endorsing everything under the sun, walking under limelight with shutterbugs wanting to catch every move..you are sadly mistaken. Well, celebrities do enjoy all the glitz and glamour, but at the same time have to be vigilant and work towards maintaining their status.
Rocking affair!
It might be the first reality show with a live audience, live performances, instant judging and instant decisions. Well, IPL Rockstar , which brings in the first tadka of the IPL 2010 is bigger and better than any other reality show.
Riot of colours
The 45th annual art exhibition by BFA students at the Government College of Art kicks off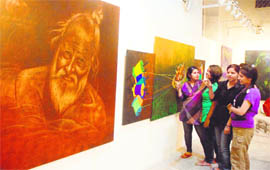 The students are all over the place - some atop a stack of boxes trying to place the paintings high up, others moving about clearing space, still others giving finishing touches, cleaning the frames, and the rest who have just finished hanging their works. The 45th annual art exhibition by BFA students, Government College of Art, opens. While the entire exhibit and the paintings fall in place, there's time to steal a quick look.
Rising STAR
Sense & simplicity
Mitika Kanwar, a girl with a desire to live life simply, has cultivated a habit of winning the national youth festivals since the past four years. Her forte is classical music. She has been achieving academic excellence awards as well. Recently she won the All Round Best Student Award from GCG-11 along with the national youth festival in semi-classical where she sang tappa in Raga Mishra Kaafi recently held at Rohtak.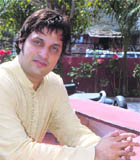 Spring in his step
Kathak dancer Sandeep K Mahavir is in the city to perform at the Pracheen Kala Kendra on Friday
Normally, exponents of various literary arts claim that their chosen realm is 'complete art' but to me the classical dance genres are very close to perfection," opines Sandeep K Mahavir, a proponent of Jaipur Gharana of kathak. "For instance, kathak or any other form has all the ingredients of music, drama, poetry et al," he adds.
Builders of the past
Indian Modernists: Aditya Prakash and Shivdatt Sharma, is an exhibition that affords a pleasant flashback into the formative days of the city
It is an initiative to document the work of the first generation of architects and discuss its relevance today. And indeed, 'Indian Modernists: Aditya Prakash and Shivdatt Sharma', an ongoing exhibition dedicated to students of architecture, has a point to prove.

Side Lanes
The gentler sex


Sometimes merely being in the company of ones peers energises us. We meet, interact, discuss and catch up on the years that have gone by, and often pick up strings from the moment where we had left off. None of us appear anything like we were three decades ago, but within the frame work of wrinkles, weight gains or losses, broken bones and arthritic knees, missing or broken teeth, we do find our selves and are joyous in the re-discovery of each other. At one such gathering, we caught up with three generations of remarkable women, who do not require an appointed day or a chronicled page to point out their achievements.
Fun time
The annual cultural festival of NIIFT began with the usual dose of cultural and literary events. The fest that was held with the name Arc n Ciel was held under the name Mirage 2010 at the campus premises of NIIFT.


Joy to the world


The Chandigarh Press Club is organising Newscapes — a news photo-exhibition in memory of eminent photographer, lateYog Joy from Friday at Punjab Kala Bhawan-16. Shanta Joy will inaugurate the exhibition.