SHORT TAKES
Colonialism and caste chronicles
Reviewed by Randeep Wadehra
In Pursuit of Ambedkar
by Bhagwan Das (translation: Isha).
Navayana.
Pages 87. Rs 175.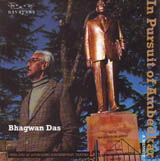 Although the author belongs to a caste considered as "untouchable among untouchables", he comes from a comparatively prosperous family as his grandfather was a contractor who supplied various personnel like cooks, cleaners, waiters etc, to the British Army and had acquired property in different parts of north India. This didn't ensure a privileged life for the young Bhagwan Das but facilitated a comparatively good education and comfortable living. His caste was reviled by his Hindu and Muslim colleagues equally. After working in the CPWD and other government departments, he joined the Royal Indian air Force as a radar operator. Das was able to befriend Dalit leaders and activists in different parts of the country. Later on, he became B. R. Ambedkar's aide.
Bhagwan Das's views on the term "Balmiki" for his caste are thought provoking. In an interview in this volume, he points out that there is a logical connection between Kabir and the Julaha caste and "when the Chamars claim Ravidas, there's a link between the two`85 but there is absolutely nothing to link the Valmiki of the Ramayana with the sweepers." Although the British Raj proved to be a blessing in disguise for the Dalits, as the conversions to Christianity improved their lot only marginally, they were better off than those who had converted to Islam and Sikhism. He goes on to explain how the Dalits have their own religion and pantheon which is different from that of Hinduism.
This slim volume is worth a serious read and, also, the DVD accompanying it is a must watch.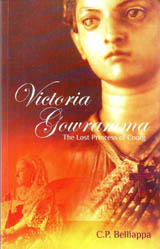 Victoria Gowramma
by C.P. Belliappa.
Rupa & Co.
Pages xv+234. Rs 295.
After having been deposed by the British, Coorg's ruler Chikka Veerarajendra, along with his 13 queens, was exiled to Banaras. There his favourite queen died after giving birth to pretty Gowramma, who became the ex-potentate's pet child. In his attempt to get back into the good books of the British (whom he actually despised for depriving him of his throne despite the fact that his ancestors had been their allies in the wars against Hyder Ali and Tipu Sultan of Mysore) Veerarajendra decides to convert Gowramma to Christianity and make available the best of English education for her. This enables the father-daughter duo to visit England where the child princess is baptised by the queen herself. And thereby hangs a tragic tale.
The narrative becomes all the more interesting for its parallel Maharaja Duleep Singh track. More importantly, we learn that though the British might have behaved villainously with the various kings and feudal lords they proved to be a blessing for the common Indian.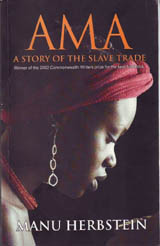 Ama: A Story of the Slave Trade
by Manu Herbstein.
Bookmann India.
Pages 374. Rs 395.
Nandzi, alias Ama alias Pamela, who lives in a Ghanaian hamlet, is affianced as a child to a man several decades older than her; she is barely into the teens when, abducted by a rival tribe Dagomba, is raped and sold off to the Asante tribe, which in turn sells her off to the Dutch. Thus begins a saga that matches Alex Haley's Roots in its sweep and outmatches it in irony and poignancy. Unlike Roots' male protagonist, Kunta Kinte (kidnapped in Africa, ends up in USA), Ama (kidnapped in Africa, ends up in Brazil) never gives up her fight for dignity.
This well-researched novel focuses on how Africans enslaved, exploited and sold off fellow Africans to westerners. Ama's life becomes the metaphor for Africa's degradation. There is a soul-sapping scene wherein enslaved women sing this dirge: "We, too, have died and yet we live still/We are as walking corpses/Hear our voice/Hear our lamentation ... ."