Art à la carte
Restaurants are the new art galleries, says Sharmila Chand

ADorning the walls of cafes and fine-dining restaurants, art is no longer the domain of art galleries alone. Painting a vivid portrait of modern designs, Mocha Art House, located in DLF Promenade Mall, Vasant Kunj, Delhi, is one such place where avant-garde space fuses contemporary art, eclectic culture and wholesome food. A gallery for edgy artistic expression while being a caf`E9 serving interesting culinary creations, it allows a multifarious experience.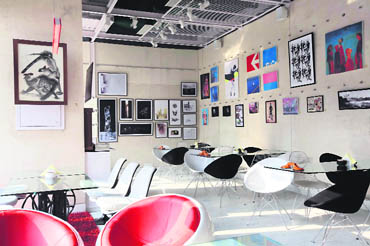 The works of art adorning the walls of restaurants and cafes bear testimony to the fact that art pervades all spaces

According to Riyaaz Amlani, CEO & MD, Impresario Entertainment and Hospitality Pvt Ltd (EHPL), "At Mocha, we believe that a coffee shop is essentially a community space for people to interact, engage and exchange. With the ArtHouse, Mocha dedicates this space to emerging, cutting-edge art in its many forms. A space combining inspirational food and food for inspiration."
Likewise, Sunaina Anand, Director of Art Alive Gallery, points out, "Art has no limitations of space, age or ideas. Why should it be restricted to art galleries. The aim is to showcase art wherever it can be appreciated." Anand has conceptualised and curated a unique art exhibition, 'The Mystical Goblet' at The Med Restaurant of Radisson Hotel. The exhibition showcases the works of an Italian artist, Vincenzo Reda, who uses wine as his medium to paint. "My works are pure forms. The contents are in the wine I use. After having drunk some, I spread it on paper and wait for the miracle to happen," philosophises the artist, a Grand Master of the 'Order of the Vine Leaf.'
So Vincenzo's works will be toasted by the well-heeled, sipping their favourite wine at The Med and appreciating its spill over the canvas all around. Wine inspired art as well as cuisine and, of course, the fashion.
This is art in a new setting. Art is not restricted to serious art visitors of the galleries. Mocha caf`E9 turns into an installation project with each exhibit, sculpture and photograph coming together to make a cohesive identity. Genres of film, performance, AV and cutting-edge art collide on one platform. All this not only for upcoming developments in alternative fields but even old-school film, music, dance, books, theatre, poetry, fashion and the likes.
This symphony of art, performance, culture, food and drink makes for a palette that suits every palate and pocket. It is not the story of Picasso and Miro painting for their supper at La Colombe d'Or, high in the hills of Provence, in the south of France. As the legend goes, they were hungry and penniless, the restaurant had acres of bare walls, so what better than to knock up a picture or two in exchange for a free meal? While this might not be the reason for today's art scene, the fabulous works of art adorning the walls of restaurants and cafes bears testimony to the fact that art pervades all spaces.
As says an artist, "I am keen to showcase in an exciting, happening place where I can swap more frequently than leave art for too long, as a new look is always refreshing, creates excitement and entices the visitor to come again. Rotating keeps it cutting edge, keeps the space alive and prevents it from looking like a has-been environment." So be there, eat, drink, be merry and just give in to your creative calling.