Composer with a difference
Khayyam's compositions are a class in themselves, says M. L. Dhawan
Mohammed Zahur Khayyam Hashmi, popularly known as Khayyam, who was recently awarded the Filmfare Lifetime Achievement Award for his contribution to Hindi film music, wanted to become an actor. To realise his dream, he started learning music since in those days it was considered essential to learn music to become an actor. In 1947, he came to Bombay and under the baton of his gurus Husanlal-Bhagatram, he sang a duet "Dono jahan teri mohabbat mein har key" with Zohrabai Ambalawali for Romeo & Juliet.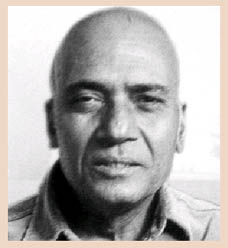 In Heer Ranjha (1948), Khayyam made his debut as a composer under the pseudo name of Sharmaji-Varmaji. In Biwi (1950), Rafi's song "Akele mein woh ghabrate to honge" catapulted him to dizzy heights. His tryst with melody began with his soul-stirring ghazal "Sham-e-gham ki kasam" in Footpath(1953). Later on, in Phir Subah Hogi(1958), Sahir's evocative lyrics "Woh subah kabhi to aayegee", "Phir na keejey meri gustakh nighayee ka gila", made it clear to music buffs that Khayyam was
no fluke.
That Khayyam was a composer of class was proved as early as 1958 when we hear Talat Mahmood's "Anna hee padegaa" in Laala Rukh. When the theme in the film was sombre, as much of his music, Khayyam outclassed his peers. Who else could have composed "Pyaas kuch aur hee bhadaka dee jhalak dikhla ke, Mohabbat banaye mohabbat mittaye" in Laala Rukh. With this film, Khayyam found his groove as an expert of filmi ghazals.
Starting with a fondness for Talat Mahmood's voice, Khayyam slowly switched over to Mohammed Rafi for giving voice his compositions. Rafi embellished many of his tunes "Jeet hee lenge bazi hum tum", "Jaane kiya dhoondtee rehte hain yeh aankhein mujh mein". That Khayyam was a perfectionist is evident in his music. In his songs, music and instruments meshed perfectly. However, the best tracks that Khayyam composed are the sad one. For composing the music of Kabhi-Kabhie, Yash Chopra wanted to sign saleable Laxmikant-Pyarelal but Sahir refused to work with the duo as he felt they could not grasp the essence of his poetry. Khayyam was assigned the task. The popularity of "Main pal do pal ka shaiyar hoon" and "Kabhi kabhi mere dil mein khayal aata hai" brought for Khayyam a belated stardom. Hereafter, Umrao Jaan put him in the category of ghazal composers like Madan Mohan, Naushad and Ghulam Mohammad. A lot of controversy was raised when Khayyam opted for Asha Bhosle, instead of Lata Mangeshkar. Justifying his choice, he remarked that if he had used the vocals of Lata, Umrao Jaan would have a Pakeeza hangover. As Asha's vocals suited Rekha's "bass" voice, Asha created her own Pakeeza in "Is anjuman mein aapko aana hai bar bar", "Justjoo jis ki thhi usko to na paya hum ney", "Yeh kya jagah hai dosto". Khayyam lowered the pitch of the tunes to one note lower than Asha's "sur" to get the throaty effect. Getting her to sing in a scale below her normal pitch made Asha sound all the more alluring. Khayyam won the coveted National Award for the best composer of the year.
By composing tunes that were simple and instruments minimal, Khayyam created music that earned him lot of respect. He composed music for merely 50 films during his more than 50 years in the industry but it continues to be appreciated even today.