No holds bar
Home bars in the city are getting swankier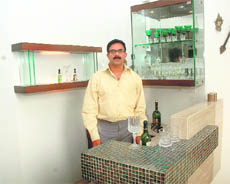 The best way we know to unwind is over a glass of wine or whisky. And, when you have the famous Patiala peg for company, who wants to compromise on the ambience? Since it is about inviting fun, relaxation and some entertainment, what better place than home? Say, your own private bar space. Call it an essential home design element or your own 'chill out zone', the city seems to be hung up on home bars. — Photo: Parvesh Chauhan
Sound of music


Amidst standing ovation and much-deserved adulations as the evergreen king of melody and comedy K Deep was being bestowed with the PTC Lifetime Achievement Award-2010 at a glittering ceremony, the nostalgic memories of school days visited his intrusive mind. Known as the mouth or vocal orchestra of the school, the class teacher used to make him stand on a stool and reproduce live the musical sound of various instruments. This is his forte even today. Six years back, at an international music fest in Norway, he surprised the crowd, including legendary Mehdi Hasan, with his vocal orchestra and also singing a soulful Shiv Batalvi number and emulated Mehdi Hasan singing ghazals.

Dreaming big
Aditya Narayan, who is set to make his silver screen debut in a lead role with Shaapit next week, says he is wants to experiment with all kind of genres in the film industry. "I want to experiment with all kind of films, from romance to comedy to horror to thriller. The only thing that matters to me as an actor is that the script should be appealing and strong. I can mould myself into any character," Aditya told. The singer-turned-actor will be seen opposite newcomer Shweta Agarwal in Shaapit, directed by Vikram Bhatt.
And the Kela goes to...
Kareena Kapoor as a man-hating supermodel in Kambakkht Ishq won her the title of Worst Actress, while Harman Baweja's search for a bride in What's Your Rashee led him to the Worst Actor trophy at the second annual Golden Kela awards, the Indian version of the Razzies of Hollywood.The award attempts to honour the "best in worst made films" and the irreverent occasion was presided over by funnyman Cyrus Broacha.
Picks & piques
Slow but steady



Three films have crawled out of the Bollywood stable this week despite the onslaught of the IPL. Right Yaa Wrong is Sunny's comeback vehicle of sortsand Na Ghar Ka Na Ghat Ka is about a dehati from the hinterland shifting to big bad Mumbai and his experiences thereof. Not high on expectation, this lot — but not as bad as I thought it would be either. Right Yaa Wrong was the surprise packet, while Na Ghar Ka Na Ghat Ka's rustic flavour is quite likely to get the northern belt interested.
Mobile matinee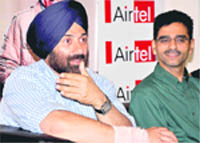 Bharti Airtel announced the launch of Airtel Talkies, an audio cinema on the move. The entertainment initiative was formally launched in the region by Bollywood superstar Sunny Deol at the Airtel Campus, IT Park, Chandigarh last evening. An Airtel customer will now be able to transform his mobile into an audio cinema hall with Airtel Talkies, with an access to a power packed 15-minute version of a three-hour film complete with original dialogues and songs. A sutradhar will narrate the entire story of the film.
Some cricketainment!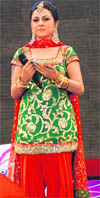 Parking chaos, deafening noise, cheering fans, star performers - the prelude to the first IPL match in city was interesting
The only place where Indians (we agree exceptions are there) reach on time is a movie show (especially the late night ones), reality show auditions (we have heard they reach a day in advance as well), and needless to say a cricket match! And, when the match in question is IPL Kings XI vs Delhi Daredevils, what can you expect. Here it goes. parking chaos, over excited boys and girls (boys outnumber girls), girls in their Saturday best, hooting and cheering, harassed cops, pan cake kissed faces, and of course, a lot of adrenaline pumping.
— Photos: Pradeep Tewari
On the move
Pop star Shakira has difficulties settling down in one place as she is used to being constantly on the move like a "gypsy" due to her work commitments. The Hips Don't Lie hitmaker, who is engaged to lawyer Antonio de la Rua, is forced to live a nomad's life due to the nature of her profession. "It's how I live my life, like a nomad. Ever since I became famous, I'm constantly travelling, which is great as I get to see so many different cultures and traditions. But I definitely live like a gypsy!" said Shakira.
Big fat
Spanish wedding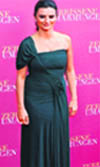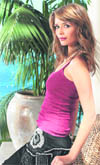 Hollywood star Penelope Cruz is reportedly planning a big fat Spanish wedding with actor Javier Bardem and has asked rock legend Mick Jagger's girlfriend to design her gown.

Screen presence

Hard times

Mischa's mansion on sale
Not so vain!
The much-awaited Vanity Fair is here again
It's too much for the eye to take in at one go and there's no count of the number of stalls dealing in suits, indo-western, western, ethnic wear, jewellery, bags, belts, scarves, wrought iron, wooden furniture, semi precious and precious jewellery, sarees, tunics, paintings, garden accessories, gift ideas, linen and footwear!
Techno Sharp entertainment
On the back of technology, Sony introduces 3D TV to India, which is the next big trend in the evolution of multimedia entertainment. The new range offers hours of endless entertainment to users with Internet enabled TV. The new LED technology based range promises to provide breakthrough visual experience with sharp images delivered through cutting-edge video quality. The new range of BRAVIA series will be available in the new and stylish monolithic design concept.
Music from the East
Braman Bandhus, talks about the classical music from the North East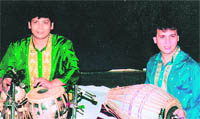 Rhythm and percussion came into form before the musical forms in vocal or instrumental, claims Madhusudan and Gopal Barman, popularly known as Barman Bandhus. In the city on the invitation of the Pracheen Kala Kendra for a performance at the Bhaskar Rao Nritya and Sangeet Sammelan, they maintained that the rhythm is the soul of any musical composition or performance.
Play right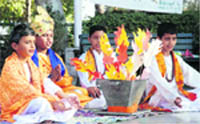 As many as 42 children presented the play Main Aurat Hoon on Sukhna Lake on Saturday. The play written by Bhoopinder Walia is a satire on double standards of society that on one side worships goddesses Saraswati, Durga and Lakshmi and on the other indulges in as heinous a crime as female foeticide. Directed by DS Gupt and assisted by Amar Jyoti took three weeks of preparation with the students of DAV Public School -39.
Matka chowk
Faces of Chandigarh


My next candidate in the Faces series has a very interesting vocation. He is a trainer and the Lake Club Gym, or rather its new avatar, Lake Sports Complex. He is young, clear-sighted and loves the city. Devender Sheoran, age 24, is from Bhiwani, Haryana. He came to Chandigarh six years ago to pursue his college education and has made Chandigarh his home since then.