Exotic no more


With more films being shot in and around the city, the need for hi-tech studios is being felt more than ever before
Open fields with lush crops, a village soaked in tradition, a posh bungalow in Chandigarh, the third phase of Rock Garden…to the sand dunes of Dubai, waterfalls in Canada, amusement parks in England, Disneyland, skyscrapers of New York…the local (Hindi and Punjabi) film industry has moved out to chic locations outside the country. — Photo by Parvesh Chauhan


Rock solid
Cyanide was the launch pad for many rock bands in the city
What's with the rock night? Name a student fest that doesn't have the "head-banging event" to usher in the crowds. — Photo by
Vinay Malik

Mind your language
A new study by Surrey University researchers has found that the centuries-old tradition of putting male names before female names in writing is a remnant of sexist thinking.
Cyanide effect!
Cyanide, last day…it's still on and students from the University Institute of Chemical Engineering and Technology are at it again. All set with the pavilion, the stage, the venue. — Photo by Parvesh Chauhan


Money cannot buy happiness
People of a wealthy nation may be addressing more miseries amid fattening economy, say experts. Curtis Eaton, University of Calgary, and Mukesh Eswaran, University of British Columbia, pointed out that while the rich with busting bank accounts may be able to afford the latest, the chunk of the population, without similar fortune, were more unhappy by their inability to match the same standards of living.
English ruining Chinese?
A senior Chinese translator has warned that common use of English words in everyday Chinese is ruining the language. Huang Youyi, chairman of the International Federation of Translators, has criticised usage of words such as okay, bye-bye, nice, modern and guitar.
Roll of honour
Sunil Yash Kalra's latest film focuses on four surviving members of the Olympic gold medal winning Indian hockey team of 1948


Year 1948, venue Empire Stadium, Wembley, and here's replaying the ultimate match ever. The Indian hockey team enters the Olympic roll of honour and all they played was the sport; all they played for was the nation. Sorry to say, but no mincing words, comparatively, the majority of sportspersons in any field today are jukebox performers!

"We're talking of 1948 when India was hardly out of partition. Add to it Punjab in the middle of turmoil. And playing around that time in the Olympic finals and that too not in your hometown but theirs, and then winning, speaks volumes about their dedication for the sport and the country," Sunil Yash Kalra, sports consultant, sports film-maker talks of the idea and the inspiration behind his latest docu-drama 'Nerves of Steel, Hearts of Gold'.— Photo by Parvesh Chauhan

Designer deal
Soh-Koh unveils its summer collection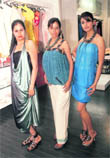 City-based multi-designer outlet SOH-KOH Clothing Inc. rolled out its summer collection on Tuesday. An eclectic mix of Indian and Western wear, both for men and women, it has some 45 labels to boast of. "We swear by quality of fabric, which is comfortable and lasts long," says Aarti Gupta, partner, SOH-KOH.

The collection is an interesting mix of saris, unstitched and readymade suits in sequins, and party wear. Nida Mahmood has some striking saris, which use chiffon, net, crepe, and georgette in one piece. Formal skirts, free flowing tops, tunics done in lighter silk have rich embroideries and sequin work. — Photo by Parvesh Chauhan Adding to the league of small cars, Ford Figo was launched in Chandigarh on Tuesday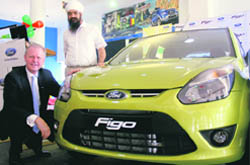 Are you looking for fuel efficiency? Do cool interiors and exteriors lure? Does competitive pricing matter? What comes first, security or style? Mileage, shape of engine block and cylinder head; do you take into account any of these features while buying a car? Here, let's simplify. A car with a competitive price, chic interiors and good mileage all rolled into one makes it a 'lets buy it' probability. This has led to an increase in sales of small segment cars, flagging off a new journey of comfort, style and efficiency. — Photo by Pradeep Tiwari

Under the 'arch' light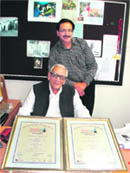 Illustrious son of a famous father," is how architect Sangeet Sharma was announced when called in to receive the coveted Archidesign Award 2009 at a ceremony held in New Delhi on Saturday. The father-son duo was conferred awards in different categories. "It is a great honour to share the platform with my father, who is my mentor and guide," says Sangeet. "It's a father's desire to see his children excel. I am delighted that my son is at it," puts in SD Shamra, eminent architect from the city who already has as many as 12 awards in his kitty, including the prestigious IA Baburao Mhatre Gold Medal for outstanding contribution to architecture in 2001.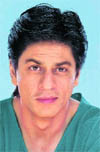 Discovering SRK
Why he chooses "mediocre" films
Noted film editor Deepa Bhatia, whose latest work includes My Name Is Khan, says Bollywood superstar Shah Rukh Khan chooses to act in "mediocre" films despite being a gifted actor. Deepa, who has been awarded for editing films like Aamir Khan's Tare Zameen Par and Rock On, said it was a discovery for her to see the real actor in Shah Rukh while editing My Name Is Khan.

"Honestly I am no SRK fan but then he was so sincere in MNIK which was amazing to see.

Hum Tum Aur Dia


Bollywood actor Dia Mirza, who will be next seen in Hum Tum Aur Ghost said she could not believe when friend and co-star Arshad Warsi kept his word and cast her as the female lead in his upcoming home production Hum Tum Aur Ghost."I was content with guest appearances and was convinced that only such roles would come my way, if not wholesome characters. But when Arshad and Maria offered me the lead role in their upcoming home production Hum Tum Aur Ghost I was overwhelmed...I could not believe.. he kept his word," Dia said."When we finished working with Lage Raho Munnabhai, Arshad told me even though my role was small, I did a fantastic job and that he would surely love to cast me in his home production.

Payback time
Bollywood bigwigs from Amitabh Bachchan to Salman Khan have come together to present Star CINTAA Superstars ka Jalwa, an entertainment extravaganza, which will raise money for the welfare of Cine and TV artistes. Star India Network along with Cine and TV Artistes Association (CINTAA) have come together to present the charitable contribution which will provide the association's members with medical services, rehearsal halls and preview theatres.