Eighth, wonder!
The eighth position that India had to settle for in the World Cup comes closer to their true worth, writes K. Datta
Forgetting some discouraging irritants like strict security and the frustrating running around for tickets, this month's most widely televised Hero Honda world cup has succeeded in bringing home to a people so sentimentally attached to the game facts like hockey being no longer what they were conditioned to believe in and that there are so many good teams

Indian hockey captain Rajpal Singh (fourth from left) leaves with teammates after the World Cup 2010 classification match that got them the eighth place at the Major Dhyan Chand Stadium in New Delhi recently Photo: AFP
around that even qualifying for international tournaments cannot be taken for granted, as India found to its cost recently.
Lament for losers
Chandan Sen
During the heyday of Indian hockey, the national team called the shots in major sporting events, annihilating opponents with utter disdain. A record win of six straight Olympic gold medals, bagged from 1928-56, has till today been an unbreakable record, thanks to the legendary players like Dhyan Chand, Mohd Shahid, Balbir Singh, M. P. Singh, Dilip Tirkey and so on. Major Dhyan Chand, the wizard of hockey is no more but his eldest son Brij Mohan Singh, an international and national player (retired sports officer from Rajasthan who has also served in Hadoti) lives in Kota, Rajasthan. B.M. Singh stays there with sons Vishal and Ajay.
Fitness mantra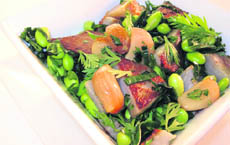 Superb SOYA
Nancy Sahni
Soybeans originated over 13,000 years ago in China , where they were considered one of the most important crops in the area. They were introduced into Japan in the 8th century and many centuries later, into other regions of Asia, including Thailand, Malaysia, Korea and Vietnam. Soybeans made their first appearance in the US in the 18th century.