Legacy of a legend
As the nation readies to pay homage to Shaheed Bhagat Singh, Amarjit Thind reports from Khatkar Kalan about the state of the freedom fighter's native village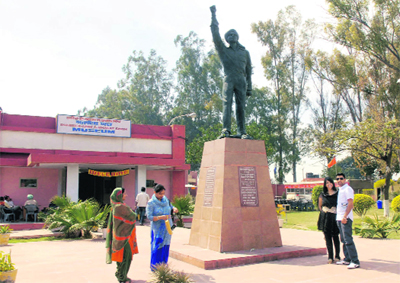 An NRI family at the musuem in Khatkar Kalan

The aim of life is no more to control the mind, but to develop it harmoniously; not to achieve salvation hereafter, but to make the best use of it here below; and not to realise truth, beauty and good only in contemplation, but also in the actual experience of daily life; social progress depends not upon the ennoblement of the few but on the enrichment of democracy; universal brotherhood can be achieved only when there is an equality of opportunity —of opportunity in the social, political and individual life.
— From Bhagat Singh's prison diary
(pg 124)
As a grateful nation prepares to observe the 79th death anniversary of the Shaheed-e-Azam on March 23, the observations of the young martyr in his notebook while awaiting imminent death are a reminder about what still needs to be done to ensure such equality in an increasingly imbalanced world.
These words are driven home into the minds of the rising number of visitors, especially youngsters, who are flocking to Khatkar Kalan village, the native place of the revolutionary, who kissed the gallows to free his beloved motherland from the yoke of slavery. This sprawling hamlet on the Chandigarh-Jalandhar highway, near Banga, is emerging as a pilgrimage spot for those who do not have any real heroes to emulate in an era of consumerism and degradation all around. An age in which selfless role models are hard to find, let alone follow.
The caretakers at the small but aesthetically built museum say they have been receiving an ever-increasing number of visitors in the past few years as compared to before, giving the feeling that the martyr is being resurrected in the minds of the people. A round of the museum is a virtual treat for visitors coming to have a glimpse into the life of Bhagat Singh, who embodies the stuff that legends are made of. Right from the busts of his two compatriots —Rajguru and Sukhdev — at the entrance to the sepia-tinged photos of his illustrious father and uncles around the gallery, one cannot but bow one's head to the family and to the ideals they held so dear that the young revolutionary chose to be hanged than give up his struggle for freedom and equality of opportunity for his countrymen.
Among the documents on display are his Warrant of Execution, under Section 381 of the Criminal Procedure Code of 1930, a pen, with its nib broken, used by the Judge who signed the black warrant of Bhagat Singh, the charred remains of the three compatriots that were collected from the banks of the Sutlej, near Hussainiwala, by his sister Amar Kaur shortly after their hurried cremation.
The death certificates of Shaheed Udham Singh and Madan Lal Dhingra, the faded photos of other eminent freedom struggle stalwarts, the infamous Cellular Jail at Andaman and Nicobar, and various other acts of defiance against the British have been pictorially displayed. Among the exhibits is a blood-stained copy of The Tribune announcing the execution of Bhagat Singh, Rajguru and Sukhdev. No visit is complete without going to the ancestral house of the great revolutionary which, till a few years ago, was in a bad shape. Old timers like former panch Kashmir Singh recall that the renewed interest in the martyr has not only ensured more all-round development of the area but also resulted in the sprucing up of the house.
He says earlier the house was in a run-down condition and was adjacent to the filthy village pond. The credit for its facelift and better maintenance goes to former President Abdul Kalam, who not only visited the place but also expressed a desire that its surroundings be beautified.
As the plinth level of the road has been raised, the rainwater enters the house and has to be cleared. He also points towards the crumbling parapet and the deteriorating condition of the roof. Just whitewashing the house will not do, as there is an urgent need to reinforce the structure without altering its original shape, Kashmir Singh points out.
Today, the pond is a beautifully landscaped garden with fountains and people from far and near come there to unwind. And the house is in the process of being renovated by the state Archeology Department. Needless to say, the humble abode of the martyr has been dwarfed by the surrounding palatial houses built with NRI remittances. Every house has one or more persons living abroad who send money to their kith and kin here.
Villagers say more needs to be done to propagate the memory of the revolutionary. While celebrating his birth anniversary is a welcome step by the government, projects announced by previous governments should be taken up in earnest.
For instance, the Performing Arts Center announced by the Darabara Singh government or the 100-bedded hospital promised by none other than the late Prime Minister Indira Gandhi in 1971 during her visit to the village to meet the old mother of the martyr, Vidyawati, have failed to materalise. Vidyawati passed away the same year.
Nevertheless, the present government has acquired six acres of land adjoining the museum for a complex complete with a lake and other facilities for the benefit of the visitors. While the land will be provided by the state government, the cost of executing the project at Rs16. 60 crore will be borne by the Centre.
Not wanting to leave everything to the government, the villagers have set up the Shaheed Bhagat Singh Sports Club that not only holds sports meets but also undertakes various social activities. The emphasis is on preventing drug abuse among youngsters and a fully equipped gym is also being run by them.
Such was Bhagat Singh's life, his ideology, trials and tribulations and, above all, his single-minded pursuit of a utopia that would transcend all barriers of caste, creed and social standing that he became an icon even during his lifetime. Harsh though it may sound, people living in a materialistic, selfish world find it hard to believe that a person can sacrifice his life for the betterment of his brethren. But Bhagat Singh would be proud to see that his call for Inquilab Zindabad still reverberates in the minds of people and is a template for those who work tirelessly and fearlessly to bring about changes in the polity.
Beyond borders
Martyr resurrected in Pakistan
Sarbjit Dhaliwal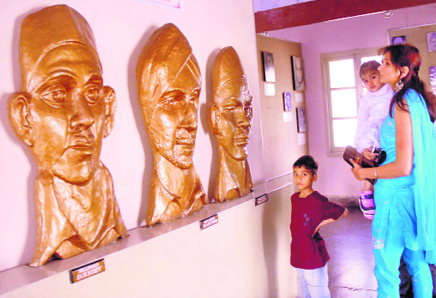 Visitors look at the busts of Sukhdev, Bhagat Singh and Rajguru
Shaheed Bhagat Singh, who was almost forgotten in Pakistan, is now resurfacing in that country. Though all — the Hindus, Sikhs and Muslims and others — fought together for the freedom of India but after Partition in 1947, the Pakistan establishment had blacked out the "Indian" martyrs. A new crop of admirers of the great martyr Bhagat Singh has now come up in that country.
  A movement, though at a small level, has been initiated by the Progressive People of Civil Society to protect and preserve the places connected with Bhagat Singh in and around Lahore, the city that played the most important role in the freedom struggle. Lahore was the place where Bhagat Singh and his close associates planned their all actions and programmes to step up the movement. They networked with others across the country by involving the young blood from that city. Bhagat Singh studied in National College at Lahore.
 The house where Bhagat Singh was born in Chak No 105, also known as Bange in Layallpur (now Faislabad) district in Pakistan is intact. Dr Chaman Lal, a Patiala-based eminent educationist, who has authored several books on Bhagat Singh, says that the family of one Iqbal Virk and his other two brothers, who had migrated from Virk village in Amritsar, now lives in that house. They were allotted the house after Partition.  An old tree of beri is intact in the house, to which only one room has been added. Shaheed Bhagat Singh's family belonged to Khattkar Kalan village, near Nawanshahr. The family house at Khattkar Kalan has been declared as a protected place.
 Shehzad Aalm, who has set up an organisation, Sanjey Lok, in Pakistan and some other people such as Ahmad Saleem, belonging to democratic and secularism outfits, have been campaigning to preserve the birthplace of Bhagat Singh. The mango orchard spread over 17 acres, which was owned by Kishan Singh, father of Bhagat Singh, is also intact in Chak No 105. It was allotted to the Virk family after Partition and is worth over Rs 1 crore now.
Bhagat Singh had his primary education in the village school and his childhood friend, Abdul Haque, who was 105 years' old, passed away only recently.
In fact, Bhagat Singh, was born in a rich family. Only well-off people could afford to send their wards to college in those times. Otherwise also, this fact is testified in a judgment delivered in the case of Shaheed Kartar Singh Sarabha, who was sentenced to death at a young age. Sarabha's association with Bhagat Singh's family impacted the latter's life in a big way. 
Unfortunately, there is no trace of the Lahore Jail where Bhagat Singh, along with his colleagues, and earlier Kartar Singh Sarabha, were hanged. A modern colony has come up at the jail site, where a Shadman chowk has also been built. To preserve the common heritage of the freedom movement, some democratic people light lamps on March 23, his martyrdom day, at the Shadman Chowk, says Dr Chaman Lal. There is also proposal to put up a plaque near the chowk.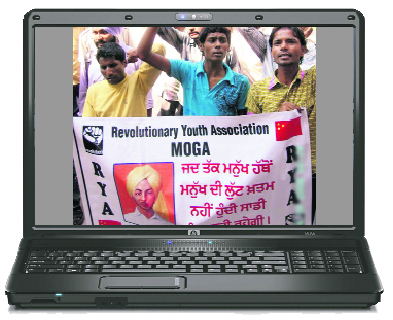 From Orkut and Facebook to stage shows, there are many platforms through which today's youth connect with the legend of Bhagat Singh, writes Mehak Uppal
Dil se niklegi na mar kar bhi watan ki ulfat
Meri mitti se bhi khusbhuye watan aayegi
His favourite couplet has truly come true as he dominates the popular psyche even 79 years after he went to the gallows. His legacy can be judged by his presence on Orkut, Facebook, websites, leaflets, pamphlets, booklets, in cities as well as villages, among students as well as the working class? Yes, I am talking about our very own Bhagat Singh, a household name that every kid in our region is well aware of. This Shaheedi Divas, falling on March 23, we decided to find out how the youth of the region are keeping his spirit and ideology alive and discovered loads of enthusiastic ideas floating around.
There are many youth organisations in the region that draw their inspiration from him. Kanwaljeet, president of one such outfit named the Revolutionary Youth Association, shares, "It was the cause of the labourers that got us involved. Of late, we have found success in getting the student community together for the support of the mess workers in Punjab Engineering College (PEC)". He goes on to tell us about a lot of other projects, including one called 'back to villages,' where students from PEC form groups and go to nearby villages to bond with the youth.
Talking of villages, Bhagat Singh seems to be extremely popular at the grassroots level. There are many organisations working in the villages that hold regular seminars and interactive sessions on his ideology. Bhupinder Kaur Gill, district head, All-India Student Association, says enthusiastically, "We generally call a person of substance, say a professor from JNU, to interact with the youth in our Mansa district. Last time on March 23, we invited the nephew of Bhagat Singh to come and conduct a session with us".
SITE SEEING
Some of the popular websites on the martyr are:
http://bhagatsinghstudy.blogspot.com/
http://www.bhagatsingh.in/
www.shahidbhagatsingh.org
Sample a few interesting posts on these communities:
Do you agree that it was Gandhi's cowardice at work that ensured that Bhagat Singh's hanging was not stopped?

Should there be a national holiday on March 23?

Was Bhagat Singh a terrorist in the eyes of the people?

Some have even attempted to connect it with the contemporary system by raising questions like: Do you agree with Aamir Khan's message in 3 Idiots that India needs a change in education system? Should the power be in the hands of the common people of the nation; and not in the hands of elite or rich class, as envisioned by Bhagat Singh? — MU
Interestingly, all sort of creative ways are used by these organisations to propagate their cause. These include nukkad nataks, writing competitions, holding workshops, distributing leaflets, pamphlets, websites and much more. "We have found the Internet to be a very good medium to connect with the youth. Our page on Orkut has more than 900 members. We also use Facebook as a way to network with the like-minded people. This year on March 23, we are launching our publication as a vehicle to propagate our revolutionary thoughts", says Kanwaljeet.
Another interesting way has been developed by Amandeep, moderator of one of the many communities dedicated to the freedom fighter on Orkut, "We have now started spreading the message of Bhagat Singh through poems among children. We have invited some poets on Orkut to contribute to our page. In fact, we ask all poets around to write at least one poem on the great personality and share it with us".
As if this wasn't enough, there are even downloadable books available on the life of the revolutionary and his associates on http://revolutionarybhagatsingh.blogspot.com, managed by the Shahid Bhagat Singh Research Committee.
But how has Bhagat Singh captured the popular imagination so well is a question that arises in one's mind? "I think it's his independent streak that many can connect with. How it wasn't his family support but his own efforts that made him successful in his mission. I come from a humble background and it was his stories that gave me the confidence to achieve my goals in life," says Dalvir Singh Goldy, ex-president, Student Council, Panjab University, as he goes on to claim that even his looks have been inspired by the legendary hero.
So, is it a case of blindly emulating the hero or there's more to it? "Absolutely not", counters Bhupinder and goes on to site her own example. "My father was associated with this organisation but none of my siblings showed any interest in joining it. It was just me who went ahead because I felt a strong connection and nothing else. And that is the case with most of the members around!"
Listening to all this one can't but wonder if Bhagat Singh could have ever imagined how his ideas would permeate into the mass consciousness. After all, how many other personalities from history are so popular amongst the youth so as to have their pictures flaunted as stickers on the rear of cars!