Force to reckon with
The BSF has raised a massive armed female contingent to guard the country's borders, and plans to recruit another 35,000 women in the next four years. The country is in safe, strong hands, writes Ajithas Menon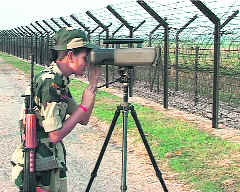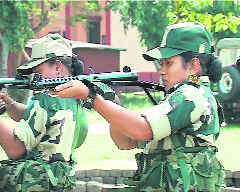 For women living along the border, who cross the gates daily to tend to their fields or graze cattle on their property along the Zero Line, the presence of women constables is a God-sent gift Photos: WFS

Today Basanti Mondal (20) is a celebrity in her village, Kirnahar, in Birbhum district of West Bengal. She is the chief guest at all village functions, and families ask for her advice on important decisions like which school should children be sent to, which jobs should youth try for, how to find grooms for their daughters, and so on. After all, Basanti carries a gun, wears a uniform and is in the force.
A year ago, Basanti was a rebel. She had left the village almost as an outcast, defying parental and social objections, in response to an ad in the employment gazette asking for women recruits for the Border Security Force (BSF). The villagers were horrified at the very thought of a girl joining the force and doing a man's work, and wearing trousers as well.
"The common reaction was that I would be unable to do it physically. After all, a woman is weaker, frailer than a man. She is not expected to bear the hard training of a soldier," says Basanti, adding: "But I did it. After completion of a 36-week rigorous training, I am finally a constable with the BSF. My hard work and perseverance is paying rich dividends. The villagers revere me now. Not in their wildest dreams had they thought a girl from their village would make it to the force."
The BSF was sanctioned 700 posts for women constables recently. About 8,500 applications were received, indicating the growing interest among women in joining the force. A total of 178 women recruits passed out with flying colours from the BSF's Kharkan training camp, 15 km from Hoshiarpur, as the first batch of the armed women contingent. Of these, 108 were from Punjab, 46 from West Bengal and 24 from Assam. While the women constables from Punjab have been deployed along the Indo-Pak border, those from West Bengal and Assam have been deployed along the Indo-Bangladesh border.
"Anu Tamang from North Bengal led the passing out parade for both men and women. It was a proud moment for us women recruits to see the flag borne gracefully in her hands," recalls Tia Roy (20) from Beliatore village in Bankura. She says the women are fully trained in the use of weapons, "Even the Indian Army does not have an armed women's force yet. We had the same physical training as the men, and I am proud to say that we could undergo the strict regimen confidently."
BSF's 36 Battalion, which has 50.52 km of the Indo-Bangladesh border within its Area of Responsibility (AOR), has to contend with problems like cross-border smuggling of drugs, arms and ammunition and cattle, along with illegal immigration and trafficking in women. "There was dire need of women BSF personnel as, otherwise, it was impossible to frisk or detain women without facing allegations of human rights violation," points out Shrabanti Karmakar (21), who, along with five other women constables, has been deployed with 36 Battalion at the Haridaspur border outpost.
India has a 4,023-km border with Bangladesh through West Bengal, Assam, Tripura, Meghalaya and Mizoram. With 2,216 km, Bengal has the longest stretch to guard. The border is extremely porous with large tracts being completely riverine. "Until now most of the smuggling operations and trafficking were being conducted by women, as it was known that the BSF would be unable to take action without impunity. But now with women constables in Bengal and Assam, criminal and anti-national activities can be tackled better," adds Shrabanti, who also hails from Bankura.
The armed women guards are in themselves a huge deterrent for women indulging in cross-border criminal and extremist activities. The BSF had long felt the need for women personnel, and now that an armed women's force has been raised and deployed, it is hoped that the deployment of women for checking cross-border illegal activities would bring significant results, believes CV Murlidhar, Inspector General, BSF, South-Bengal Frontier.
Constable Putul Murmu (22), with 36 Battalion, says it was the Maoist problem in west Midnapore which had prompted her to join the force. "I hated to feel like a victim all the time. It is true that the area has seen no development over several decades but being anti-national cannot be the solution. Serving the nation is the right thing to do, and joining the force has also improved my economic status considerably with a starting salary of Rs 11,000," she adds.
All the women constables are fully trained for 12-hour shifts of guard and patrol duty along the borders. They are also trained in the handling and use of the 5.56 mm INSAS rifles, 9 mm carbine machine guns and 5.56 light machine guns.
For women living along the border, who cross the gates daily to tend to their fields or graze cattle on their property on one side or the other of the Zero Line, the presence of women constables is a God-sent gift. "Not only has it become easier to be frisked and thoroughly checked, it is also easier to answer questions put by women personnel," says Ayesha Mollah (41), a resident of Jayantipur village under the Haridaspur border outpost.
"Trafficking of women across the border is a big problem. Most of these young girls and women are too scared to protest when touts pass them off as relatives at the check posts. They also fear detention by men constables and remain quiet. Now, it is hoped that the trafficked girls would feel more emboldened to voice their predicament to someone of the same sex," adds Ayesha.
Sharbano Kazi (58), also from Jayantipur village, observes that even local women like herself always felt uncomfortable with male guards. "It was as though we were always under suspicion. Since they could not frisk us, the doubt always remained. I used to feel like a thief every day while crossing through the gates. Now I can boldly pass through, knowing they cannot suspect me any more."
Despite the obvious advantages, one reason why the armed forces are reluctant to recruit women is the possibility of them quitting after marriage or pregnancy. But Purnima Kundu (23) from the Ayodhya village of Bankura, dismisses this apprehension. "There is no question of my quitting ever. If that is a pre-condition to marriage, it will be preferable to remain unmarried," she says. The women constables already have a practical stand on this. "We will try to find boys within the BSF itself as they would be more understanding about our professional compulsions. The force also has a policy of posting couples together. That will bring down such problems significantly," adds Purnima.
These women have made a clear career choice. They are here to stay on the country's international borders. The BSF plans to recruit 35,000 women guards in paramilitary forces over the next four years. Many of these women don bangles but they have certainly broken a stereotype. The country will be in safe, strong hands. — WFS