Ghazal guru
Maestro Jagjit Singh talks about contemporary music scene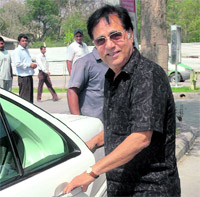 An invincible music maestro to music lovers, philanthropist to the needy NGO projects and a fine human being, Jagjit Singh has undeniably been reigning supreme as the Ghazal King for over half a century. Experts believe that nature and man seemed to have forged a happy alliance to create the celestial musician if his rising from a modest beginning to the success he achieved is to go by. Credited with over 60 music albums, music direction and playback in films, thousands of music concerts in India and abroad, Padmabhushan Jagjit Singh is not complacent but in high spirits to scale the horizons.
Weird or wacky
Itís creativity at its best, when it comes to choosing names for Punjabi music albums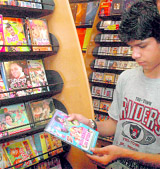 For a first timer, it would be absolutely impossible to fathom. For someone, who has been following it for quite sometime, would still find it eerie. And well, for those who are the brainchild behind it, it is creativity at its best. Names of Punjabi music albums can put anyone in a dilemma. 'How on earth do these people come with such 'weirdly unique' names.'! Not convinced, check out the list-Motor, Romantic Jatt, Kali Gypsy, Gera De De, Safari Boys, Amplifier, She Is From Punjab, Driverji, Gym, Kand Mishri, Fauje Ate Driver, Motor, Chuk Chuk Gaddi, Pencil Di Khed, Petrol Pump, Tractor, Chal Cinema, Classroom, Board Dey PaperÖ. Howzz it! A great combination of creativity and eccentricity!
In the fast lane
Gul Panag is all set to zip zap zoom in SJOBA
The word adventure often ends with freak. Normal, sane people have nothing to do with it. But Gul Panag doesn't like being called a freak. She is extremely normal, extremely adventurous and participating in SJOBA for the first time. "I like adventure sports and its nothing new for me. I participated in Lavasa Women Car Rally in Mumbai last year for cancer awareness, but it was on a smaller scale," says the actor.
Hello Tunez
New appeal

Prince (TIPS): A lot of experimentation is going on in private albums. But when it comes to film playback, most directors tend to play it safe and refrain from doing anything radical. But this film is an exception. It treads a new path which may appeal to the teen crowd considerably. What seems to have helped is that this film is made by the Tips company itself, and they know what kind of music sells. Composer Sachin Gupta has not failed to deliver, despite giving a chance to newcomers.
Religious fervour
Shabad (TIMES MUSIC): When he was at the peak, Pankaj Udhas hardly sang anything religious. He has now made amends, that too by signing Shabad from Guru Granth Sahib.