M A I N N E W S
Maoists disrupt life, kill 2, blast tracks
Day 2 of bandh: Factory ransacked, traders abducted
Ranchi/Gaya, March 23
Maoists killed two persons in Jharkhand and blew up rail tracks in four eastern states today, just hours after they targeted the Rajdhani Express by blasting a rail line in Bihar in which hundreds of passengers had a miraculous escape after 10 coaches derailed.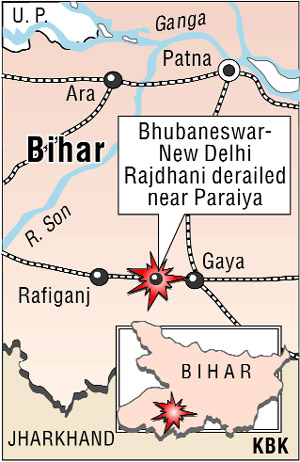 The Maoists stepped up violence leading to disruption of rail services and cancellation of several trains on the second day of their 48-hour bandh. There was no casualty or injury in the incident involving Bhubaneswar-New Delhi Rajdhani Express late last night.
In Jharkhand, the Maoists ransacked a sponge iron company, Narsingh Steel, in Saraikela-Kharswan district and made an abortive attempt to ambush security personnel who were on their way to the plant.
A fierce encounter followed in which police constable Kalicharan Bodra was killed, the police said. In another incident, a 65-year-old villager, Rampati Gorani, was shot dead by Maoists in Dumka district. Around seven Maoists dragged Gorain out of his house and shot him dead accusing him of being a police informer.
Suspected Naxalites also abducted four traders in Bokaro.
A major disaster involving the Rajdhani was averted since the prestigious train was travelling at a slow speed when 10 of its coaches and the engine jumped off the track near Gaya station following an explosion triggered by Maoists. The incident took place late last night between Kasta and Paraiya stations.
ďThe trainís speed was 75 km per hour and that is why a big disaster could be avoided,Ē train driver RK Singh said.
The Maoists are observing a shutdown in Jharkhand, Bihar, Orissa, West Bengal, Chhattisgarh, Andhra Pradesh and three districts of Maharashtra in protest against the stepped up anti-Naxal operations, price rise and arrests of some of their cadres.
Train services on the Mumbai-Howrah route in Orissa were suspended following two back-to-back explosions were triggered by Maoists near Rourkela. A goods train got derailed between Birsa and Bongomunda stations following blasts. Preliminary reports suggested there were no injuries or causalities in the incident.
In Latehar distrct of Jharkhand, the Maoists blew up railway track between the Chhipa Dohar and the Hehegarha railway stations. In West Bengalís West Midnapore district, the Maoists triggered blasts on railway tracks at two places.
Six policemen, including an SHO, were injured when armed Maoists exchanged fire with the police at a market in Biharís Sitamarhi district. A police jeep was also burnt down by Maoists in Sheohar district. ó PTI