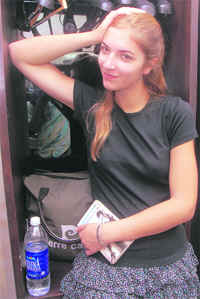 Sporting glamour
Three models from Ukraine, Morocco and France are in the city for a shoot with our cricketing stars
Cricketers. God gracious, they are everywhere. Ah well, they are for sure on the field (they ought to be). They are on television (largely), they are on the ramp (more than once now — couldn't get enough of Yuvraj and Dhoni walk the ramp), and yes they are on the silver screen as well. Did we forget to mention, they do shooting as well. No, not target or sharp-shooting. We mean shooting for an advertisement! A Tuesday morning we catch them doing a jig for a mobile phone company at Hotel Mountview. Yuvraj, Sangakkara and Sreesanth, three models posing as cheer leaders and two boys dressed up as waiters. It is a shoot for a mobile phone campaign, and look who is excited about it — the three models from Ukraine, Morocco and France. The three pretty models know nothing about cricket, however, they are gung-ho about talking to us as they get their make up done at the Tress Lounge, Mountview.
Indian Popular League
With another IPL match set to rock the city, there is no dearth of enthusiasm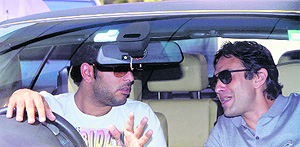 Forget about discotheques, pubs, cafes and lounges…the scene of action has shifted from the most happening places to the present 'hotspots' - Hotel Mountview and Sector-16 Cricket Stadium. Kids jumping around with their newly-bought autograph diaries, girls and ladies with husbands in tow, hanging around in the lobby of the hotel and parking of the stadium, lensman from all over (we heard photojournalists from Jaipur, Kanpur and Jharkhand have descended to the city with hi-tech cameras) occupy 'mera wala' couch in the lobby; office management at both the places work overtime to ensure all is well.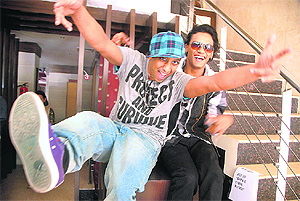 Spring in step
Two youngsters are out to popularise dance forms of America here. Read on
When two dance forms that originated on the streets of America are practised by two people in two different parts of the world, it becomes easier to understand how art traverses beyond geographical and man-made boundaries.
Jack Samuel Gill(L) with Saajan Singh
Drawing in moolah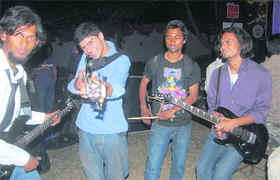 Student fests are big and so is the sponsorship required. How is it all managed? Manpriya Khurana finds out
It's the other F word. Parallel to student fests is the fun…oops the funds, the finances. The bigger, the better; more the merrier. Therein begins the maddening race for budgets, sponsors, media partners…somehow the cash needs to keep flowing, the fest has to be held, even hyped; made a success.
A Rock nite in progress at one of the students fests
Slow going!
With exams approaching, life on the campus is slowing down
Cruel ironies of time! The libraries are getting fuller, the canteens a lot more spacious. The towering Students' Centre has quietly started giving way to the adjoining AC Joshi library. And the xerox shop is a stiff competition to the geri route. It's a see-saw of examination and holidays. The balance keeps shifting and nowhere's the change more perceptible than the campus grounds.
Money can buy happiness
The secret to happiness lies in earning more money than your peers, according to a new study. Christopher Boyce, from the Department of Psychology at the University of Warwick in England, suggests that it does not matter how much wealth people make as long as they are doing better financially than their fellow mates. We tend to be happy" as long as we've got more than the people around us," Live Science quoted him as saying.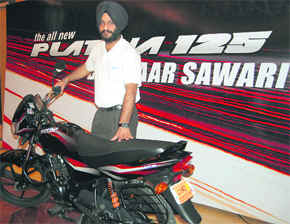 Rugged charm
Bajaj Auto, India's premier automobile company has introduced the new Platina 125. The launch is a part of Bajaj's ongoing efforts to enhance the biking experience for its customers. The new Platina 125 is a strong, rugged and powerful bike, which offers the best in class style, performance and mileage. Positioned as the Dumdaar Sawari the features are powerful 125 cc engine, convenient electric start as standard, 5-speed gear box for smooth riding, contemporary graphics with all black solid styling, telescopic front suspension and patented rear suspension for a comfortable ride.
Ab-solutely fantastic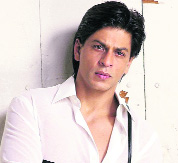 SRK gives young ones tips for six-pack abs Superstar Shah Rukh Khan, who flaunted six-pack abs in blockbuster Om Shanti Om but couldn't maintain them later, is doling out fitness tips to youngsters through micro-blogging site Twitter. "Six-pack more to do with diet than exercise alone. You need to be very disciplined. (Do it for) 30 to 40 days...they will start to show," Shah Rukh posted on his Twitter page Monday. "Exercise regimen - four times a week. Thirty minutes do a weights or any exercise which makes you sweat. No rice or bread at all with food, grilled food. Lots of water. No alcohol. If you do, then exercise (for) 50 minutes. No music and wasting time during exercise. Just do it like a job...push yourself."
Taxing job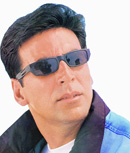 Akshay Kumar is asking you to pay tax honestly and on time
Pay your taxes honestly and on time, this is what actor Akshay Kumar will be telling people in a new TV commercial. The Central Board of Excise and Customs (CBEC) has roped in Akshay to feature in a TV commercial urging people to pay taxes honestly and on time. Akshay had edged past the other stars in Bollywood to become the highest tax payer for the financial year 2008-2009. The CBEC was of the opinion that no other Bollywood star could convey the message of tax compliance better than Akshay who for the last four years has been diligently paying his service tax in advance."
Ek Khiladi, Ek Hasina
Bollywood actor Priyanka Chopra, who is all set to replace actor Akshay Kumar as the host of reality show Khatron Ke Khiladi, insists she can never step into his shoes."I can never step into his shoes because they are very big shoes to fill. Akshay is the original Khiladi. He is super good at what he does," says Priyanka. "He has taken the show to a different level and my effort will be to take it forward from there. He has already made my job easier," she added.

Poetic justice
Hain aur bhi duniyan mein sukhanwer (poet) bahut ache, kehte hain ke Ghalib ka hai andaaz-e-byan aur…" Reiterating Ghalib's own admiration for his poetic potential, Toronto-based surgeon and litterateur Syed Taqi Abedi opines that Ghalib's incredible poetry in Persian has not been appreciated.
Syed Taqi Abedi
Masterminded!
Whirlpool of India, a subsidiary of the Whirlpool Corporation, global manufacturer and marketer of major home appliances has announced aggressive plans for growth in the AC category as it launched a new range. The company has launched 30 new products in two sub-brands Mastermind Chrome and Mastermind Aviator. The new range with several unique and premium features is aimed at giving a boost to Whirlpool in the AC category.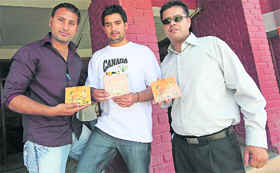 Wake up call
If you have had enough of daru, mutiyaar , yaar , jeep, jameen and goli `85 Jaago Wake Up is probably for you. "Good, clean, family music with a social message is our genre," says Satnam Singh Chatha, owner of 5 Rivers Entertainment Inc., which released its first Punjabi album Jaago at the Chandigarh Club on Tuesday.
(L-R) Zacharry, Harry Pannu and Satnam Singh Chatha at the launch of Jaago Wake Up

Something visible, something invisible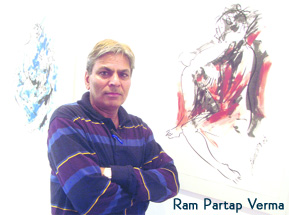 A reclining figure drawn in black with nothing in the backdrop or a dash of colour on the paper. Another one had the same black figure sitting with his foot resting on his knee. Most of the works by Ram Partap Verma on display at the Alliance Franciase art gallery are figurative drawings in black and white. And, as might be suspected, the figures don't denote negative emotions. "We hardly get anytime for ourselves. There are people around us all the time, who make us work, even think as they want. The drawings depict how a human being relaxes when he is all by him," says Verma.
Leading the way
Leadership is that one thing that most people would readily shy away. One organisation that provides thousands of young people across the globe the unique chance to step into a leadership role is AIESEC.