Student fests are big and so is the sponsorship required. How is it all managed? Manpriya Khurana finds out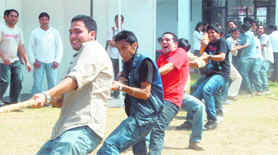 Tug-of- war at Cyanide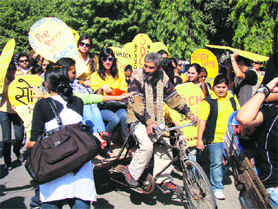 Soch '09 saw some innovative ideas

It's the other F word. Parallel to student fests is the fun…oops the funds, the finances. The bigger, the better; more the merrier. Therein begins the maddening race for budgets, sponsors, media partners…somehow the cash needs to keep flowing, the fest has to be held, even hyped; made a success. It's a round-up of student events held this session and the balance-sheets can't get more interesting than this.
Beginning with the firsts in the string, School of Communication Studies' Soch '09. "The budget for Soch was around Rs 3 lakh. Like most students, we began planning on a much bigger budget but then came down to a more realistic and practical one," Jasmeet K Shan, organising secretary, Soch '09, briefs. She adds, "We were among the first ones to hold our annual festival and around the same time, many others were going on, so there was a kind of competition among us to get sponsors. But at the end of the day, we did a pretty good job, managed our finances really well and rather saved also a lot."
It's a three-day thing, annual affair and keeping it hyped up, talked about, sought after is the key. No wonder, no budget runs less than a couple of lakhs. Shares a fourth- year student from the University Institute of Chemical Engineering and Technology, "Our budget for Cyanide this time was around Rs 4 lakh and the main source of revenue was definitely sponsors. We made some money by selling stalls plus some by advertising through banners." He adds, "It was the financial closing year and we would've generated much more funds had Cyanide been held a month or two ago."
The hitches with finances are all-pervasive, affecting even the big players in the field. Whether it's the beginner's budget or that competing IIT Delhi's Rendezvous. The event in question is Pec Fest, the big daddy of all carnivals. Shares Anamika Thakur, fourth year student, public relation head, Pec Fest, "This time our budget was around Rs 19 lakh, albeit we were expecting a much bigger one. But given the fact that it was a recession year, we did a pretty good job; it was a success." She adds, "Our major sponsors were telecommunication companies plus the youth-related brands."
It's a question of cash, the ultimate survival kit, and any which way to keep it flowing. Shares Anamika, "Sponsors are the major source of revenue and to rope them in our marketing goes on for over a month, each of the three nights is dedicated. Whatever money is earned through stalls is given away in cash prizes and stuff."
Then there are star nights to be held, rock bands to be invited, lest what will be underscored in the publicity posters. That's one third of the budget spent, in inviting the celebs, holding a star night. "We were running short of funds, so had a DJ night and couldn't rope in any big star," shares Vishal Mahajan, marketing convener, Goonj, UIET. This is despite the budget running into lakhs. He adds, "We had a budget of around Rs 4-4.5 lakh. Sponsors definitely were the major revenue source, but we made some money by selling stalls for all the three days, which were 25 in all."
Chips in Jasmeet, "We originally had 20 events and all of them sold out. Then Apple computers wanted exclusive events so we formulated two especially for them." Like we said - any which way to keep it coming.
Shares Mayank Ojha from Chandigarh College of Architecture, active member, Archo '10, "Our main sponsors were field-related companies and youth brands. Majority of the sponsors wanted brand presence, lesser ones settled in for stalls."
The sponsor snags run deeper than just the peripheral, shares Jasmeet, "At times, they do back out at the last moment or have a lot of conditions and yes, the sponsor money doesn't reach you till 10 or 15 days before the event. Up till then, one needs to survive on own." No wonder, even venue can tilt the balance. As says Vishal, "This time we ran into trouble because originally Goonj was going to be held on the PU campus, but later the authorities allotted us only the south campus because they wanted departments to use only their areas. Because of this shift in venue, a lot of sponsors backed out." Like we said, anything for finances. By hook or by crook!
Laughs Jasmeet, "We even asked students to get used papers from their place for two months and we are a strength of around 100. We managed around Rs 7,000- 8000 that way." So much for inspiration!
manpriya@tribunemail.com
With exams approaching, life on the campus is slowing down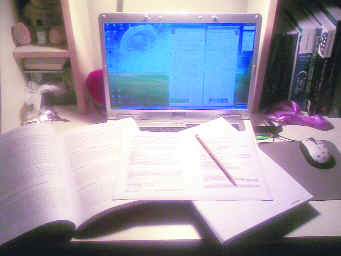 Cruel ironies of time! The libraries are getting fuller, the canteens a lot more spacious. The towering Students' Centre has quietly started giving way to the adjoining AC Joshi library. And the xerox shop is a stiff competition to the geri route. It's a see-saw of examination and holidays. The balance keeps shifting and nowhere's the change more perceptible than the campus grounds.
Looks like all the fests are over, so are the rock concerts, as are the singer nights. A matter of weeks and all roads lead to the examination hall! "The change is there and everywhere on the campus grounds, there's a shift in the mood and atmosphere. The parking areas are empty. Now only those students come here who have their practicals or assignments or who are short of attendance and want to complete it during the last few days," shares Komaldeep Kaur, B.Com student, Government College. Did she miss out that with the coming of summers, it's as it is deserted!
The change is slow but perceptible, slight but steady. Ask the ones affected. Laughs Taruni Agarwal, from Chandigarh College of Architecture, "All these past days, our fest kept us busy, but right now there's a lull. But another two weeks, rather now itself, students are loaded with submissions." She adds, "I don't know about other campus grounds but in our college one can clearly see the shift. Psyched out faces carrying thick pile of notes; a symptom enough of exams approaching."
A couple of datesheets on some of the notice boards rings the final death knell. Laughs Neharika from Kasturba hostel, "Nowhere is the change more perceptible than in the hostels. When the mess is empty in flat 20 minutes when the students are dressed to comfort rather than to impress, when the common rooms are emptier, as are the lawns, and the canteen…exams are near."
— Manpriya Khurana
Money can buy happiness
The secret to happiness lies in earning more money than your peers, according to a new study. Christopher Boyce, from the Department of Psychology at the University of Warwick in England, suggests that it does not matter how much wealth people make as long as they are doing better financially than their fellow mates. We tend to be happy" as long as we've got more than the people around us," Live Science quoted him as saying.
It apparently takes from the concept of 'doing better than the Joneses', which is common among children. For example, a toy gets ditched as soon as a shinier toy in the hands of another child is spotted. Boyce insists it holds true for adults as well. He added: "You might buy a new car. But if your neighbour has just bought the same car, that new car doesn't seem as good as it once was if you were the only one to have that car." The researchers studied the British Household Panel Survey data between 1997 and 2004, in which more than 80,000 participants rated how dissatisfied or satisfied overall. They compared the subjects' income with various reference groups, including geographical region, gender and education, and age. It was found that a person's life satisfaction was primarily linked to the income position within each peer group. The researchers cited the results to explain why when national economies grow, average happiness levels do not necessarily increase. Boyce said: "It's about having more than everyone else, which is why our nations are not increasing in happiness on average. "Our study underlines concerns regarding the pursuit of economic growth. There are fixed amounts of rank in society - only one individual can be the highest earner. "Thus, pursuing economic growth, although it remains a key political goal, might not make people any happier." The study has been published in a recent online edition of the journal Psychological Science. — ANI