M A I N N E W S
Kashmir, energy pop up in US-Pakistan talks
Ashish Kumar Sen in Washington D.C.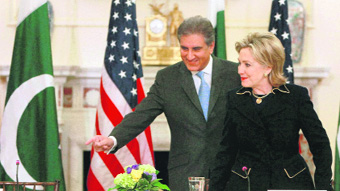 Secretary of State Hillary Rodham Clinton (right) and Pakistan Foreign Minister Shah Mehmood Qureshi take their seats during the opening session of the US-Pakistan strategic dialogue at the State Department in Washington on Wednesday. — AP/PTI

The U.S. and Pakistan on Wednesday embarked on a two-day effort aimed at reversing years of mistrust.
Secretary of State Hillary Rodham Clinton hailed the strategic dialogue as the "start of something new." She admitted the U.S. and Pakistan had "had our misunderstandings and disagreements in the past, and there are sure to be more disagreements in the future."
Pakistan's Foreign Minister Shah Mehmood Qureshi urged the U.S. to maintain "constructive engagement" in South Asia and said Pakistan sought a "peaceful resolution to all issues in South Asia, including Kashmir." The Obama administration, while unlikely to be drawn into the Kashmir dispute between India and Pakistan, has been encouraging both sides to take steps to engage in a dialogue aimed at reducing tensions.
The Pakistani demands also include a civilian nuclear agreement on the lines of one struck by the administration of George W. Bush with India. Qureshi hoped the U.S. would allow "non-discriminatory access to vital energy resources... so that we can pursue our economic and industrial development plans," in a veiled reference to nuclear energy capability that Pakistan wants to boost to resolve its power crisis.
Qureshi said, "Such a partnership, we are convinced, is good for Pakistan, good for America and good for international peace, security and prosperity." He added, "Now is the time to look forward."
Pakistan submitted a 56-page wish list to the U.S. ahead of the talks. Qureshi repeated a Pakistani demand for increased trade and market access to the United States. "Economic opportunities in Pakistan can fight extremism," he said.
Clinton said the United States stands with Pakistanis as they rebuild their communities and "rid their country of those who seek to destroy it."
"To the people and government of Pakistan, the United States pledges our full support," she said. "You are fighting a war whose outcome is critical, first and foremost of course for the people of Pakistan. But it will also have regional and global repercussions. And so strengthening and advancing your security remains a key priority of our relationship," she added. She cited the $7.5 billion civilian aid programme (the Kerry-Lugar bill) for Pakistan recently approved by Congress as proof of that commitment.
Qureshi said Pakistan made itself a target of terrorists when it "joined hands" with the United States after the 9-11 attacks in 2001. "Red marks were placed on Pakistani cities. Thousands of our innocent citizens became victims of foreign-sponsored sabotage," he said. "Our society was exposed to a massive refugee influx, as well as the devastating effects of illicit weapons and drugs, which continue to afflict us to this day," he added.