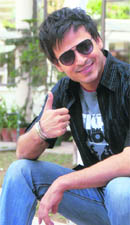 Wit and grit
Vivek Oberoi, in the city to promote his upcoming film, talks on lessons in life and much more…
Do we need to recount the mistakes…err blunders Vivek Oberoi has committed in seven years of his Bollywood career?
Anyways, what's more important is that he has learnt from them or as Vivek puts it, "Life has taught me lessons." As against what we perceived, the film industry didn't contribute to the teaching process, "Bollywood just entertains." And he as part of it promises to entertain with his upcoming flick, Prince—It's Showtime, to promote which, he was in the city on Wednesday with producer Kumar Taurani and one of the female leads, Neeru Bajwa.
Getting BIG
IPL's second outing in the city had a double dose of glamour, with a dash of music and a pinch of fun!
The battleground is set. Queen of Punjab Vs The Royal lady! And you bet, it is a treat to watch them battle it out on crease. Here it was, at PCA Mohali, Preity Zinta's Kings XI Vs Shilpa Shetty's Rajasthan Royals, an IPL match to watch out for. The players of both the teams were relaxed. Sreesanth sweated it out in the gym…Shane Warne digging into sumptuous Punjabi buffet at Hotel Mountview. And of course, the usual autograph business is on.
To do or not to do?

Youngsters today do not mind public display of affection, but not all are fine with it
Holding hands, a hug, a peck on the cheek or something more - public display of affection is becoming increasingly common in our society. A casual stroll around the city — be it some pizza place in Sector 17 or the Sukhna lake — and one can see couples at it! While some view it as genuine demonstration of love, others perceive it as mere show off. Lifestyle checks out.
Bond wagon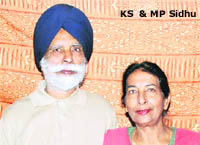 In love, forever
Relationship: Husband and wife
Time together: 40 years Same to same: We were both in the same profession. He taught Chemistry at the University and I was a lecturer of English. We are retired now and both are sticklers for perfection. We believe in doing good deeds. Whatever we take on ourselves we put our heart and soul to accomplish. We are wholly dependable and keep our promises.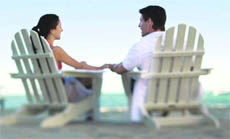 To thine own self be true
For better romantic relationships, be true to yourself, that's the suggestion of a new study. The study examined how dating relationships were affected by the ability of people to see themselves clearly and objectively, act in ways consistent with their beliefs, and interact honestly and truthfully with others.
Renee Writes
Be the change


at lifestyletribune@gmail.com or Life Style, The Tribune, Sector 29-C, Chd
I am 35, living in an abusive marriage for the last 15 years. I was married soon after college to a very suitable businessman chosen by my family. I feel I am at the end of my tether now. I have been fighting depression for last few years. My kids are suffering as much as I am as my husband is into alcohol and drugs abuse and is a compulsive spender. He has driven us into a very tight spot financially also apart from the fact that he is a social embarrassment. I am a qualified MBA and work with a small company but taking a firm step is a problem. Please advise.

Fathers Down Under work harder
Australian dads are better when compared to those in Italy, France or Denmark, says a study. Lyn Craig, a senior research fellow at the Social Policy Research Centre at the University of NSW, found fathers Down Under worked harder than Danish, French or Italian ones and the same as Americans in terms of their long hours in paid work combined with their domestic labours.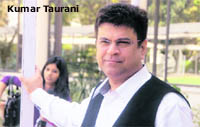 Action packed
Producer is somebody who finances, but here is another take on the definition, "A producer is like the housewife who has 90 per cent onus of running the house. The rest comprise the 10 per cent," says Kumar Taurani, producer, whose latest venture Prince—It's Showtime, is slated for release on April 9.

Photo: Vinay Malik

Food for thought!
Enter Lalit Modi. There we have all chefs ready to just take his order! And he was fine with a glass of lemonade and crispy potato masala. Then there are cricketers, Preity Zinta, Ness Wadia and some or the other celebrity coming in, which means as many dishes, as many orders and extremely busy Mountview staff. "We treat cricketers with whatever they demand," says Vijay Sharma, Corporate Executive, Chef, Mountview.
In honour
The Chandigarh Sahitya Akademy (CSA), under its chairperson Professor Manju Jaidka, selected nine veteran scholars and honoured them during a function held at the Randhawa auditorium on Wednesday.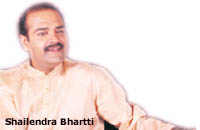 Saintly notes
Inspired life is virtue absolute and all else is profane," maintains Shailendra Bhartti, a versatile classical, bhajan and ghazal maestro about the ideals and philosophy of Sri Sai Baba of Shirdi. "In fact, any Indian sage would preach universal harmony and brotherhood, as God pervades all animate and inanimate things," says Bhartti, in city for a devotional recital at the Sai Temple complex.