NATURE
Winged visitors have a new address
The Pong Dam lake is the new hub for migratory birds, writes Jagmeet Y. Ghuman

RECENT figures of the waterfowl count in Himachal Pradesh have revealed that the Pong Dam lake is the new hub for migratory birds. A one-day waterfowl count at the Pong Dam Lake Bird Sanctuary held recently found more than 1,40,000 birds of 89 species.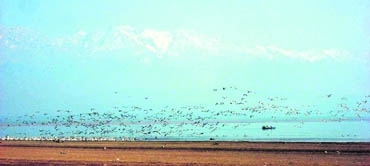 Besides the field staff of the wildlife department of the state, bird watchers from the Delhi Bird Club, the Wildlife Institute of India and residents from Dharamsala, Sujanpur, Nahan and Bilaspur participated in the count.
A huge flock of pochards, with more than 40,000 birds, were found at one place, which, according to officials of the wildlife department, is an amazing phenomenon. The bar-headed geese were 40,000 in number. The pintails were counted at 10,500. As many as 30 common shelducks, first-time visitors at the lake, were also spotted.
`A0The lake intercepts a large number of waterfowls and many altitudinal migrant birds from the Dhauladhar mountain range, which form its background. The lake seems to get waterfowls from other wetlands of Punjab, which are now gravely threatened by pollution.
The Pong wetland has immense potential for bird-watching, eco-tourism, adventure tourism, water sports, angling etc. Bar-headed geese, ruddy shelduck, coots, cormorants, pochards, mallards, grebes and moorhen are some of the waterbirds visiting Pong every year. It has been found that the Pong wetland environment supports as many as 366 species of avi fauna (more than 100 species of aquatic and rest are`A0terrestrial and arboreal birds species), which belong to 56 families.
According Sanjeeva Pandey, chief conservator of forests, unlike Harike and Sutlej, which have been stinking due to polluted water from Ludhiana and Jalandhar, respectively, Pong dam is free from pollution. It intercepts the waterfowls coming from Siberia and Central Asia, he asserts.
He further says, in all, we spotted 89 species of birds and they totalled up to a grand count of 1,40,000. Pong also has good swamps near its spillway, which is another place favoured by the birds. We also saw pheasant-tailed jacana, purple moorhen, Indian moorhen, and purple heron, he adds.
The Pong wetland, which submerged in water in 1975 following the construction of a dam on Beas, is being visited by a number of migratory waterfowls.
In 2003-04, as many as 1.36 lakh migratory birds visited the lake. Since 1999, the number of migratory birds has increased steadily.
A large congregation of the bar-headed geese, in close association with ruddy shelduck, can be located feeding on the sprouted wheat and gram in the nearby fringe areas.
The shore species of gulls such as the black-headed gull and great black-headed gulls are a common sight at the Pong Dam lake. The red-headed grebe was recorded from this reservoir for the first time in India during December 1985.
The bounty of fish food available here has been a major attraction for the increasing number of migratory birds. Many types of fish including mahseer, katla, carps, mirgal, rohu, singhara etc. are found in the Pong dam lake and its tributaries.