ART & LITERATURE
'ART & SOUL
ENTERTAINMENT
TELEVISION
GARDEN LIFE
NATURE
FOOD TALK
CONSUMER, BEWARE!
FASHION
HOLLYWOOD HUES
BRIDGE
ULTA-PULTA
EARLIER FEATURE
TRAVEL
RELATIONSHIPS
DREAM THEME
TIME OFF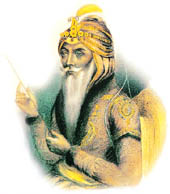 Master of military might
Amarinder Singh's book, The Last Sunset,
gives an insight into the legacy of Maharaja Ranjit Singh as a military strategist and an able administrator. Excerpts…
Maharaja Ranjit Singh had consolidated his empire by the age of twentyone. His quest for knowledge, both to better his empire and his army, continued unabated. A contemporary of Napoleon, he was greatly interested in the happenings in Europe, the wars, military organisations, tactics, and weaponry.
Jumbo shots
Thai pachyderms took over at a recent elephant polo tournament, writes Papitchaya Boonngok
ONCE a year, polo takes on jumbo proportions in Thailand, with players mounting elephants instead of horses to help an even bigger cause: saving the country's endangered pachyderms.
Chilli grenade
INDIAN military experts in Assam have developed a grenade made using the world's hottest chilli, which is more than 1,000 times stronger than the average cooking spice. According to a report in The Sun, the researchers have developed the new crowd control grenade packed with ground seeds from the bhut jolokia chilli, which is found in Assam.
Battle for supremacy
At 20,000 feet plus, Siachen Glacier — where the rarest commodity is oxygen — is the highest battleground in the world. The Indian soldier is ready to sacrifice his life for the protection of this patch of earth, writes Major-Gen G. G. Dwivedi (retd)
THE area is absolutely white, with visibility almost zero. In the literal sense, the right hand does not know what the left is up to. Thick snowflakes, like bird feathers, have been falling non-stop for the last couple of days.
Travel smart
It is better to look like a well-dressed traveller than a tourist, says Babita Mehta
ANY seasoned traveller would know that it is much warmer in Australia in October than it is in Austria. Also, what works in New York could raise a lot of eyebrows on the streets of New Delhi. And yet, it is remarkably easy to get it all wrong.
The green escape
Wayanad in Kerala is yet to be discovered by hordes of tourists. It is a haven of tranquillity in the wilderness, right in the lap of Mother Nature, writes Sudha Mahalingam
Soulful silence reigns, occasionally interrupted by the chatter of exotic birds; scent of cardamom, pepper, vanilla and nutmeg in various stages of ripening hangs in the air; shafts of sunlight filter through the mist to spotlight a coffee bush blush with ripe red berries; your powerful SUV heaves on a winding, potholed hill-road that would deter all but the most persistent traveller wanting to escape the din of cities.
Royalty in new role
Madhusree Chatterjee
ONCE the leaders of the people, many of the erstwhile Indian royalty, who lost their standing post-Independence, have now become followers of their hearts as they have broadened their role as protectors of India's heritage, culture and even human rights.
'I will never make a boring film'
Comedian-turned-director Sajid Khan talks to Bedika about his new film Housefull, which will be released shortly
SAJID Khan, who is back with his second film Housefull, says he has worked very hard on the movie and is confident that it will be a "blockbuster" no matter what his detractors say.
Divya Dutta is Hollywood bound
Divya Dutta, who wowed audiences with her performances in Delhi 6, Morning Walk and Welcome to Sajjanpur, has bagged a couple of Hollywood projects. One of them is Hisss, and she says it's one of her best roles.