M A I N N E W S
Bloodbath by Naxals
n 76 securitymen gunned down in Red bastion
n 1,000 rebels ambush 100 CRPF, police personnel

Raipur, April 6
In the bloodiest attack on the security forces, the Naxals today trapped and gunned down 75 personnel during a joint "Operation Green Hunt" offensive against the ultras in the thick forests of Mukrana in Dantewada district of Chhattisgarh, a stronghold of the Maoists.
The incident took place between 6 am and 7 am while around 100 personnel of the CRPF and the state police were returning after opening a road for the troops to begin an operation against the Naxals.
While 74 of those killed were CRPF personnel, including a deputy and an assistant commandant, one was a head constable of the district police.
Dantewada SP Amresh Mishra said the Naxals first blew up a vehicle carrying the CRPF personnel near Chintalnar-Tarmetla village in the district. Immediately after the blast, the CRPF personnel and a few police personnel tried to take cover when they came under heavy fire from hundreds of Naxals.
The CRPF team had been camping in the interiors of Tarmetla jungles for the past three days as part of a combing operation and area domination exercise, Mishra said.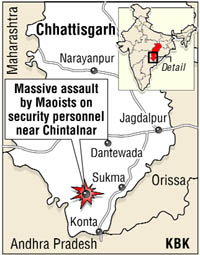 The attack shook the Centre and Prime Minister Manmohan Singh called Home Minister P Chidambaram over telephone to make an assessment of the situation. Both of them expressed shock over the attack and grief over the loss of lives.
The National Security Council met under the chairmanship of the Prime Minister and is understood to have discussed the deadliest Maoist strike. Chidambaram, some of his cabinet colleagues and the three service chiefs attended the meeting.
While the Prime Minister called it a "horrific" incident, Chidambaram said it showed the brutality and savagery of the Maoists.
Rattled by the "very high" casualty, Chidambaram said something must have gone "drastically wrong" in the joint operation as the personnel seemed to have walked into a trap.
Bodies of 75 personnel have been found from the site of the attack suspected to have been carried out by about 1,000 Naxals, Inspector General RK Vij said.
The Naxals had planted IEDs that blew up an anti-mine vehicle killing the lone occupant, the driver. This was followed by heavy exchange of fire between CRPF personnel and the Maoists. — PTI
CRPF men walked into trap
Ajay Banerjee
Tribune News Service
New Delhi, April 6
The 75 CRPF men who got ambushed by the Naxalites today in Chhattisgarh were "lured" by false information provided by an informer, claimed sources in the Home Ministry here.
The men were led to the spot where more than 1,000 armed Naxalites, who had already set up pressure mines and positioned themselves on hill tops, awaited them.
Pressure mine explodes when a person sets foot on it, whereas the usual mines tend to explode under much heavier weight of vehicles like jeeps.
These mines were allegedly placed in areas where the CRPF men might take cover when fired upon.