M A I N N E W S
Justice Dinakaran may be shifted to Sikkim HC
R Sedhuraman
Legal Correspondent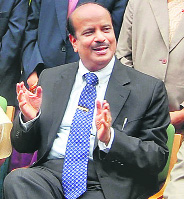 PD Dinakaran

New Delhi, April 9
A move is on to shift Karnataka High Court Chief Justice PD Dinakaran to a HC in the North-East, possibly Sikkim, following his refusal to go on leave heeding the advice of the Supreme Court Collegium.
Law Ministry officials today confirmed that it had received the Collegium's recommendation for the transfer of Justice Dinakaran, but were not willing to disclose the HC where he was headed for.
The decision of the Colleguim, headed by Chief Justice of India KG Balakrishnan, to suggest his transfer comes in the wake of his reluctance to proceed on leave following impeachment proceedings initiated in Parliament for his removal on the charges of corruption, land encroachment and other judicial misconduct.
The latest development has virtually coincided with Law Minister M Veerappa Moily's remark yesterday that Justice Dinakaran was not above law and no one could escape from the long arm of the law.
The transfer is also apparently aimed at enabling Delhi HC Acting Chief Justice Madan B Lokur to take charge at Karnataka in place of Justice Dinakaran. The tainted Judge is being moved to the North-East because the volume of work and the stakes involved in cases are significantly less there, it is learnt.