THIS ABOVE ALL
Behenji, beware of sycophants
Khushwant Singh

THERE is no law against erecting statues of oneself, says Mayawati, Chief Minister of UP. She is right. There is no law forbidding misuse of public money to indulge in self-glorification. Several chief ministers do so by advertising themselves as pioneers of progress in their states, using their own photographs as illustrations. But you, behen Mayawatji, have outdone all of them on the silver jubilee of the Bahujan Samaj Party. You had asked your Public Relations Department to take out full-page advertisements in all the newspapers of India, with half pages devoted to your own pictures and the other half for vastly exaggerated claims to development under your benign rule. On the 25th birth anniversary and the days following, you had yourself garlanded with high-denomination currency notes worth crores of rupees. You have had dozens of marble statues of yourself put up in Lucknow and other cities.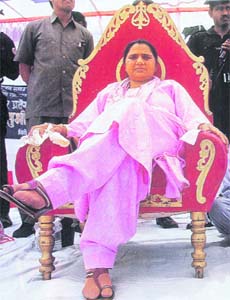 Are you surprised then that the common people of your country have turned against you and would welcome legislation forbidding squandering of their money in feeding your ego mania? Has the money collected during the silver jubilee bash been deposited in banks in the name of the Bahujan Samaj Party, or is it in your personal account? Your past does not inspire confidence. As soon as you became Chief Minister, you began acquiring large tracts of real estate in different cities, including Delhi. The deals were not registered in the name of your party but in your own name, or in the names of your relatives.
You also bought expensive jewellery to adorn yourself and explained it as gifts given to you by admirers. No one believes that to be true. As for your admirers, the less said about them the better. They are time-serving bunch of sycophants who will bootlick anyone in power. They are your worst enemies who will stab you in the back when you are in trouble.
Just think what you could have done with all the money you collected. Instead of marble statues, if you had opened a chain of Mayawati primary and secondary schools, Mayawati free clinics for the sick, Mayawati night shelters for the homeless etc, your name would have gone down in history as the greatest Dalit leader of India. All you need to do is that instead of lending an ear to khushamdi tattoos (flattering ponies), listen to the likes of me and the avaam (common people), who honestly wish to see you fulfil the dream of Baba Saheb Ambedkar and Kanshi Ram. Don't let us down.
Maharaja Dalip Singh
Dalip Singh, youngest son of Maharaja Ranjit Singh, is not on my list of heroes of Sikh history. He was the youngest son of Maharaja Ranjit Singh (a few historians have questioned his legitimacy). His mother, Rani Jindan, was the daughter of the royal kennel keeper. I have nothing against her. She was said to have been a great beauty. As a child he was exposed to violence and cold-blooded murders of relatives and courtiers. That left deep scars on his psyche and warped him for life.
When the Sikh kingdom was annexed by the British in 1849, he was taken hostage and made to hand over the Kohinoor diamond, and was put under the guardianship of an English cleric, Dr Login and his wife. He converted to Christianity, cut off his long hair and kept his beard so that with a turban he could still pass off as a Sikh. He and his mother were taken to England. He was given a large estate and a handsome pension.
He became a great favourite of Queen Victoria and wore her miniature picture in a diamond necklace. He tried to live like an English squire. He arranged annual shoots in his estate when pheasants and grouse were slaughtered in hundreds. When his mother died, he was allowed to bring her ashes back to India to be immersed in the holy Ganga. He was not permitted to visit Punjab.
On his way back to England, he was shown a bevy of nubile girls in an orphanage in Egypt. He picked Bamba Muller, the illegitimate daughter of a German through an Egyptian woman. She bore him many children. He lived an extravagant life of self-indulgence. He became a heavy drinker and a glutton. He put on weight, became paunchy and lost whatever good looks he had as a young man.
He ran into heavy debts and began to dream of the unaccountable wealth he was entitled to as Maharaja of Punjab. He rebelled against Queen Victoria and tried to get the Tsar of Russia to help him regain his crown. Nothing came of it. When Bamba died, he took another wife and moved to Paris. Ultimately he begged Queen Victoria's pardon. She absolved him of treason, paid off his debts and allowed him to return to the estate.
He died a miserable death in Paris. His progeny continued to suffer from delusions of grandeur. Once I wrote to his daughter Bamba Southerland, asking for an interview and inviting her to tea at the Ritz Hotel in London. She regarded all Sikhs as her subjects and turned down my invitation. Her letterhead from a cottage in Buckinghamshire, where she lived on a pension, read: HRH Princess Bamba Southerland of the Punjab, Kashmir and Beyond.
Dalip Singh's life is well-recorded in a biography, The Exile, by Navtej Sarna, India's Ambassador to Israel. However, no matter what the true facts of his life, many Sikhs have nostalgic memories of the rulers of the Sikh kingdom. The latest example is the publication of Sovereign, Squire, Rebel Maharaja Dalip Singh (Coronet House) by Peter Bance. Peter's real name is Bhupinder Singh Bains. He is based in London and specialises in Sikh diaspora. His earlier book, The Sikhs in Britain, was well received. His book on Dalip Singh is about the most lavish I have seen.