A daughterís insight
The Nehru-Edwina romance
Pamela Mountbatten, Lord Louis and Edwina Mountbattenís youngest daughter, was 18 in the autumn of 1947, which means she had a ringside view of the events leading up to and beyond Independence. She was also a witness to the relationship between her mother and Nehru, which she describes as being "in love", but without having any sexual contact, in a chat with Shyam Bhatia in England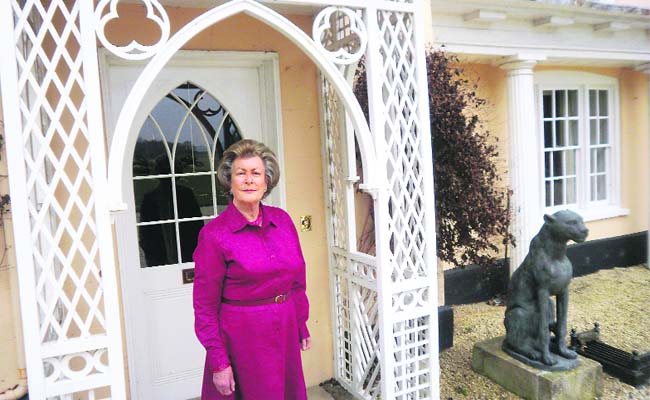 INDIA remains uppermost in the minds of the Mountbatten family, and Pamela Mountbatten has made sure of this by naming her daughter after the country that her father claimed to have freed from colonial bondage.
Lord Louis "Dickie" Mountbatten was the last British Viceroy and first Governor-General of independent India when he and his wife Edwina became and remained close friends of Pandit Jawaharlal Nehru and other leading members of the Indian Cabinet.
Their younger daughter, Pamela, spent 18 formative months in India and had a ringside view of the events leading up to and beyond Independence. She also had first hand experience of meeting and talking to many of Independent Indiaís founding fathers, including Mahatma Gandhi, Jawaharlal Nehru, Vallabhai Patel, C. Rajgopalachari and others.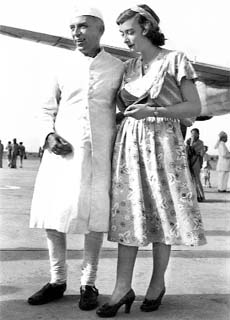 Nehru with Pamela Mountbatten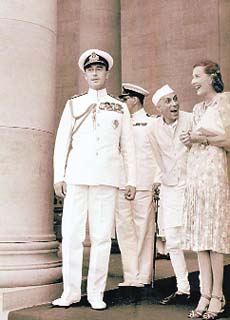 Nehru with Edwina and Louis Mountbatten
After returning to post-war England, Pamela met and married the famous British designer David Hicks with whom she had three children. India Hicks is one of those three children and she, too, has a soft corner for the country after which she was christened. In fact, she is the one who encouraged her mother to enshrine some of her thoughts and memories in a recently published book, India Remembered.
Stacks of black and white photographs, filed in Pamelaís private study, also help to keep the connection alive. One much-treasured picture depicts Nehru in black shorts practising yoga by standing on his head. Pamela remembers him telling her that this was when he liked to plan his Cabinet changes because he could be sure of a clear mind.
Pamela, who is pushing 81 now, distinctly remembers everything as if it happened yesterday. What struck me most was her understanding of those tragic days and the admiration she retains for Jawaharlal Nehruís courage and sagacity. Most of all, she recalls his ability to explain in a simple and understandable way the most difficult problems the country faced.
Pamela called Nehru mamu for some months, but then reverted to the commonly used title of Panditji because she thought it sounded less presumptuous. But her mother called him Jawahar from day one. And he, in turn, called her Edwina.
When we lunched together at her mini stately home in the heart of Oxfordshire, I asked how she would describe the relationship between the two. She took no time in saying that they were "in love", but without having any sexual contact. Seeing me surprised she explained, " This deep emotional affection that obviously was love is so difficult for people to understand that you can have love without having a grand sexual affair, which I donít believe they did have."
Reminiscing, she added, "I strongly believe that they were essentially two lonely people. His wife was dead, his sister was posted abroad, his daughter was either looking after her husband or was away with the womenís movement. I think he was very alone and my mother was a very introvert character herself. Suddenly, they found they were two, who would communicate with each other.
"Someone actually described it to me as a brief encounter. I donít know if youíve ever seen the film Brief Encounter? In the film, two people are wildly attracted to each other who know it is going to be impossible. After we left India they saw each other once a year ó twice a year perhaps ó but the relationship remained as intense."
Soon after Independence, the mother and daughter were regular visitors to India. They stayed at the Prime Ministerís house in Teen Murti, New Delhi, as government guests and sometimes went on tour with him. When Nehru visited the UK, he was a welcome guest at the Mountbatten family estate, Broadlands, in Hampshire.
"I met him, I suppose, at the peak of his life", Pamela explains. "I was lucky. Oh yes, the temper was certainly very much there and you, certainly, didnít interrupt; you were likely to get your head bitten off. But with me I always found ó like he was with all young people ó that he loved young people. He felt an immediate attraction to them, which was, of course, immediately reciprocated. He was never boring, he never pontificated, he never talked you down. He was particularly wonderful because he was so knowledgeable about everything."
"Not during my motherís lifetime, but after her death, my father asked me to go through the correspondence between Panditji and my mother," Pamela says. "Actually, he (my father) asked me to read their letters. Obviously, there was that slight, slight, slight worry about it, but ever so slight. When I read them, I was able to assure him. They both needed each other, but there was nothing that he should be embarrassed about.
"He (Nehru) was such an honourable man and I think, to have seduced my mother in my fatherís house, would have been dishonourable. If my father had not been around, and my father was the least jealous person, I think, it would have been embarrassing for him if that happened."
Pamela says she never had the least doubt that India would emerge one day as a major power. She attributes her optimism to the "quality of your" leadership. Indiaís potential was so obvious and the calibre of Indiaís leaders at that time was impressive." Pamela was also so keen to keep up with her Indian friends and contacts that at one stage she volunteered to work as a secretary for Indiaís first High Commissioner to the UK, Krishna Menon.
Both Pamela and her mother had harsh words for Mohammed Ali Jinnah, the founder of Pakistan. Lady Edwina Mountbatten has been quoted on record as characterising Jinnah as a megalomaniac. For her part, Pamela remembers him as icy cold and "a severe man, a very severe man" and, she adds, it was impossible to like him or have affection for him. "You could admire the figure, very immaculately turned out in western dress, but thatís it. A fine looking man, rather hawk faced, but a fine looking man. But there was a freezing barrier all around him."
This freezing or icy barrier extended to her father, Lord Louis Mountbatten, the last British Viceroy of undivided India. "My father tried to offer advice to all the leaders," says Pamela. The Congress Party leaders were interested and then after a short while went half way to meet him.
"With Jinnah, he (Lord Mountbatten) felt there was this complete barrier. If my father offered help, it was refused. Mr Jinnah, the Qaid-e-Azam, he knew exactly what he was going to do. He was going to take all the jobs for himself wasnít he? The religious head, the Pakistan head, it was going to be a one-man show ó for which he had given his life.
"What we didnít know was that he was suffering from cancer and his death was totally unexpected for us."