Meditation courses may provide destress dose to CWG volunteers
Azera Rahman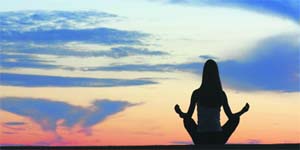 AS pressure mounts on volunteers for the approaching Commonwealth Games in the Capital, they may find the perfect way to stay high on enthusiasm and physical fitness with an Art of Living course.
The mega event, which will take place in Delhi from October 3 to 14, aims to recruit 30,000 volunteers from a cross-section of people — students and homemakers to ex-servicemen and corporate honchos.
Sudhir Mital, the special director-general looking after the volunteers programme, says: "The Art of Living Foundation has expressed an interest in providing a three-day course on stress management to the Commonwealth Games volunteers".
"The course, which is otherwise a week long, will be specially formulated to suit our needs. According to the proposal, it will be divided into a four-hour capsule for three days. We are in the process of finalising it," Mital says.
Spiritual guru Sri Sri Ravi Shankar's organisation, the Art of Living Foundation, teaches meditation and yoga with a basic aim of de-stressing. The foundation has a large following across the globe and has a presence in 151 countries.
Darshak Hathi, international director of Art of Living, says the foundation will also offer members of their youth wing for the volunteers programme.
"We are hoping to give 1,000 volunteers from our youth wing for the volunteers programme for the Games. Members of our youth wing are in the age group of 25-35 and are a dedicated lot. Most of them are also from a sports background; therefore it's an added advantage," Hathi says.
According to Hathi, besides helping the volunteers destress, the course will also motivate them to take on challenging tasks.
"Along with technical skills, it's important that the volunteers are taught stress management and coping skills. They also need to be motivated to take up challenging tasks. Therefore, we have proposed to impart them the required skills. The same will be provided to the staff," he says.
Since the number of volunteers will be huge, Hathi says the group will be divided into batches of 2,000 who will be trained by 25 trainers of the foundation.
Preeja Jain, a teacher who has applied for the volunteering programme and also takes the Art of Living course, says: "If the Art of Living Foundation is planning to train the volunteers, then there could be no better news.
"It's very important to have a positive outlook, be physically fit and have enthusiasm to do a task properly and these courses will help in doing that." — IANS