What a show
It is an important day for PCA Mohali. Don't tell me Shah Rukh Khan and Saif Ali Khan are hosting the show? Are you crazy? Is PCA felicitating the cops on duty? How the poor cops on duty wish for a word of thanks or maybe something in kind, 'ek chilled beer bhaaji'! Whatever, it is still an important day for PCA, for the venue will play host to many things today.

New 'Lee' se of life
Cricket is back yet again; and this time it is master blaster Sachin Tendulkar's show
Is there anything left that people don't know about Brett Lee? Everything has been asked, answered. Cricket, music, friendship with Preity, apparel brand, endorsements…the open book is rather an encyclopedia.


— Photo: Pradeep Tewari
Standing tall
In the city, Nikita Anand, Miss India 2003, talks of the glam world and much more…
Dressed in a white shirt tucked neatly inside blue jeans, she stands tall amid the sea of people. Nikita Anand, Miss India 2003, was in the city on a personal visit on Friday. A quick tête-à-tête, and she shares her journey in the glam world.


The stage is set
With as many as 13 theatre festivals held last year, the cultural scene in City Beautiful has attained a new high. The current year promises to be even better. "The show must go on," says leading director Sudesh Sharma, who is organising the first-ever five-day Baisakhi Theatre Festival is all set to commence at Randhawa Auditorium of the Punjab Kala Bhavan with six plays to be staged under the aegis of Theatre for Theatre and Punj Pani Rang Manch.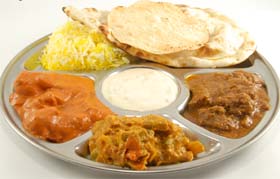 Change on platter
Mughlai, Avadhi, Hyderabadi, Thai, Egyptian or Mediterranean —food festivals in the city provide a welcome change from the regular cuisine
Punjabis are said to be rather conservative when it comes to food (is this the reason one finds a Punjabi dhaba almost anywhere around the world?), but going by the number of food festivals that happen in our city, things seem different.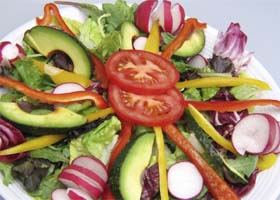 It's all about eating
As summer descends and you hit the gym to lose the flab piled on in winter, experts say it's not enough. What also counts is your eating habits, which should certainly go low on the carbohydrates and diet pills.
Eggcellent!
Eggs in the morning keep calories away
Eating eggs for breakfast everyday can reduce hunger and decreases calorie consumption at lunch and throughout the day, according to a new study.
Fat chance
Trans fats, found in many packaged foods, are deadly for women with heart disease, says a new study. According to a study reported by Rodale Health, females with heart disease who eat the most trans fats (at least 2.5 per cent of their daily caloric intake) are three times as likely to suffer a sudden cardiac death as compared to females who consume less than 1 per cent of their calories as trans fat.
Bon Appetit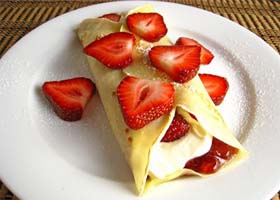 Jewels of ruby red
When I am out marketing, the spools in my brain are spinning overtime, taking in all the food that I can spot. The question foremost on my mind is, "What's interesting enough to write about in my column?" I may be scanning the shelves of a food store or observing the rows of fruit or veggies at a shop, but my demeanour remains the same. The brow is furrowed, the eyes miss nothing, and the antennae are extended, analysing various options.
No knotty news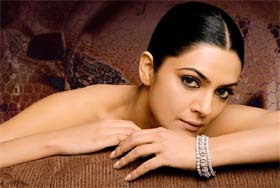 I am not marrying Wasim Akram, says Sushmita Sen
Bollywood star Sushmita Sen has sought to put rest to speculation about her relationship with Wasim Akram saying that she is not marrying former Pakistani cricketer. Media reports had said that former Miss Universe and Akram, who is in India as Kolkata Knight Riders bowling coach, had grown close ever since they hosted a reality show together on television around two years ago.
Preity cool
Bollywood actor Preity Zinta had the most "adventurous day" Thursday, as she went to Hardwar to take a dip as part of the ongoing Maha Kumbh Mela, and "washed off" all her sins in the Ganga. "Had the most adventurous day today! Went to the Maha Kumbh Mela in Hardwar and I washed off all my sins in the holy Ganga," Preity posted on her Twitter page.
Pattinson in the Twilight zone
British actor Robert Pattinson is to play rock legend Kurt Cobain in a Hollywood biopic. The Twilight star is said to have always thought of himself as a musician rather than an actor so playing the Nirvana lead singer, who shot himself in 1994, is ideal for him.
From Venus to Bollywood
Sri Lankan beauty Jacqueline Fernandez, who started in the Hindi film industry with Aladin, got her true taste of Bollywood while shooting for Jaane Kahan Se Aayi Hai where she had to imitate screen icons like Amitabh Bachchan and Dharmendra.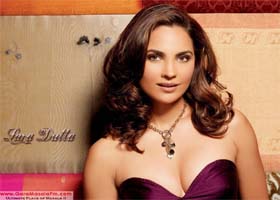 Secret service
Bollywood babe Lara Dutta is all set to spill the beans and reveal some naughty secrets about Khiladi star Akshay Kumar all for a cause. The dashing Punjab da puttar is set to turn on the heat on Star Cintaa Superstars Ka Jalwa, a show which has brought together Bollywood's biggest stars to raise funds for the Cine and Television Artists Association (CINTAA) having some 6000 members.
Back to School
Actor Shahid Kapoor, who plays a teacher in upcoming film Paathshaala, is all set to revive his childhood memories by visiting his old school here next week. Eros International and Paperdoll Entertainment, the producers of the movie have planned a special visit for Shahid next week to his school Gyan Bharti Public School in Delhi where the star will be spending some quality time with some of his ex-teachers and the students.
Love triangle
Jennifer Aniston's stars are definitely not in the right position as far as her love life is concerned. Just when everyone thought that the stunner had found love in the arms of Hollywood star Gerard Butler, a French beauty has emerged who seems to have stolen the Scottish actor's heart.