M A I N N E W S
Polish Prez, wife among 97 killed in air crash
n Top brass also killed
n Mishap in western Russia
n Fog caused tragedy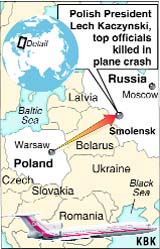 Moscow, April 10
Poland's President Lech Kaczynski and some of the country's top military and civil leaders were killed along with all 97 persons on board the Presidential plane that crashed in dense fog, trying to land against advice by air controllers, in western Russia today.
"There were no survivors as the plane hit tree tops and fell apart as it came in to land at the Smolensk airport in thick fog," Russian and Polish officials said.
Besides the President on board the ill-fated Soviet era Tupolev-154 aircraft, were his wife Maria, Poland's last President-in-exile Ryszard Kaczorowski, Deputy Foreign Minister Andrzej Kremer, Army Chief of Staff Gen Franciszek Gagor and National Bank President Slawomir Skrzypek.
The aircraft was taking the Presidential entourage to events to mark the 70th anniversary of the massacre of thousands of Polish officers by Soviet secret police under Joseph Stalin. Initial reports quoted to Russia's Investigation Committee had put the death toll to 132.
But later, spokesperson of Emergency Situations Ministry Irina Andriyanova said there were 88 members of the official delegation, including the Polish President and eight members of the crew, according to the list of passengers.
"Going by this we are putting the toll at 97 as there were no survivors," she said. "But we are not aware whether presidential security guards and service personnel were included in this," Andriyanova told Rossiya 24 channel.
Other members of the delegation killed in the crash included Deputy Speaker of Parliament Jerzego Szmajdzinski, head of the National Security Office Aleksander Szczyglo and presidential aides Pawel Wypych and Mariusz Handzlik. — PTI
Many bigwigs have met their end in plane mishaps
Vibha Sharma
Tribune News Service
New Delhi, April 10
Politicians, heads of states are frequent fliers, thanks to their lifestyle, active role in building international diplomacy and election campaigns. Therefore, it also comes as no surprise that the "profession" seems to have suffered the most in air accidents, some explained and some unexplained, with conspiracy theories abound.
The air accident involving Polish President Lech Kaczynski immediately brings to mind the most talked-of air mishap in the immediate neighbourhood - the one involving General Zia-ul-Haq of Pakistan - which dramatically changed political dimensions in his country. On August 17, 1988, Zia and his military top brass met their end when their Hercules crashed just 10 minutes after the take-off, killing all 30 on-board. Several theories, including conspiracy, continue to do rounds till date.
For India, the most famous crash apart from that which killed Congress' original prince-in-waiting Sanjay Gandhi, has been the recent chopper crash involving Andhra Pradesh Chief Minister YS Rajasekhara Reddy. Reddy (60) and four others died when the state-owned helicopter Bell 430 crashed in Nallamala Hills last year, throwing the state in political turmoil for months to come.
On July 9, 1994, Punjab Governor Surendra Nath, his wife Gargi Devi and eight other family members died when a state government-owned Super King aircraft crashed in a mountainous region of Himachal Pradesh, minutes after the take-off from Chandigarh.
There have been others Indian politicians who lost their lives in air crashes, including senior Congress leader Madhavrao Scindia, Lok Sabha speaker GMC Balayogi, Haryana power minister OP Jindal and agriculture minister Surendra Singh, Arunachal Pradesh Education Minister Dera Natung, Meghalaya's C Sangma and BJP leader Soundarya.
Mohan Kumaramangalam, minister of steel in the Indira Gandhi government, was killed in a plane crash in New Delhi in 1973. Perhaps the first Indian political leader who did not survive an air crash could well be freedom fighter Subhas Chandra Bose. His death continues to be a mystery following the crash on August 18, 1945, with many insisting to this day that he survived.
There are many in the international political scenario who met their end in this way, including Polish national hero Wladyslaw Sikroski when the Consolidated B-24 C Liberator he was on crashed over Gibraltor on July 4, 1943.
Major plane crashes in last three years
2007 Jan 1 - Indonesian Boeing 737-400 disappeared from radar screens during a flight from Java to Sulawesi islands. All 102 killed.

May 5- Kenya Airways Boeing 737 crashed after takeoff from Douala in Cameroon. All 114 killed.

July 17- Brazilian TAM passenger plane crashed while trying to land in Sao Paulo, killing 199 people.

Sept 16- One-Two-Go, Thai airliner crashed on landing at the resort island of Phuket. 85 killed.

2008 Aug 20- Spanair MD-82, flying to the Canary Islands crashed on takeoff at Madrid airport killing 154 people.

Aug 24- Boeing 737-200 bound for Iran, crashed at Bishkek airport. Around 70 people died.

2009 May 20- Indonesian C130 military transport plane burst into flames 6.5 km (4 miles) from the Iswahyudi air force base in East Java, killing 98 people.

June 1- Air France Airbus A330-200 jetliner carrying 228 people crashed over the Atlantic. 51 bodies and 600 pieces of wreckage were recovered.

June 30- Yemen Airways aircraft carrying 153 people crashed in the sea off the Indian Ocean archipelago of Comoros.

July 15- Caspian Airlines aircraft, 169 onboard, from Tehran to Yerevan in Armenia, crashed killing all.

2010 Jan 25- Ethiopian Airlines Boeing 737-800 from Beirut airport in stormy weather crashed