TÍte-ŗ-tÍte
Going places
Nonika Singh
CHAL Buleya hun othe chaleeye, jithe hovan anhe, no koi saadi jaat pachaane, na koi saanu manne (Roughly translated, it means let us move to a new place where no one knows us or salutes our mettle). It is this philosophical wisdom of Sufi saint Bulle Shah that prompted eminent artist Prem Singh to find new moorings 10 years ago. Having taught for 35 long years at the Government College of Art, Chandigarh, and retiring as its principal, Singh decided to move on to New Delhi, not to prove himself all over again but to seek new inspiration and stimuli.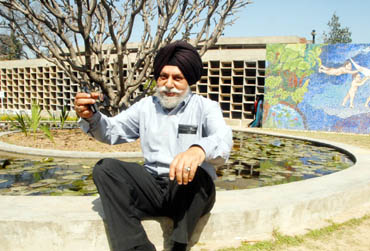 Prem Singh Photo: Vinay Malik

Sure, he agrees that Chandigarh lives up to its sobriquet of City Beautiful. But, he muses, "One cannot live on fresh air alone". Of course, on art one can, which for Singh is very much an organic process akin to breathing. Not surprising, his works pulsate with a vibrancy that can only emanate from lifeís sustenance. Nature, his favourite leitmotif, acquires a life of its own on his canvasses drenched with the colours of joy.
But has Delhi changed his imagery? Yes and no. He has little qualms in admitting that Delhi not only widens perspectives but also provides new platforms. Living in Chandigarh does slot you as a provincial artist.
And he is not saying this merely because his work now adorns Rashtrapati Bhavan. Prior to moving to Delhi, too, his works had gone places and were in the collection of the National Gallery of Modern Art, New Delhi, Lalit Kala Akademi, State Museum, Madras, Sahitya Kala Parishad and Punjab Raj Bhavan. Besides, he had won the prestigious Triennale India International Award in 1994.
Art for him, however, is not about accumulating accolades but a vital means of seeking a relationship with people and that for him is its biggest reward. Thus, working in Garhi studio, New Delhi, where artists from different regions work and share artistic thoughts is itself an enriching experience.
The creative process of painting, however, he asserts, is not a simple "splash-colour-here-and-there" exercise but a "do-or-die" battle. Says he, "When I look at an empty canvass, it scares me as its blankness questions meó what gives you the right to play with my virginity?" Dubbing himself as his best or worst critic, he adds, "When you strike a dialogue with the canvas, you are its first viewer and must be perceptive enough to know you are on the right path". Of course, training helps but only up to a point. Armed with a five-year diploma from the GCA, Chandigarh, and a post graduation degree from Punjabi University, Patiala, he admits that the academic course in which figure is central to learning is bound to impact oneís initial artistic forays.
Since he was a water colourist even before he joined his alma mater, the photographic replication of beauteous landscapes was an art he had mastered early on, too. But thereafter, he confesses that he had to shed excess baggage. Thus, he gravitated towards an abstract idiom that is not bizarre or indecipherable but one that communicates in the language of art, aesthetics and beauty.
Internalising nature, in fact, transcending its visible manifestations, itís his mindís eye that records impressions and pours it on the canvas. Of course, in todayís world there are offers to make it flow on walls too. He says a firm no to ludicrous demands where people want art to follow the d`E9cor of their homes.
Living in times when the line between commerce and art is fusing and unbelievable astronomical price tags rule the roost, he says simply, "I am not in the rat race". Of course, he doesnít pooh-pooh artists who carry home fat cheques. Rather, he feels happy, "For, donít I belong to the same community?" The same sense of pride envelopes him when he looks at Ajanta Ellora caves or when he shares, "Indian art has carved an identity for itself and India is emerging as a market for international art too."
So, how does he feel when his work finds buyers? He replies, "Price tags aside, it reaffirms my faith for ultimately all art is about seeing and sharing". Whether it is seen at the hallowed museums or an ordinary mortalís home it doesnít matter for ĎĎa space is a space". Yet, one emotion that he would like to share more than any other is celebration of life. He sums up his art thus, "An humble attempt at grasping joy and life as they fly." Only, as his brush moves on the canvass it doesnít remain a modest effort but a resplendent and deeply inspired one as nature that grows within him grips viewers with a visualisation that is both magnificent and meditative.